Brussels rocked by multiple explosions after

7am GMT

So called Islamic State claim responsibility for attacks

Police issue CCTV image from airport of three suspects

At least 34 confirmed dead with scores more injured

20 killed at Maalbeek Metro and 14 at Zaventem Airport

One Briton confirmed injured, Downing Street says

Terror alert raised to maximum and Metro system closed

Gunfire and shouts in Arabic reported at Brussels airport

At least one airport blast confirmed as suicide bombing

Emergency no for concerned relatives: +44 2070080000
Belgian Prosecutor Eric van der Sypt said two bombers died at the airport and a third is being "actively" sought.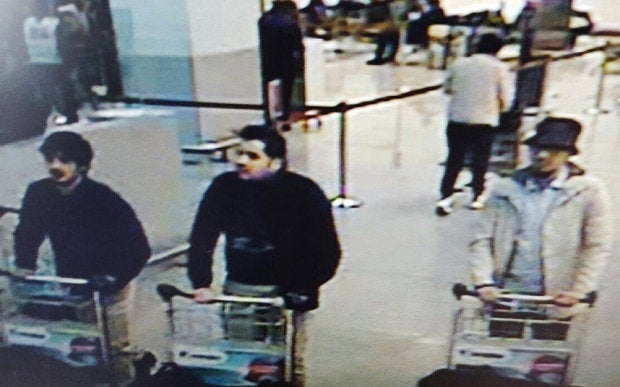 A third bomb at the airport has been deactivated.
Terrified passengers had to evacuate through darkened tunnels to safety.
Brussels Airport Aftermath
Belgian news agency Belga has said shots were fired and there were shouts in Arabic shortly before the airport explosions.
An unexploded bomb belt and at least one and possibly two Kalashnikovs were found in the departure lounge at the airport. It was not immediately clear whether the firearms were used in the attacks.
A Belgian TV station is reporting that at least one of the bombs at the Brussels airport contained nails.
Flemish language broadcaster VTM interviewed Marc Decramer of the Gasthuisberg hospital in Leuven, who says the hospital is treating 11 people with serious injuries, three of them in critical condition. Decramer says the wounded have fractures and deep cuts caused by flying glass and nails.
Belgian security authorities have said the explosions happened near an American Airlines check-in area.
More than 200 flights to Brussels were diverted or canceled, according to flight tracking service Flightradar24.
Anthony Deloos, an airport worker for Swissport, which handles check-in and baggage services, said the first explosion took place near the Swissport counters where customers pay for overweight baggage. He and a colleague said the second blast hit near the Starbucks cafe.
"We heard a big explosion. It's like when you're in a party and suddenly your hearing goes out, from like a big noise," Deloos said, adding that shredded paper floated through the air as a colleague told him to run.
"I jumped into a luggage chute to be safe," he said.
Authorities told everyone in Brussels to remain where they are with fears there may be militants still at large in the city.
The terror alert has been raised to maximum, Belgium's interior minister confirmed.
"What we feared has happened," Belgian Prime Minister Charles Michel told reporters. "In this time of tragedy, this black moment for our country, I appeal to everyone to remain calm but also to show solidarity."
"We are at war," French Prime Minister Manuel Valls said after a crisis meeting called by the French president. "We have been subjected for the last few months in Europe to acts of war."
The bomb that went off an hour later on the subway train killed 20 people and injured more than 100, Brussels Mayor Yvan Majeur said.
"The metro was leaving Maelbeek station for Schuman when there was a really loud explosion," said Alexandre Brans, 32, wiping blood from his face. "It was panic everywhere. There were a lot of people in the Metro."
Near the entrance to the station, rescue workers set up a makeshift medical treatment center in a pub. Dazed and shocked morning commuters streamed from the Metro entrances as police tried to set up a security cordon.
European security officials have been bracing for a major attack for weeks, and warned that the so called Islamic State group was actively preparing to strike.
The arrest Friday of Salah Abdeslam, a key suspect in the November attacks in Paris, heightened those fears, as investigators said many more people were involved than originally thought, and that some are still on the loose.
Abdeslam, a Belgian-born French national was dubbed Europe's most-wanted fugitive. He is now fighting extradition to France.
After his arrest Friday, Abdeslam told authorities he had created a new network and was planning new attacks.
"I could feel the building move. There was also dust and smoke as well."
A spokesperson for the Foreign Office said: "We are liaising with the local authorities and stand by to help any British nationals who may have been affected by the incident at Brussels airport.
An airport worker told told Flemish broadcaster VRT: "I was on a break and heard and felt a big explosion - we have from here a view over the departure hall and saw a plume of smoke come out.
"The windows are completely shattered. People went outside in shock. It doesn't look good."
European Council president Donald Tusk said in the aftermath of the explosions: "These attacks mark another low by the terrorists in the service of hatred and violence."
Eurostar says no trains are currently running to or from Brussels Midi station. Passengers are being advised to postpone journeys and services are terminating at Lille.
Zach Mouzoun, who arrived on a flight from Geneva about 10 minutes before the first blast, told France's BFM television that the second, louder explosion brought down ceilings and ruptured pipes, mixing water with blood from victims.
"It was atrocious. The ceilings collapsed," he said. "There was blood everywhere, injured people, bags everywhere."
Jordy van Overmeir had just collected his luggage after landing at the airport from Bangkok when "all of a sudden I heard a loud explosion — this boom. Initially I thought it was the sound of a suitcase falling down."
"At this point I saw all these policemen running around, shouting and saying 'there was an explosion," he told Sky News.
Outside the baggage claim area and the arrival hall he could "smell smoke and see glass and I saw blood."