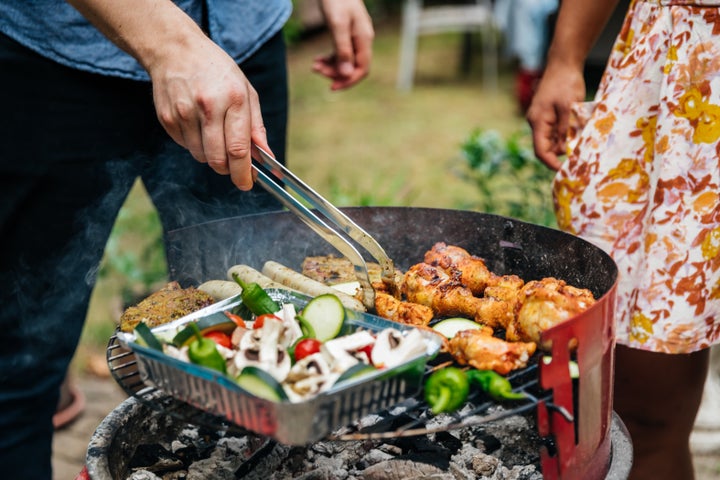 The warmer weather has once again coincided with a bank holiday, meaning those lucky people with gardens are likely to be getting out their barbecues for a summery feast. Even if you don't have any outside space, you could still have an indoor barbecue, by cooking all the food in the oven instead. Hey, you've gotta work with what you've got.
If you're yet to do your weekly food shop, you might want to add some of these items to your list, as The Good Housekeeping Institute has revealed the results of its annual BBQ Taste Test, now in its second year. Or, bookmark this page for future, post-corona times when you can enjoy the feast with family and friends.
The actual testing was undertaken and led by the GHI expert team and a panel of testers before the Covid-19 situation escalated. This year, they tested 182 products across 12 categories.
Aldi was the big winner, taking home first place in three categories. And M&S once again proved that it continues to deliver on taste for hungry shoppers.
Angela Trofymova, head of food testing at the Good Housekeeping Institute said: "Obviously this year, the situation is sadly very different, as we can't dash between supermarkets as we're used to – or even get to a supermarket if we're isolating. Nonetheless, we hope the results give some guidance for those looking to host a BBQ for their household this May Bank Holiday weekend."
The winners:
Veggie burger:
Lidl - 2 Plant-Based Burger Patties, £1.99, 227g – 84/100
Sausages:
Co-op - Spicy Sausage Swirls, £2.85 for 230g - 75/100 (This won't be in store until the 17 June)
Beef burgers:
Edwards of Conwy, sold through Ocado - 4 Welsh Beef Quarter Pounder, £3.49, 454g – 88/100
Quirky burger:
M&S - Hoisin Duck Burger, £4.00, 300g – 87/100
Kebab:
Aldi - Peri Peri Chicken King Kebab, £4.99, 924g – 88/100
Chicken:
Farmison (online butcher) - Fennel & Lemon Spiced Spatchcock Chicken, £14.95, 1.4kg – 86/100
Ribs:
Aldi - Slow Cooked Smoky BBQ Pork Ribs, £2.99, 600g – 83/100
Veggie sausages:
Co-op - Gro Sizzlin' Sausages, £3.00, 350g – 86/100
Summer dessert:
Aldi - Sicilian Lemon Glazed Cheesecake, £2.49, 550g – 77/100 (This won't be in store until the 18 May)
M&S - Our Best Ever Trifle, £5.00, 900g - 77/100
Rib eye steak:
Daylesford (online butcher) - Organic Beef Rib Eye Steak, £10.49, 225g – 84/100
Ketchup:
Sainsbury's - by Sainsbury's Tomato Ketchup, £0.65, 460g – 83/100
Potato salad:
Sainsbury's - Taste the Difference Charlotte Potato Salad, £2.10, 300g – 77/100