If you're someone who loves going to fitness classes or the gym, these latest Coronavirus measures probably feel like a hefty spanner in the works. In uncertain times, exercise is important for both our physical health and mental wellbeing – and can really help to stave off the existential wobbles.
But panic not, there are great workouts you can do from home – and many of them are completely free. We don't know about you but we felt really inspired by those videos of residents exercising on their balconies in Seville, despite being in lockdown.
So, here are the best fitness apps and online resources to keep active, as tried and recommended by team HuffPost UK.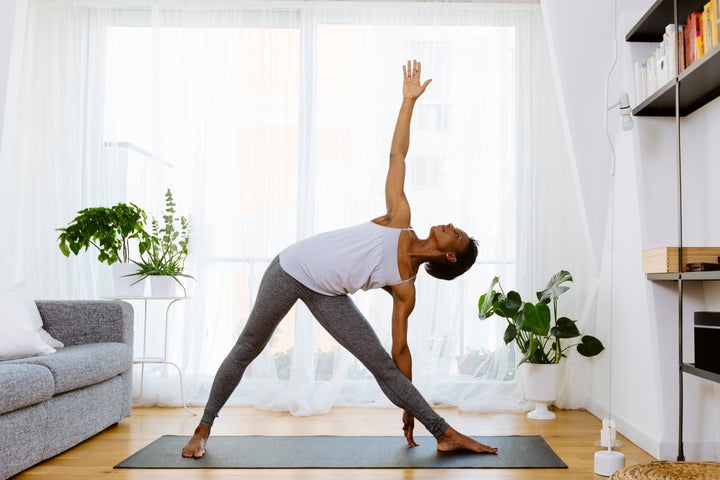 Recommended by Brogan Driscoll, Life Editor
I've been using Down Dog for about six months and love how personalised it is: I've never done the same sequence twice. You completely customise your settings to suit you: if you want a full practice or something more restorative, those options are available, and you can specify how long you want your 'savasana' to be – or whether you want one at all.
There are five experience levels to choose from – beginner to advanced – and you can boost your session with hip flexor stretches or core strengthening, among other options. You can also specify the music and choose from six instructor voices (ideal if one of them starts to get on your nerves).
Once you've made your selection the app generates a bespoke yoga sequence, all you need to do is find a zen space to roll out your mat. Yoga can be expensive, but this app makes it super accessible – especially as it's now offering free membership due to the coronavirus outbreak. The company has a range of other fitness apps (also currently free): Yoga For Beginners, HIIT, Barre and 7 Minute, which has full body workouts that last for, yes, 7 minutes.
Recommended by Ashley Percival, Entertainment Editor
This isn't strictly an app, but Joe Wicks (aka The Body Coach) has a wealth of online content to help you work out at home. On his YouTube channel, there's a host of HIIT sessions (high intensity interval training – or short bursts of exercise followed by a rest) that cater for all abilities.
So this is good, whether you're a beginner, injured or can only cope with low impact, or you're looking for something that's going to make you SWEAT. And the great thing is, the majority of them don't require any equipment at all, just using bodyweight exercises that can be done in even the smallest of spaces – great for if your house share isn't blessed with much floorspace.
Wicks is also brilliant at talking you through each exercise – with encouraging words to help you through when you might be about to give up, too.
Recommended by Brogan Driscoll, Life Editor
Some people have got their shit together when it comes to exercise: they know how to use all the equipment in the gym, can create their own workout, and are incredibly self-motivated. I am not one of these people, which is where this app comes in. It's super accessible with a variety of workouts to choose from. You can even get started on a training plan to keep you motivated (and accountable).
You can browse exercises for different muscle groups, choose between different workout types (endurance, mobility, strength, yoga) and specify what equipment you have (don't worry, there are lots of exercises that include no equipment).
The workouts are designed by Nike Master Trainers (the brand's elite trainers) and come with a banging playlist, so you don't waste time faffing with your own music. I'd recommend the bodyweight only four-week plan as a good place to start.
Recommended by Jess Pitocchi, Deputy Audience Editor
Enter, Nike Run Club. This app has the capability to create a training plan from scratch based on your current level of fitness. The plan is manageable, adaptable and flexible for when life and other things get in the way. It also syncs up with my fitness watch like a dream and other activities like spin and even just daily footsteps fold into my overall plan.
For me the best thing about this app is the guided runs – a feature where a coach pops up in your ears every few songs to offer you words of non-cringe inducing encouragement. My favourite part on a long run is where Coach Bennet asks you quick-fire questions to distract you from your legs on fire. Although panting my answers aloud (think "cats"... "pizza"... "reading a book") does result in some funny looks from passers-by. Now at a distance, of course.
Recommended by Chris York, Senior News Reporter
Sworkit touts itself as a "personal trainer app", only without the subscription fees, gym, and actual hired help that a personal trainer normally entails. It covers a huge range of programmes that guide you over the course of a few weeks and whether you're an unfit mess looking to run 10k or a budding athlete keen to indulge in some high intensity training, there's something for you. There's also some niche but potentially really useful stuff too – pre- and post-pregnancy workouts and rehabilitation if you've got an injury.
It's easy to set up and there are little videos to show you how to do the movements. My biggest success has been doing a few of the yoga courses. I can now touch my toes for the first time without something snapping.
It does have its limits – to really justify the £55 annual cost, you need plenty of space and some basic equipment like a kettlebell or some dumbbells and resistance bands to get the most out of it. Or, take it with you to the gym and use theirs. It's still way cheaper than an actual PT and you can certainly achieve a solid level of fitness with it, even if an app will never replace the real thing.
Recommended by Sarah Turnidge, News Reporter
It wasn't until I moved to Bristol 18 months ago that I decided I was going to give running a proper go, but in a sustainable way that wouldn't put me off for life. I'd heard loads of good things about the Couch to 5k Challenge, and had even tried it a few times (but always given up) so that seemed like a good place to start.
The One You app is free, really intuitive, and being sponsored by the BBC even gives you four different "celebrity trainers" to guide you along; Sarah Millican, Jo Whiley, Michael Johnson and Sanjeev Kohli. It breaks running down into a nine-week course, that'll get you from barely being able to shuffle to the end of the road, to jogging confidently for 30 minutes.
Starting out for a minute at a time is about as gentle an introduction as you could hope for, and I was genuinely surprised by how much I could feel myself improving with every level. The app really reinforces the self-confidence aspect of running – the first time it told me to run for 20 minutes I thought "no way", but it turned out the app had given me all the training I needed, and I was away.
The app is really designed to be deleted. Once my nine weeks was up I said goodbye and moved on to the tracking app Strava and now I'm running at least 10km a week – something I never would have thought possible.
Recommended by Rachel Moss, Life Reporter
I'm not a die-hard yogi, but I've been using this YouTube channel for over a year, logging on sporadically to help ease aches and pains or unwind after a stressful day. The tutorials are super straightforward and easy to follow even if you're a total beginner or, like me, painfully inflexible and naturally clumsy.
Adriene's back catalogue contains more than 550 videos, meaning every time I've logged on, I've found something that fulfils my needs to a tee. There are tutorials aimed as specific body parts such as 'yoga for neck ache' or 'yoga for lower back pain', which I'd highly recommend and come in handy if you're feeling stiff after a day working from home.
But the tutorials that focus on wellbeing seem particularly suitable right now – try 'yoga to heal stress' or 'yoga to unwind' when the world feels a bit too noisy.
The tutorials vary in length, meaning it's easy to find something to suit your schedule. The seven-minute videos can spark a quick burst of energy if you complete them on a lunch break, while the 35-minute videos are great if you want a genuine workout that gets the heart rate going.
Other perks included the fact no equipment is required, Adriene's easy-going and likeable, and, if you're lucky, her dog might just make an appearance.