HIIT, that's High Intensity Interval Training for the uninitiated, involves working out intensely for short bursts, followed by recovery periods so you can catch your breath, and repeat.
Whether it's a spin class, running on a treadmill or lifting weights, HIIT is widely-regarded as one of the most effective ways to make serious changes to your body's performance and appearance.
We travelled the four corners of London to bring the top HIIT classes across the capital.
Barry's Bootcamp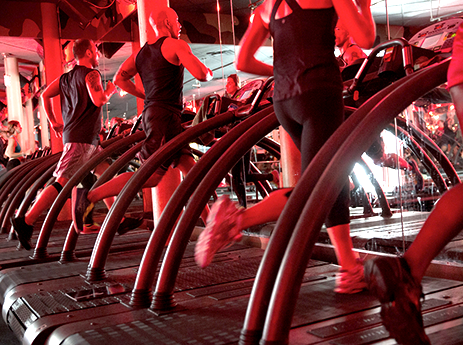 The original HIIT class, Barry's hails from LA and has a cult-like following, attracting the likes of the Beckhams.
The signature hour-long workouts involve 25-30 minutes of interval cardiovascular treadmill routines mixed in with 25-30 minutes of strength training.
Barry's claim that classes can burn up to 1000 calories, depending on how hard you work. But classes cater both to fitness fanatics and complete beginners - trainers give clear options to cater to level of difficulty, whether that's different speeds on the treadmill or hand weights.
There is room for 40 people in each class (20 treadmills and 20 floor spots), you sign up for a spot between 1-20 on either treadmill or floor to begin and then swap at regular intervals with the person with the corresponding number. You can also book a double floor spot if you're not up for running, but remember that means twice as much gruelling strength training…
There are classes throughout the day with different muscle groups targeted each day such as "butt and legs" and "arms and abs".
Location: Central - 163 Euston Road, London, UK NW1 2BH or East - 2 Worship Street London, UK EC2A 2AH
Price: £20 per class, but cheaper if you buy in bulk
1Rebel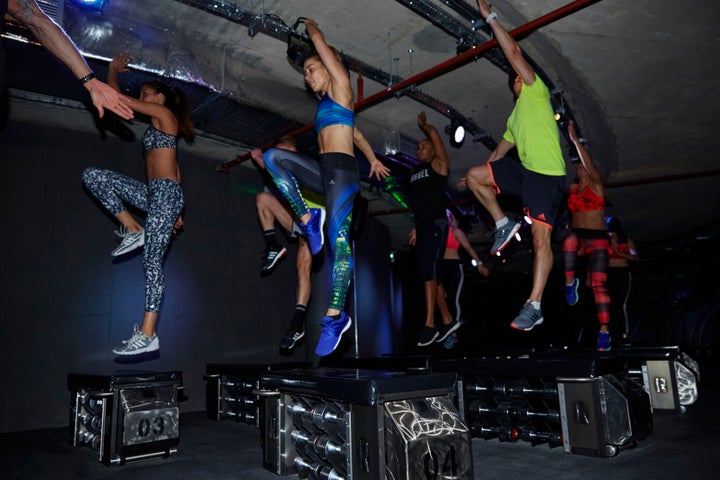 Keeping up with the cult-like HIIT classes, London's homegrown 1Rebel offers Reshape: a workout that interchanges treadmill and strength training.
'Shapers' (that's the nickname given to class attendees, FYI) can pick from the regular 45-minute classes or 30-minute lunch time slots to help sandwich in while at work, and music is freshly mixed each week by 1Rebel DJs. Different days focus on different muscles, whether that's upper, lower or full body.
No 1Rebel review would be complete without a nod to their changing rooms, or should we say backstage dressing rooms. We know it's about the exercise class, but a little luxury never hurt anyone… the comfy chairs dressing room mirrors, abundance of toiletries, spacious copper lockers and cold hand towels make it a home from home, or hotel from home. Free cycling shoes are available.
Location: 63 St Mary Axe, London EC3A 8LE or Broadgate Cir, London EC2M 2QS
Price: £20 per class, but cheaper if you buy in bulk. A Rebel Pass is their membership option, allowing riders to commit to varying numbers of classes on a monthly basis - as with the pay as you go option, the more classes you book, the cheaper they are.
HIITCore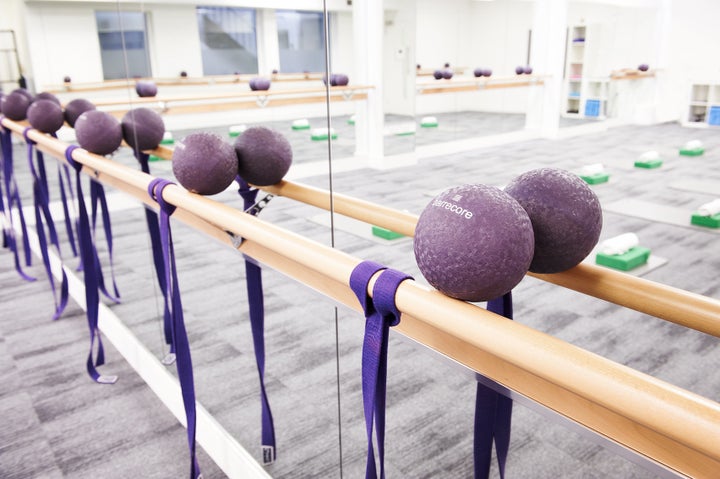 Barrecore's HIITCore class is perfect for dancers who want to up their stamina, as well as non-dancers who fancy a completely different HIIT workout.
The class moves between traditional Barrecore exercises such as deep pulsing pliés (think squats, but prettier) and challenging HIIT sections.
The HIIT sections include drills such as burpies and sprinting on the spot interspersed with allégro (fast ballet movements) such as jumps in first position and springs from foot to foot with ballet arabesque arms.
The 60-minute session also includes an intense ab workout using mini exercise balls along with a section of leg kicks to get your glutes working hard.
Remarkably, the barrecore trainers will have you laughing through the pain with their enthusiasm and encouragement. The party tunes also help.
The changing rooms are fully equipped with showers and stocked with shampoo, hair dryers and straighteners so you can leave the studio looking flawless.
Location: Barrecore has studios in Chelsea, Chiswick, Hampstead, Kensington, Mayfair, Wimbledon and Alderly Edge.
Price: Taster session £20, regular session £28
Ten Health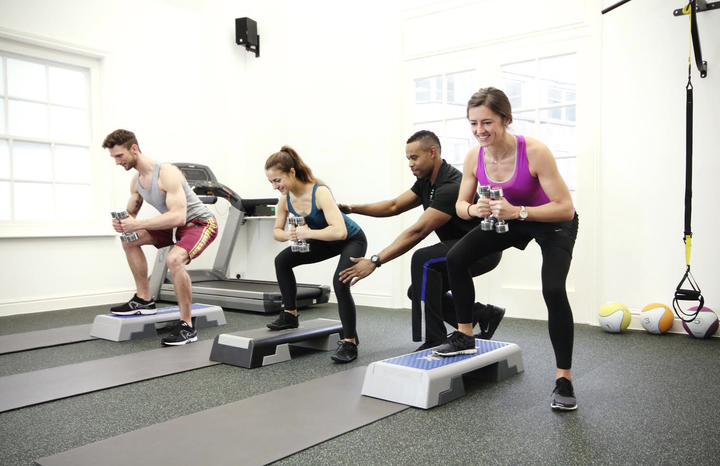 When there is a maximum of five people allowed in the class and with a wall of mirrors in front of you, there is definitely no room for slacking at Ten.
The intimate class gives the instructor a chance to individually check everyone's ability and pull you up on it when you're slowly beginning to flag.
The instructor makes sure you're working to your own limit, but when she asks for five more seconds of planking, you give her five more seconds.
Although the studio is small, the 45-minute class is packed with a mix of core, leg and arm work, including full body workouts on the TRX, so literally every part of your body will ache.
The instructor is hot on technique, which can often be sacrificed during fast-paced HiiT training - you'll learn a lot more than you realise.
Price: £30 per class or 10 classes for £175 per month
Location: Duke Street St James's. Six studios across London
Good Vibes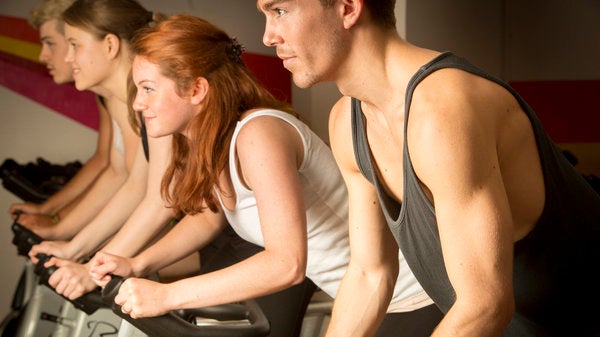 Best suited to those who've done a spin class before, HIIT Cycle Bootcamp at Good Vibes is perfect for anyone looking for the benefits of indoor cycling, but in a hurry.
Throughout the 30-minute session you'll be encouraged to whack up the residence on your bike and peddle with all your might for bursts lasting just 15 seconds. During the "rest" periods you'll cycle at a more comfortable pace, but constantly keep your muscles moving.
All bikes are fitted with individual monitors, meaning you can track your RPM (rotations per minute) and really push yourself to the limit.
According to the trainers, just one session of this fast-pace class per week can boost your endurance and your overall health by improving blood pressure and increasing mitochondria, which strengthen the heart and helps fuel your body and brain.
You'll be given a towel upon arrival and the changing rooms and showers are stocked with all essential post-workout beauty products, including shampoo and conditioner.
Location: 11 Tottenham Street London W1T 2AG
Price: Single class £16, 12 class pass £150, 24 class pass £250
HIITGirl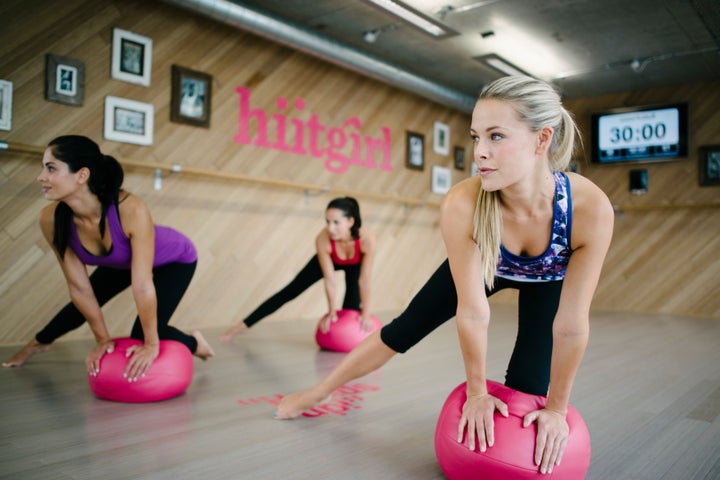 You'll need Google maps to find the HIITGirl studio as it's essentially one (large and very cool) room, hidden down a side road at the back of another gym, but don't let that put you off. The intimate location of HIITGirl (and the fact that it's specifically designed for women) makes its less intimidating for HIIT newbies. Having said that, the Signature class will stretch all abilities, including regular gym-goers.
The 30-minute class is made up of 15 minutes of strength training and 15 minutes of cardio. The strength section includes circuits of squats and lunges with weights, press ups and TRX while the cardio section uses sliders, bikes and mini trampolines to get your heart pumping. The instructor will demonstrate each station before you set off in pairs.
You won't have to look at yourself while you're dripping with sweat as the studio is mirror-free. Instead, you'll be able to read the motivational quotes on the wall for distraction or listen to the instructor's wise words of encouragement. If all else fails follow the countdown of the large digital clock on the wall between sections.
By the end of your first session you'll feel exhausted (and possibly a little nauseous) but trust us, you'll feel the benefit for days. Plus, this is a class you're likely to make friends at if you go every week - it's such a supportive environment.
Top tip: bring a water bottle as a fountain is available, but no cups. Also get changed before you arrive as HIITGirl shares its cubicle changing rooms with the gym next door and you may encounter a queue.
Location: 3 Broadbent Close Highgate Village London N6 5JW
Price: Taster session is £10, regular session £19
Fitness Mosaic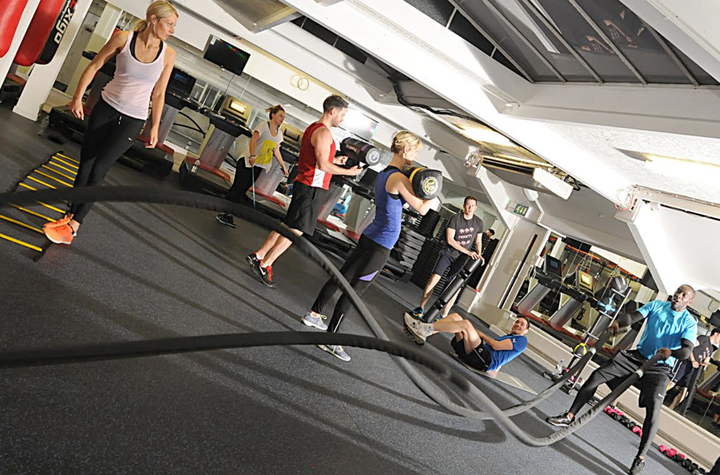 If you're not a big fan of burpees and mountain climbers, the HIIT class at Fitness Mosaic is probably not for you. Thankfully those who are willing to give it a try will be spurred on with the motivational quotes and phrases from the instructor, shouting 'mind over matter' and telling you you're just as strong as anyone else in the class.
The 30-minute session is based around 30 second exercises with 30 second breaks. And if we're being completely honest, it doesn't stop for the whole half hour.
Barbells and dumbbells are a big section of the class, and don't be shocked when the instructor tells you to drop and give him 10 burpees when you least expect it.
Thankfully, through the planks and the weighted squats, you're constantly being shouted at with encouraging quotes stopping you from falling into a heap on the floor.
Price: £12 per class or £90 for 10 classes.
Location: 81 – 84 Chalk Farm Road, NW1 8AR
HIITGym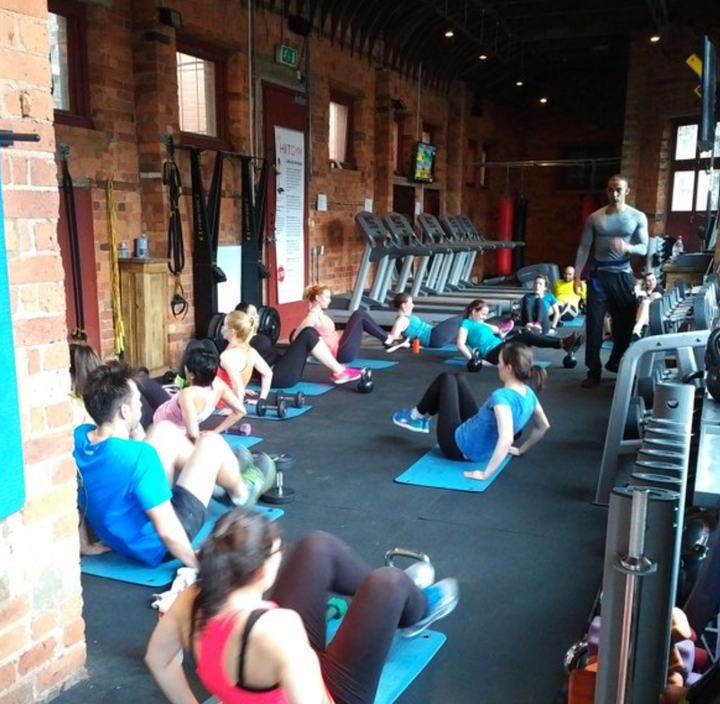 You'll know exactly how intense the workout is you're doing at HIITGym thanks to a heart rate tracker strapped to your chest... so there's literally nowhere to hide.
In the warehouse-style studio famously known for their gruelling, 50-minute workouts, those wearing trackers will see their results up on a screen at the front.
If your tracker number is orange on the screen, you're not working hard enough. If it's green, you're on track. Red? Slow down a bit (and breathe).
Thankfully, the sessions are extremely varied and keep your minds buzzing so that you won't find yourself clock watching.
People are split into groups then rotate doing different exercises including boxing, running, weights and those beloved mountain climbers - all with just 10 second breaks in between. Your legs will feel like jelly, but your endorphins will be sky high.
Price: £20 per session, or £45 for four sessions every month.
Location: 198a Broadhurst Gardens, West Hampstead NW6 3AY
Related