Beyoncé knows how to work a look. In fact she doesn't even have to work, per se, because whatever she chooses to wear seems to be made for her.
So it's not surprising that when she wore a tastefully sexy off-the-shoulder dress, it seemed like the world coveted it.
The music icon wore the look to her sister Solange's private party at MASHstudios in LA on August 11.
Now you can emulate your favourite diva, because the dress is not haute couture - it's from House of CB.
This dress is everything we love about this season's trends: a Bardot neckline? Tick. Short, modern cut? Absolutely! And coquettish ruching in a smouldering red? Why not...
Who can blame House Of CB for milking Queen Bey's approval for all it's worth?
The cult favourite brand could not help but post and repost images of Beyoncé enjoying her LRD - little red dress.
And fans were not complaining.
"Beyoncé shops here ❤️❤️❤️ you guys officially have the golden touch," said one.
"If you see Beyoncé in something new and it's trending on social media you know it's about to sell out fast 💨," another gushed.
But one follower wasn't too convinced.
While they loved the dress on Beyoncé, they seemed to think the "#fifi dress is not for everybody.
"She [Bey] made the dress, the dress didn't make her," they wrote.
While we agree it takes confidence to slay like Mrs Carter, we say just go for it!
I mean, check out the way their model also rocks this feminine look.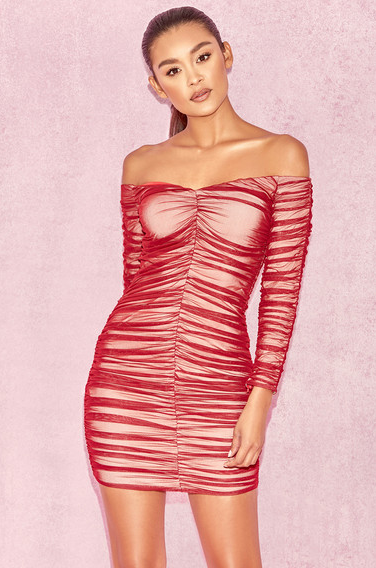 Give the brand some credit here, they know what they're doing. When Beyoncé dons a look, women everywhere pay attention.
Thank you, Beyoncé, for giving us #outfitgoals. 🙌🏿