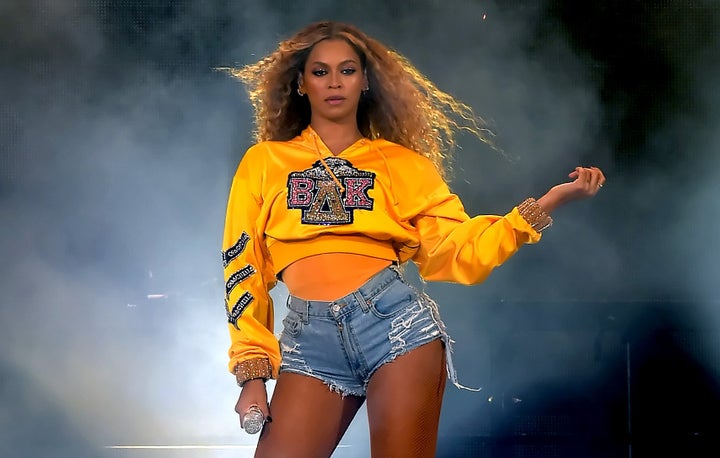 Vogue editor-in-chief Anna Wintour gave Beyoncé unprecedented control over the cover of the upcoming September issue, sources say, and the music icon hired the first black photographer to shoot a cover in the publication's 126-year history.
The publication is contractually obligated to give Beyoncé full control over the cover, the photos of her inside the magazine and the captions, which she has written herself and are in long-form, according to two sources who are familiar with the agreement between Vogue and Beyoncé but aren't authorized to speak to the press.
Wintour has always exerted complete control over the fashion bible, including selecting the outfits worn by cover models. Cover subjects are usually given little to no say in their photos and are sent the cover in the week ahead of publication, a source familiar with the editorial process at the publication told HuffPost.
"The reason a 23-year-old black photographer is photographing Beyoncé for the cover of Vogue is because Beyoncé used her power and influence to get him that assignment."
Beyoncé chose Tyler Mitchell, 23, to be her photographer.
"I depict black people and people of color in a really real and pure way," Mitchell, who has already made a splash by shooting campaigns for Marc Jacobs and Givenchy, told The New York Times in December. "There is an honest gaze to my photos."
Wintour typically prefers to hire fashion photographers with more traditional experience and likely would not have selected Mitchell for a cover shoot, according to a source familiar with Vogue's editorial process.
"The reason a 23-year-old black photographer is photographing Beyoncé for the cover of Vogue is because Beyoncé used her power and influence to get him that assignment," the source said.
A representative for Vogue declined to comment on this story. One week after its publication, however, Wintour told Business of Fashion that the "concept and the photographer was entirely Vogue's, specifically" Condé Nast creative director Raul Martinez.
The cover is also likely to be Wintour's last September issue, according to four sources familiar with her plans. Vogue parent company Condé Nast repeatedly has said the editor is not leaving the magazine.
"Anna Wintour is an incredibly talented and creative leader whose influence is beyond measure," Bob Sauerberg, the CEO of Condé Nast, said Tuesday in a statement to HuffPost. "She is integral to the future of our company's transformation and has agreed to work with me indefinitely in her role as editor-in-chief, Vogue and artistic director of Condé Nast."
Beyoncé's last September issue cover was in 2015 and was shot by Mario Testino, a photographer Wintour has worked with frequently. (Testino has not worked for Vogue since being publicly accused of sexual misconduct in a New York Times report published in January.) Beyoncé was not given the same level of control over that cover or issue, but it still made waves because she did not participate in an interview for it, something that had not happened in several years with a non-model cover subject. She is also not granting Vogue a sit-down interview for the September 2018 issue.
Stormy Daniels is also expected to be featured in the September or October issue of Vogue after being photographed by Annie Leibovitz. A spokeswoman for Vogue declined to comment when HuffPost reached out to the publication several months ago after hearing about the possibility of Daniels being featured in the magazine.
This article has been updated with comment from Sauerberg. It has also been updated to include comments Wintour made after its publication about Vogue's choice of photographer and concept for the September issue.