Relationships are full of ups and downs, but there's one area causing couples more stress than most.
New research reveals that money worries are placing the biggest strain on relationships for people in the UK.
The survey of more than 5,000 people by leading relationships charities Relate, Relationships Scotland and Marriage Care has revealed financial stress is having a negative impact on more than a quarter (26%) of UK couples.
Other top strains include not understanding each other (20%), low libido or differing sex drives (19%), lack of work-life balance (17%) and different interests (16%).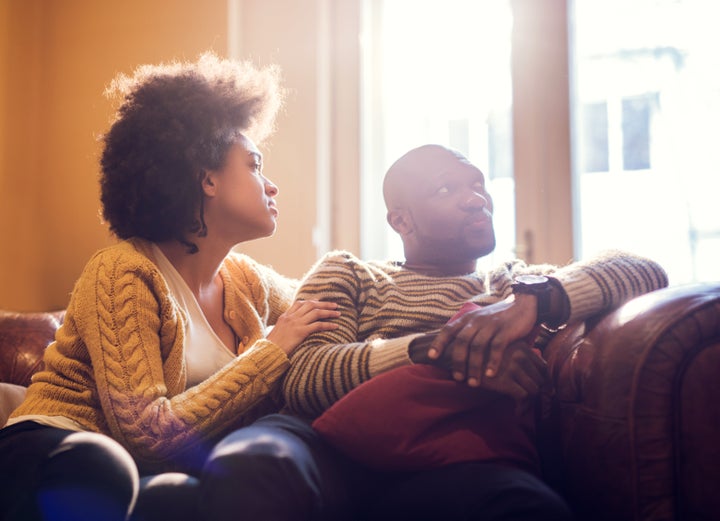 Commenting on the findings, Relate counsellor Arabella Russell said: "This report highlights that, despite the promise of economic recovery, money worries are still placing a significant strain on our relationships.
"We see in the counselling room every day how much conflict money can cause in relationships, so knowing how to manage your finances together is important for heading off arguments before they begin.
"The key is to be completely open and honest with each other about your values, feelings and spending habits. Make sure you're both clear on how you plan to share finances, pay bills and manage your spending."
Marriage Care counsellor and director of client services, Jenny Porter, added: "Usually when couples argue over money, it is because both individuals have very different spending habits. For example, one person may be more risk-averse and want to put more money away for retirement, while the other person may be more focused on spending for today.
"Although many couples find it awkward to talk about finances, it is essential to talk things through together to ensure both partners are on the same wavelength and to prevent problems from escalating.
"It is unsurprising financial worries are the top relationship strain experienced by couples as money affects many aspects of our lives. As in any dispute – whatever the subject – trust, compromise, flexibility and good communication are key to resolution. If couples are finding it hard to reach a positive solution together, help from an experienced relationship counsellor can and does make a difference."
The top strains on relationships were found to be:
Money worries: 26%
Not understanding each other: 20%
Low libido/differing sex drives: 19%
Lack of work-life balance: 17%
Different interests: 16%
Household chores: 15%
Don't know: 12%
Mental health problems (mine or my partner's): 12%
Alcohol: 12%
Jealousy: 12%
The future of the relationship: 11%
Relationships with my/my partner's extended family: 10%
Physical health problems (mine or my partner's): 10%
Extra-marital affair(s): 9%
Childcare/bringing up children: 8%
Time spent online: 6%
Other: 5%
Smoking: 5%
Step-family tensions: 4%
Caring responsibilities excluding own children: 4%
Political opinions: 3%
Drug use: 3%
Accessing pornography: 2%
What people look for in a partner.
The report also sheds some light on what people look for in a partner. Top of the list by a long shot was trust (67%), followed by communication (52%), commitment (37%), shared values (34%) and personality (28%).
Women were more likely to identify trust (70%) and communication (57%) as important factors than men (62% and 48% respectively selected these).
Rows and regrets.
Respondents to the survey were also asked questions about the quality of their relationship. It turns out that 16% of partners think about getting divorced, separated or ending their relationship at least occasionally.
While the charities say that arguing constructively can actually be good for your relationship, arguing most of the time can be an indication that there are issues.
In the survey, 6% of people said they argue with their partner all or most of the time and 42% argue occasionally.
The research also confirmed that the longer you have been together, the more likely you are to argue. Just 34% of partners who have been together less than five years said that they argue at least occasionally, compared to 55% of those who have been together over 35 years.
Quality time together is important.
When asked, 93% of relationship support practitioners (like counsellors and sex therapists) said that spending dedicated time together, such as a date night or taking part in an activity, is important for the relationship.
The study found that dedicated time spent together was associated with better relationship quality. The good news is that almost a third (30%) of partners manage to spend quality time together more than once a week, and 15% do so once a week. However, 11% of partners said they never do this and a further five per cent do this once a year or less.
Stigma and lack of knowledge about relationship support.
Despite the clear pressures on relationships, four in 10 people surveyed said they wouldn't know where to turn for support. While 66% of people agreed that "everyone could benefit from support with their relationships", only 22% said they would get support if their own relationship was "under strain".
It is also telling that more than half (54%) of respondents said that "if I accessed professional relationship support (e.g. seeing a counsellor), I would not want anyone to know about it".
Relate and Marriage Care provide services which can help couples to overcome relationship pressures and improve the way they communicate.