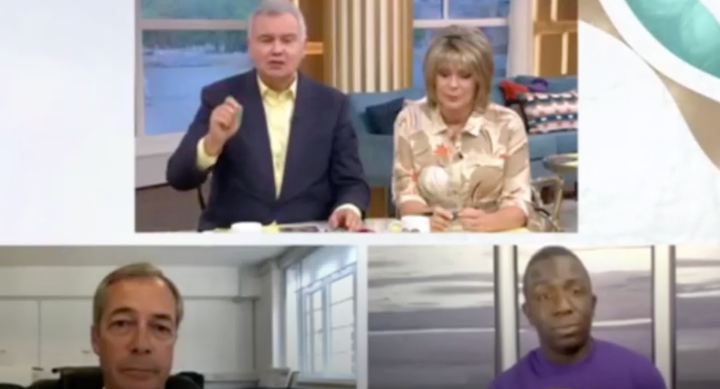 "Every time the 's word' seems to be used, you seem to have an issue with it."
Those were the words of presenter and journalist Eamonn Holmes during a discussion on This Morning about whether songs like "Rule, Britannia" and "Land of Hope and Glory" should or shouldn't be banned from BBC's Last Night at the Proms, due to their lyrical content and ties to colonialism.
As I sat at home, I watched on, somewhat speechless, as Holmes asked activist Femi Oluwole, a Black person, why they had an issue with the word "slave" on a morning TV show.
It was yet another sobering reminder that racist discourse is normalised in our society and across the shows we watch – and I hadn't even consumed my second cup of coffee yet.
"It's become increasingly obvious to me that, more often than not, these shows are not looking to enlighten or educate, but to gaslight and belittle."
This is an unfortunate and damaging reality that many Black Brits have to bear witness to. Too often, the unique issues we face are undermined on national television, in front of an audience of millions.
It's a familiar set up that we know all too well. A prominent Black journalist or public figure is invited to appear on one of these morning shows to share their thoughts and experiences as a Black person in this country. But too often, there experience is met with hostility and they're chastised for their stance by the presenter – who is usually a white cisgender man.
It happened to Afua Hirsch during an appearance on Good Morning Britain. While attempting to discuss the racial, sexist and xenophobic undertones beneath the UK tabloid reporting on Meghan Markle, she barely had the opportunity to speak before being berated and spoken over by presenter Piers Morgan.
Similarly, an appearance from Professor Kehinde Andrews on GMB saw him attempt to discuss why Winston Churchill is a controversial figure not to be heralded before being incessantly interrupted by both Morgan and co-host Susanna Reid.
As platforms which are supposedly meant to facilitate discussion, debate and hear other perspectives, some of these morning shows are doing a rather poor job. And this is to the detriment of not only the Black guests who appear, but also the Black viewers who tune in and have to see their very existence and histories debated, questioned, poked and prodded.
I have been approached to appear on platforms to discuss issues regarding race in the UK, and in my earlier years, I was happy to do so. At the time, it seemed like an opportunity to speak on issues of importance to me and my community and enlighten those who were less aware.
But it's become increasingly obvious to me that, more often than not, these shows are not looking to enlighten or educate, but to gaslight and belittle the lived experiences of their Black guests.
Constantly debating our right to be upset over racism, discrimination and colonisation can take its toll for both those appearing on the shows and those watching it.
News consumption can have a profound effect on Black mental health and discussing the trauma inflicted on the Black community and the remnants of colonialism and how it affects us until this day is unquestionably difficult. This experience is only heightened when those speaking on our behalf don't get to express their opinions – opinions that many in our community share.
To constantly see Blackness, what it means, what matters and what doesn't, debated by people who don't live that experience, can have a profound, lasting effect. It's time we consider that seriously both when viewing these shows and considering whether to appear on them.
Representation is important, and for that, I understand why Black figures go on these platforms – to represent their community, for their voices to be heard. But these shows are not trying to hear us. They are gaslighting and minimising our experiences and engaging in an open, healthy and respectful discourse is rarely a part of the plan.
It's time to take a stand and demand the respect we deserve. We're more than just talking heads to fit into a five-minute slot to get a rousing debate going that'll be splashed across newspapers.
There should be boundaries in place from the producers of these shows that ensure their guests are able to share their opinions, without being bulldozed by these presenters. Not only does it allow for a clear discussion, but it benefits viewers who actually want to hear both perspectives.
And until this is guaranteed, I say, why give these shows the time of day? We should demand better, take a stand and not tolerate appearing on platforms where we can't vocalise our experiences.
Leah Sinclair is a freelance journalist.