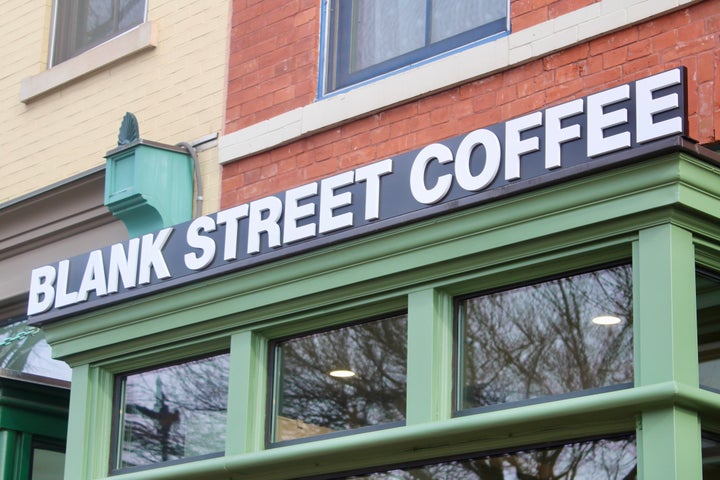 The upstart chain Blank Street Coffee has expanded with startling speed since opening its first location in Brooklyn in 2020. In less than three years, the venture capital-backed company has unveiled roughly 60 stores serving automated espressos, most in New York City with additional locations in London, Boston and Washington, D.C. Last August The New York Times called Blank Street "suddenly inescapable."
Most of the chain's small-footprint cafes are not the hangouts you might associate with Starbucks or independent coffee shops. So don't expect a lot of space to plug in your laptop and lounge for an hour. Instead, it's a place to grab a reasonably priced coffee made by an expensive Eversys espresso machine and go. Depending on the time of day, a Blank Street location might be helmed by a couple of employees or even a "shift lead" working solo.
Those workers are left to figure out many things independently, one reason many seem to be signing union cards. Blank Street employees in New York have already filed for three elections to determine whether they will join the United Food and Commercial Workers (UFCW) Local 1500. The National Labor Relations Board (NLRB) has scheduled the first vote to start next week by mail and a second to begin in early February. The results of both elections are expected next month.
If the union can gain a toehold at some of Blank Street's first storefronts, collective bargaining will almost certainly be discussed wherever the Blank Street brand turns up next. And that's the way it should be, said Garrett deGraffenreid, a Blank Street barista on Manhattan's Upper East Side.
"All workers deserve to have some form of representation or accountability within management," said deGraffenreid, who's 24 and originally from Dallas, Texas. "With Blank Street, I think this is about bringing greater stability to our jobs – the desire for consistent hours, accountability for management with regard to our facilities and maintenance – things that are out of the hands of our baristas."
deGraffenreid said the desire for unionism is "definitely in the air" when it comes to coffee shop workers, noting the massive success of Starbucks Workers United, which organized more than 200 shops at the previously non-union chain in less than a year. But interviews with deGraffenreid and three other workers supportive of the UFCW effort suggest Blank Street's somewhat unique business model also helps explain why workers are interested in unionizing.
"All workers deserve to have some form of representation or accountability within management."
Blank Street is organized by neighborhood umbrellas, each representing a cluster of Blank Street storefronts. Workers said they find the pay to be pretty good. Baristas in New York start at $16.50 per hour but are guaranteed to earn at least $23 per hour after tips (the company makes up the difference if the gratuities fall short and says last year workers averaged $30 per hour during the busiest season). But the model of small, minimalist locations means workers are often left to their own devices when problems arise. That's because managers oversee neighborhoods of stores and can only swing by individual locations periodically.
"It's a lot of problem-solving on our own," said one worker, who asked to speak anonymously for fear of retaliation. "That was kind of the draw of the company – that you didn't have to have any coffee or barista experience, you could just hop in. But they didn't mention that you'd have to basically be managing your store."
The expensive Eversys machines can get finicky, they said, creating headaches during a big rush of customers. For many such problems, baristas try to reach supervisors by phone to get help. Routine maintenance, like a drafty door, can take weeks to address. In addition, workers said it's common to have issues with the air-conditioning in the summer or the heating system in the winter.
Blank Street employees recently told Modern Retail that they endured extreme summer temperatures in the chain's mobile coffee carts, some of which the company decided to close. Workers also said turnover was high due to security concerns, with one employee saying they had to file "constant incident reports." Modern Retail attributed the tensions to a "traditionally mom-and-pop business model [being] reframed to facilitate hyper-growth."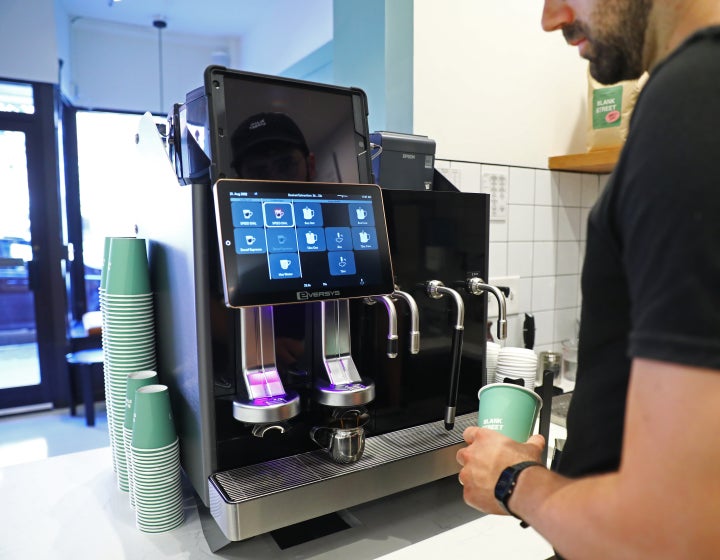 Turnover in management has made it more challenging, they said.
"The job, in theory, is easy, but made impossible by the disorganization and lack of planning," another worker told HuffPost. "It feels like Blank Street is more focused on opening more and more stores than on fixing the state of their current ones."
A Blank Street spokesperson acknowledged the company has faced "a number of operational challenges" during its fast New York expansion but said it has "worked quickly to respond to them."
"[W]e've invested in bringing new leaders into our field operations, implemented new feedback tools, and expanded our facilities team to continue supporting our baristas and improve response time to their needs and challenges," the spokesperson said in an email. "When a manager has requested additional staffing support at a store, we have worked to accommodate."
Blank Street's organizational model could be an asset to union supporters. Rather than holding an election for every Blank Street outpost, the union is filing for votes based on neighborhoods. That way, a bargaining unit might include 20 to 40 workers from several different stores, reducing the volume of election petitions they would have to file if every storefront was its own bargaining unit. Blank Street has not challenged this arrangement legally at the NLRB.
UFCW 1500 primarily represents grocery workers in the New York area. But it also counts baristas among its membership since some grocery stores include licensed coffee shops where union workers serve Starbucks. (The high-profile Starbucks union campaign is affiliated with a different union, Workers United.)
The Blank Street campaign began last year after an employee contacted UFCW 1500 about organizing some shops. If the union can win some elections in New York, the local and its affiliates will likely continue trying to organize the chain neighborhood by neighborhood.
"That was kind of the draw of the company – that you didn't have to have any coffee or barista experience, you could just hop in. But they didn't mention that you'd have to basically be managing your store."
In addition to getting more support from management, workers said they also hope a union contract could improve their benefits. For example, full-time workers are eligible to enroll in the company's health plan but must pay half the cost, putting it out of reach for many. Workers also said the schedules could be erratic, and some have seen their hours drop over time.
"There's a lot of rapid change and rollovers in management, sometimes in a pretty chaotic, disorganized way," one employee said. "Sometimes, we as baristas bear the brunt of that. Even though we have some decent conditions right now, we're very aware that that's conditional and could be changed at any time."
Blank Street workers say the company's response to the effort has been relatively muted. So far, there have been no consultant-led "captive audience" meetings full of anti-union talking points, such as at Amazon, nor a flood of outside managers trying to pressure workers into voting "no" in elections, as at Starbucks. A coffee chain hoping to break into new, largely progressive cities would run reputational risks with a stridently anti-union posture. Asked by HuffPost if it wants employees to vote against the union, Blank Street walked a delicate line.
"We care deeply about the well-being of our team," the Blank Street spokesperson said. "We are taking the time to listen to their concerns and are committed to giving baristas the information they need to make the best decision for themselves on unionizing. We hope to continue working directly with our baristas to build Blank Street."
Bloomberg recently reported that Blank Street is seeking another round of funding from investors and hopes to be valued at $200 million. The company raised $60 million in 2021 – $25 million of it from a pair of venture-capital firms – and could raise tens of millions more in the next round as it looks to expand, according to Bloomberg.
With the company pursuing aggressive growth, deGraffenreid said it would be best if workers got a formal seat at the table sooner rather than later.
"I think our baristas are the biggest reason Blank has been successful," he said. "A union contract would guarantee that we were treated as partners and that the growth doesn't come at [our] expense."