Boris Johnson has been accused of throwing Sir Kim Darroch "under the bus" after the British ambassador to the United States resigned.
Darroch quit his post in Washington on Wednesday morning after deciding it was now "impossible" for him to do his job.
HuffPost UK understands Darroch decided to resign after he watched Johnson, the frontrunner to become prime minister, in Tuesday night's ITV leadership contest refusing to rule out sacking him.
Darroch's resignation came after it was revealed he had described the Trump administration as "inept", "incompetent" and "uniquely dysfunctional" in Foreign Office memos leaked to the Mail on Sunday newspaper.
Jeremy Corbyn's spokesperson said it was "clear that Boris Johnson is effectively Donald Trump's patsy".
"His failure to show support for the British ambassador was clearly wrong," the Labour leader's spokesperson added.
Emily Thornberry, the shadow foreign secretary, said Darroch had been "bullied out of his job" because of "Donald Trump's tantrums" and Johnson's "pathetic lick-spittle response".
On Wednesday, Johnson added that the blame should rest with the person who leaked Darroch's diplomatic cables to the Mail on Sunday.
"I hope that whoever it is, is run down, caught and eviscerated, quite frankly, because it is not right that advice to ministers that civil servants must be able to make in a spirit of freedom should be leaked," he said.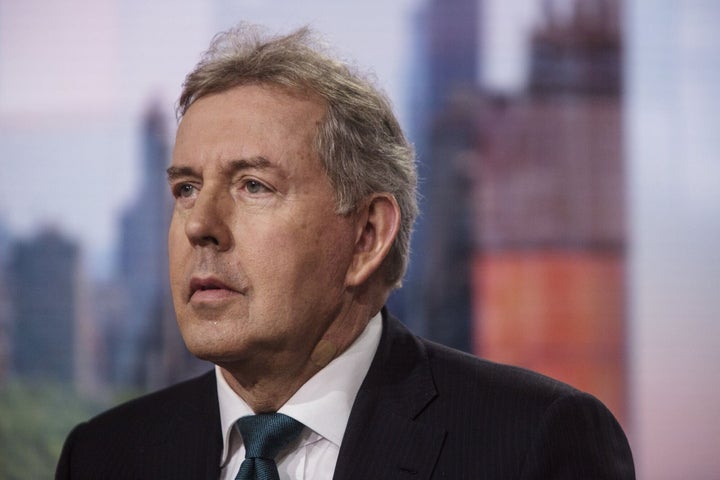 Sir Patrick McLoughlin, a former Tory party chairman, accused Johnson of "failing to stand up for hard working civil servants, who have done nothing wrong, under attack from foreign governments".
"Leadership involves standing up for your team. If we don't call out those who want a witch-hunt through the civil service we are complicit in creating divisions that may never heal," he said.
Foreign Office minister Alan Duncan told the BBC Johnson had "thrown our top diplomat under the bus".
Tom Tugendhat, the chairman of the Common foreign affairs committee, attacked Johnson for not backing up Darroch.
Nick Boles, the former Conservative who now sits as an independent MP, said Johnson "isn't even prime minister yet and he is already responsible for a grievous blow to the UK's international reputation".
"By refusing to back Kim Darroch in the face of bullying by President Trump, he made his resignation inevitable," he tweeted.
The leak has soured relations with the Donald Trump administration and prompted a Twitter tirade from the US president.
On Tuesday, the US president described Darroch as a "pompous fool" and a "very stupid guy" who had been foisted on the US.
Unlike Johnson, Foreign Secretary Jeremy Hunt said he would have kept Darroch as US ambassador should he win the Tory leadership.
Sir Simon McDonald, the head of the UK diplomatic service, told MPs today Trump's refusal to work with Sir Kim Darroch is the first time in his career a head of state has dismissed working with a British ambassador.
Peter Ricketts, a former Foreign Office head, tweeted: "Kim has been an outstanding public servant with a distinguished career in the highest-profile jobs.
"It should not have ended like this. He has been taken out by an act of political sabotage. What does this say about the state of our country?"
Lib Dem leadership candidate Ed Davey MP said under Johnson a British ambassador "will have to be a dishonest poodle sent abroad to be bullied for his country".
"It is unacceptable that a senior civil servant has been forced out in such a highly politicised manner, for the crime of doing his job - giving frank private advice on matters of international diplomacy is the most important role an ambassador fulfils," he said.