Downing Street confirmed the two leaders spoke for 40 minutes on Tuesday night as hopes were fading a fresh agreement could be struck.
"Both sides strongly reiterated their desire to reach a Brexit deal," a Downing Street spokesman said. "They hope to meet in person later this week."
Fears that Britain could be headed for no-deal have grown in recent days, with Number 10 briefing it planned to ramp up the pressure on Brussels over leaving without agreement.
French president Emmanuel Macron confirmed on Tuesday that EU leaders would decide on Johnson's fresh offer at "the end of the week".
Downing Street had briefed that the EU was making it "essentially impossible" for the UK to leave with an agreement after a phone call between Johnson and German Chancellor Angela Merkel.
The talks come after president of the European Parliament David Sassoli also was downbeat following his meeting with Johnson on Tuesday.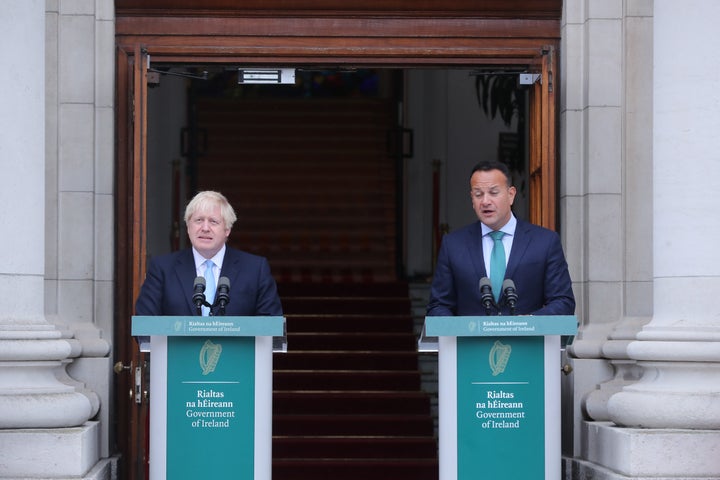 Stressing that a Brexit deal must be ratified by both the Commons and the European Parliament, Sassoli said: "I came here in the confident hope of hearing proposals that could take negotiations forward. However, I must note that there has been no progress."
A Downing Street spokesman said of the bi-lateral meeting: "The prime minister set out how there is little time remaining to negotiate a new agreement, and so we need to move quickly and work together to agree a deal.
"He reiterated that if we did not reach an agreement then the UK will leave without a deal on the October 31."
"At stake is the future of Europe and the UK as well as the security and interests of our people," he tweeted.
"You don't want a deal, you don't want an extension, you don't want to revoke, quo vadis (where are you going)?"
Earlier there was was fury among EU leaders following a series of No 10 briefings.
One claimed Merkel had made clear a deal was now "overwhelmingly unlikely". Another blamed Varadkar for the deadlock and accused the Irish premier him of rowing back on private commitments to the UK.
Labour said the PM was guilty of a "cynical" attempt to "sabotage" the talks, saying his strategy had always been to pursue a no-deal break.
The hardball tactics from No 10 even alarmed some ministers, after sources warned Britain could break off security co-operation with the EU if it was prevented from leaving on October 31 as Johnson has promised.
Northern Ireland Secretary Julian Smith tweeted that "any threat on withdrawing security co-operation with Ireland is unacceptable".
Johnson's new deal scraps the Northern Irish backstop, which was three times rejected as part of Theresa May's Brexit deal, and suggests customs checks at businesses.
MPs have given Johnson a deadline of October 19 to agree a Brexit deal with the EU or ask for a delay to the UK's exit until January 2020.
Ireland's deputy prime minister Simon Coveney has claimed the briefings were aimed at forcing his government to make concessions.
"There is a lot of misinformation going around today, so let me say this loud and clear to everybody – the Irish government and the EU is working flat out to achieve a deal that sees an orderly Brexit at the end of this month," he said, after announcing a Brexit budget in Ireland to help the country absorb the economic shock.
Coveney said Ireland wanted a fair deal and close future relationship with the UK.
"A no-deal Brexit will not be Ireland's choice, it will never be the EU's choice," he said.
"If it happens, it will be a decision made by the British government."
Referring to Johnson's plans to replace the contentious border backstop, Coveney said: "If the British government wants to remove the backstop or the withdrawal agreement, they have got to bring forward proposals that do the same job in the context of the border issues that are so difficult and complex.
"It's not just about trade, it's about so much more than that and anybody who understands Ireland and the politics of this island understands that."