The parent of a sick child claimed the NHS was being destroyed as he challenged Boris Johnson during a hospital visit.
The prime minister was confronted by the angry parent, who claimed there were not enough doctors and nurses.
The parent was later revealed to be Omar Salem, who describes himself as a 'Labour activist' on his Twitter page.
In a conversation lasting around two minutes, the man said the situation was "not acceptable".
Johnson was visiting Whipps Cross University Hospital in north-east London when he was challenged by Salem on a children's ward.
Salem told the prime minister: "There are not enough people on this ward, there are not enough doctors, there's not enough nurses, it's not well organised enough.
"The NHS has been destroyed ... and now you come here for a press opportunity."
Johnson said "there's no press here", but Salem gestured to cameras filming the confrontation, and said: "What do you mean there's no press here, who are these people?"
The prime minister explained he was "here to find out" about the situation, but Salem said: "It's a bit late isn't it? Years and years and years of the NHS being destroyed."
On Twitter, Salem said his seven-day-old daughter had been admitted in a "gravely ill" state.
He said: "Boris Johnson had the temerity to come to @WhippsCrossHosp for a press opportunity on the children's ward that my 7 day old daughter is on, having been admitted to A&E yesterday gravely ill.
"The A&E team were great but she then went for hours on the ward without seeing a doctor.
"Boris Johnson has been an MP, @MayorofLondon, Cabinet Minister and now PM while the NHS has been neglected, just as my daughter was last night.
"Rather than drips of money for press opportunities he should get on with properly supporting the NHS so that patients get the care they deserve, there is adequate staffing with good working conditions and worried fathers like me can have some peace of mind."
A spokesman for the prime minister said Johnson was visiting public services to see for himself the reality of the situation.
The spokesman said the man was understandably "very distressed", and the prime minister was "not going to hide away from those circumstances when he goes on these visits, and so obviously is keen to talk to people and empathise and see what he can do to help".
"It's also a reminder of why exactly he is so keen to make the NHS a priority and make sure it's getting the funding that it requires," the spokesman added.
Staff at the hospital in Leytonstone told HuffPost UK they were not forewarned about Johnson's visit but knew a "VIP" was visiting when they saw police officers on motorbikes on Wednesday morning.
Surprised colleagues posted photos and videos on Twitter as the prime minister turned up to their work.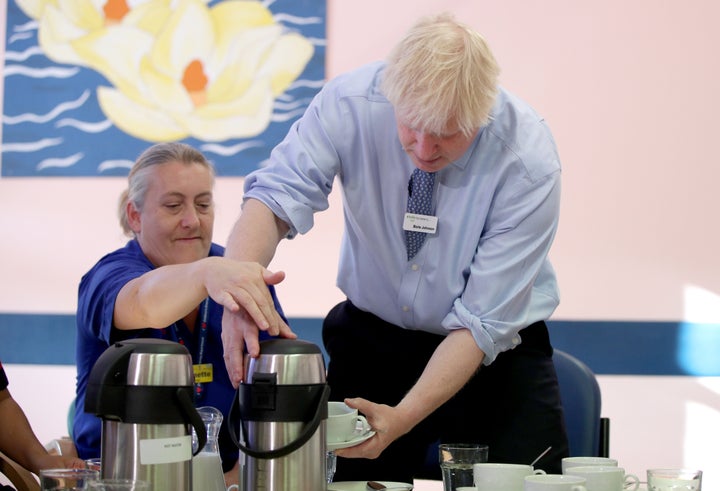 One staff member said an ITU consultant from Spain wanted to speak to Johnson about her post-Brexit settled status but did not get the chance, while a colleague from Ireland insisted the PM visit their ward.
One video showed crowds cheering as Johnson did a walkabout outside, a stark contrast to the booing crowds in Luxembourg two days previous.
While news agency PA Media was in attendance, the visit was not widely publicised to other news organisations.
During his visit, Johnson posed with a 14-year-old leukemia patient and also needed help pouring a hot of drink from a large thermos pump flask.