Boris Johnson had been hoping to celebrate his 100th day in office by finally taking the UK out of the EU but alas, he'll have to settle for a game of apple bobbing and dressing up as whatever Old Etonians dress as on Halloween.
To mark the occasion HuffPost UK has summarised his m̶a̶i̶n̶ ̶a̶c̶c̶o̶m̶p̶l̶i̶s̶h̶m̶e̶n̶t̶s̶ one accomplishment and various scandals and faux pas in a handy numerical list.
Oh, and there's also a dog in the middle if you start to flag a bit. Here we go...
21 Sacked Rebels
We begin with one of Johnson's most ruthless moves to date – the sacking of 21 Tory MPs who dared to join a cross-party alliance to block a no-deal Brexit back in September.
Winston Churchill's grandson, Nicholas Soames, was among those who got the chop, as were a number of Tory grandees, including Ken Clarke and Oliver Letwin.
But demonstrating that the PM possesses both carrots and sticks, ten of the rebels were allowed to rejoin this week as a reward for supporting the government.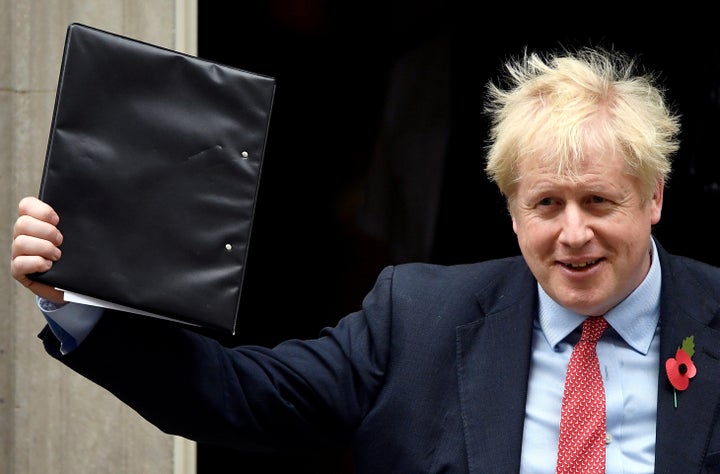 1 Brother
Family affairs rarely enter the Commons so when they do you can tell something serious is up.
And so it was that on 5 September, a fraternal fissure broke into the open and Jo Johnson, the PM's brother, resigned as a minister and said he would step down as an MP as he was "torn between family loyalty and the national interest".
While at first glance this looked like a noble decision based on morals and values, it should be remembered that Jo had accepted the position in a government willing to accept a no-deal Brexit, even though he had been a vocal supporter of holding a second referendum.
So public sympathy was somewhat limited.
0 Brexits
As you may have noticed, today is the 31 October and Boris Johnson is not dead in a ditch.
Despite infamously pledging this would be his preferred fate over asking the EU for another Brextension and repeating the date over and over like a malfunctioning talking calendar, the PM failed in his bid for a Halloween Brexit.
Just three days before, Johnson was forced to go to Brussels and ask for an extension to January 31 next year, which they duly granted.
But the anger and frustration of the PM and Brexiteers across the country paled in significance to the cold terror that spread across those who suddenly remembered this tweet from earlier in the month...
At the time of writing this has thankfully not occurred.
1 General Election
Yes, you will probably have heard by now that we're having an election on 12 December, Johnson's 142nd day in office. So will his second 100 days be more successful than his first?
Well that's very difficult to divine at the moment but it's certainly a gamble for the PM – and Jeremy Corbyn who has enthusiastically backed it.
A prediction by polling guru Professor Sir John Curtice states there will be "a record number of non-Conservative and non-Labour MPs" elected.
This could mean the SNP and the Lib Dems taking seats from Labour and the Tories. "We could have more than 100 MPs that do not belong to either of the other two parties," Curtice said.
The latest polling backs this up.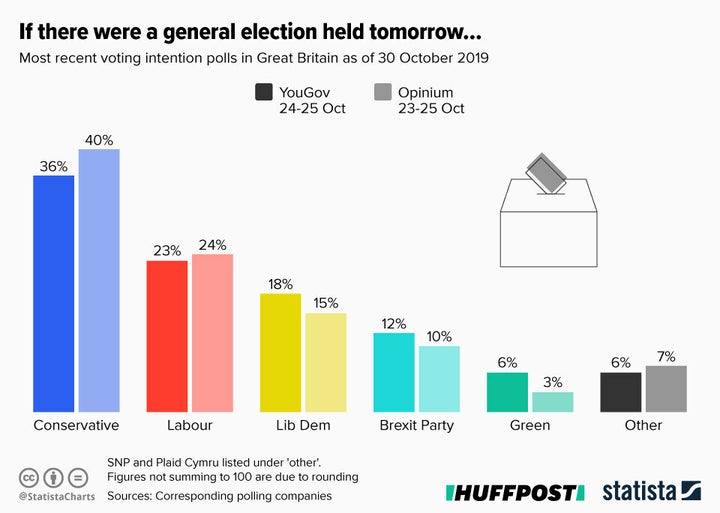 1 Dog
Without doubt (well, probably) the most popular decision Johnson has made during his first 100 days was to get a Downing Street dog.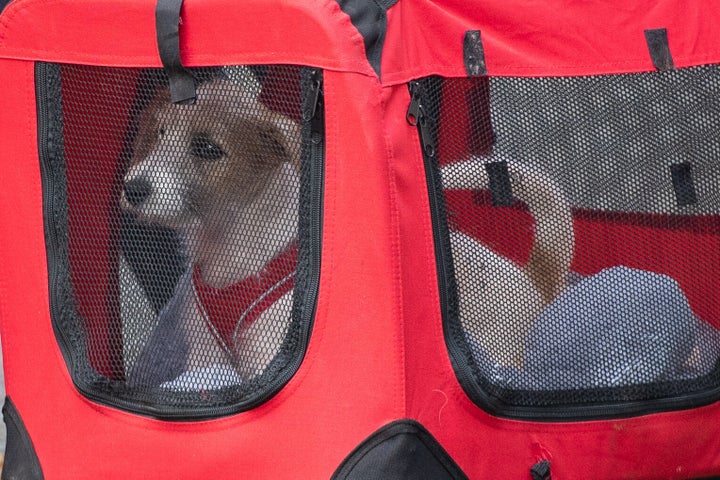 Bizarrely however, Dilyn as he was named, has not been seen in public since but a No.10 source told HuffPost UK last night that he is, and we quote, "hunting down leads".
1 Commons Brexit Victory
Now while there's no denying this victory was indeed a huge win for Johnson, the last section provides crucial context that dampens its achievement somewhat.
But before we get to that, let's give the PM his dues and dedicate a couple of lines to it.
After his predecessor Theresa May had unsuccessfully tried so many times over three fruitless years, Johnson finally managed to get a majority of MPs to back a Brexit plan.
Pro-Leave Labour MPs and hardline Tory Brexiteers joined forces to vote for the Withdrawal Agreement Bill at its second reading by 329 votes to 299, a majority of 30. Some 19 Labour MPs backed the legislation.
2 Scandals
The potential scandal took a bizarre turn when both parties refused to clarify details of their relationship or whether or not Johnson had taken a swing on a pole dancing pole in Arcuri's home.
Yes, you read that right.
Arcuri appeared on ITV's Good Morning Britain and said Johnson had been to her Shoreditch office and home "five, ten, a handful of times" and described him as "a really good friend".
"It's really not anyone's business what private life we had."
When asked, Arcuri said that her office was in her Shoreditch flat.
Arcuri, a technology entrepreneur and former model, said that Johnson "asked me to show him a few things" on the pole she had in her London home.
Describing the kit as a "conversation starter", she said she and Johnson "always had a laugh about it".
"The pole stood in the living room, yes, he saw the pole."
When asked directly whether Johnson had ever used the pole, Arcuri said: "I'm never going to tell you that."
Writing her first column for The Sunday Times, Charlotte Edwardes said: "I'm seated on Johnson's right; on his left is a young woman I know.
"More wine is poured; more wine is drunk. Under the table I feel Johnson's hand on my thigh. He gives it a squeeze.
"His hand is high up my leg and he has enough inner flesh beneath his fingers to make me sit suddenly upright."
After the lunch, she said she had confided in the young woman who was sitting on the other side of Johnson, who told her: "Oh God, he did exactly the same to me."
But a Number 10 spokesman said: "This allegation is untrue."
Following the denial, Edwardes tweeted: "If the prime minister doesn't recollect the incident then clearly I have a better memory than he does."
3 Linguistic Faux Pas
OK, let's spell them out.
CONTEXT: Last week Johnson told Sky News that Labour was "split from top to bottom" over the issue, adding: "Time for Corbyn – man up. Let's have an election on December 12."
CONTEXT: Johnson wrote that David Cameron is a "girly swot" on a private cabinet paper back in August but only revealed last month.
"Hemp-smelling crusties."
TARGET: Extinction Rebellion
CONTEXT: Earlier this Johnson ridiculed Extinction Rebellion protestors as annoying "nose-ringed", "hemp-smelling" "crusties".
In a broadside at the demonstrators who started a fortnight of disruption in central London, the prime minister used a speech praising Margaret Thatcher to make plain his disdain for the group's tactics.
12 Commons Defeats
12. Count them. All within 100 days. Johnson positively stacked them up, two at a time, sometimes four in a week. Remarkable.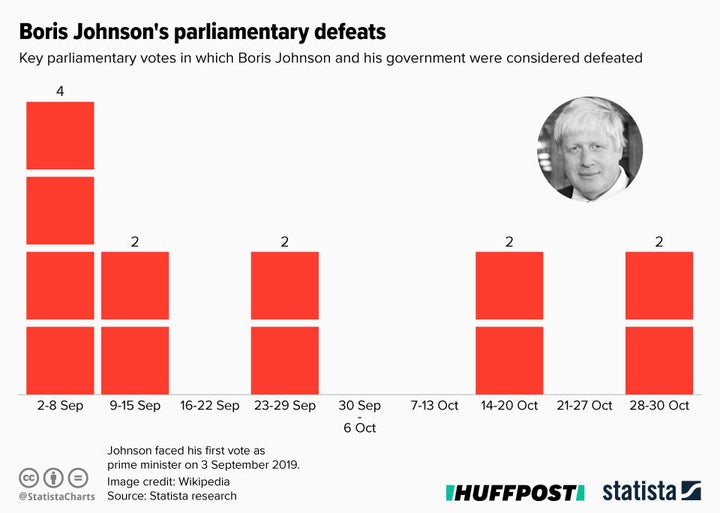 18 Days To Avoid Becoming The Shortest-Serving PM Ever
That dubious honour belongs to George Canning, who managed 118 days as prime minister before his death in 1827.