You're reading The Waugh Zone, our daily politics briefing. Sign up now to get it by email in the evening.
It's been a week since we last saw Boris Johnson, despite hundreds of homes being flooded and a storm over a No.10 advisor who quit after he was found to have advocated eugenics.
The prime minister decamped to his government-owned Chevening mansion for part of the parliamentary recess and has not been seen in public since last Friday's post-reshuffle cabinet meeting.
Johnson's submarine strategy during Storm Dennis is in stark contrast to his approach during the December election, when he visited flood victims and convened a meeting of the Cobra government emergency committee.
In the meantime, hundreds of people have been evacuated from their homes in the worst-affected areas following days of flooding.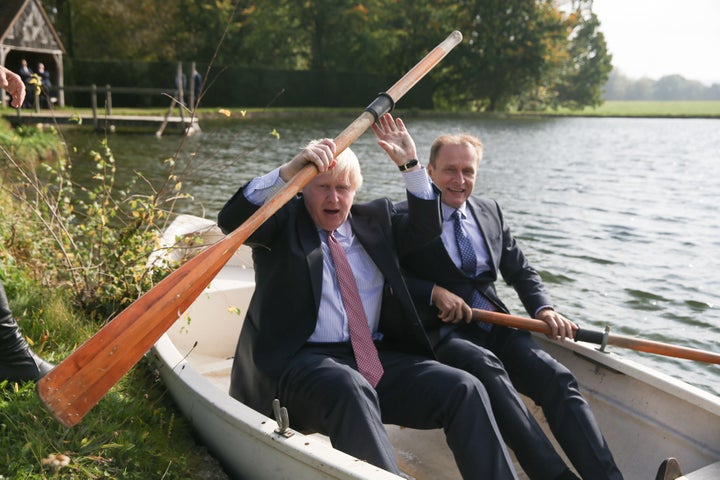 Two severe life-threatening Environment Agency flood warnings remained in place on Friday afternoon, while there were 67 less serious flood warnings and 144 flood alerts in place.
The agency has warned of worsening conditions across the Pennines and parts of Yorkshire, and said that ongoing river flooding remains "probable" for the English-Welsh border around the River Severn for the rest of the week.
Even some of Johnson's supporters have been pleading for him to visit and help after England was lashed with strong winds and 144% of its average February rainfall.
Labour leader Jeremy Corbyn has looked to capitalise on the PM's absence, visiting flood victims in south Wales and urging Johnson to "go and talk to them".
Johnson did not respond, instead sending out environment secretary George Eustice to accuse the Labour leader of "trying to politicise the floods".
The government has also provided a package of support, including allowing households to apply for up to £500 of hardship payments, as well as council tax and rates relief for three months for "significantly affected" homes and businesses.
Small- to medium-sized businesses are eligible for a grant worth up to £2,500 if they have suffered severe, uninsurable losses, while flood-hit homes and companies can apply for up to £5,000 to make them more resilient.
But despite the announcements, Johnson has not appeared to publicise them, perhaps wanting to avoid a repeat of the scenes when he visited South Yorkshire in November.
Johnson has already cancelled appearances before the high-ranking committee twice since becoming PM.
Moreover, he has faced criticism in recent months for dodging an election interview from Andrew Neil and taking days to appear to respond to the US assasination of Iranian general Qassem Soleimani, having taken a holiday to the private Caribbean island of Mustique.
HuffPost UK has asked Downing Street to say where Johnson is and what he is doing.
Quote Of The Day
Lisa Nandy when asked if she has ever has ever taken drugs.
Friday Cheat Sheet
Sadiq Khan has ruled out backing Left-winger Rebecca Long-Bailey for the Labour leadership. In an interview with the Evening Standard, the London mayor said he would "decide over the course of the next few days" between Keir Starmer and Lisa Nandy.
Nandy has told Labour List that she has been "surprised" at the "level of misogyny" she and Long-Bailey have faced during the campaign.
Priti Patel, the home secretary, has been warned by former Home Office permanent secretary Sir David Normington to "take time" over her planned immigration reforms.
Send tips, stories, quotes, pics, plugs or gossip to waugh.zone@huffpost.com.