Boris Johnson has ridiculed Extinction Rebellion protestors as annoying "nose-ringed", "hemp-smelling" "crusties".
In a broadside at the demonstrators who started a fortnight of disruption in central London, the prime minister used a speech praising Margaret Thatcher to make plain his disdain for the group's tactics.
Johnson told an event hosted by the Policy Exchange think tank that Thatcher was an environmentalist "long before Greta Thunberg", taking action on greenhouse gases.
More than 200 people were arrested on Westminster Bridge and near the Houses of Parliament as Extinction Rebellion vowed to to blockade "every single road" in Westminster "to make sure no traffic can get through to the central area of the government and the executive".
The protests – which the group said would be "five times" the size of its April rebellion – will also include a three-day sit-in at City Airport.
Johnson was surrounded by heavy security as he made his way across Whitehall to an event to praise the latest biography of Thatcher by former Telegraph and Spectator editor Charles Moore.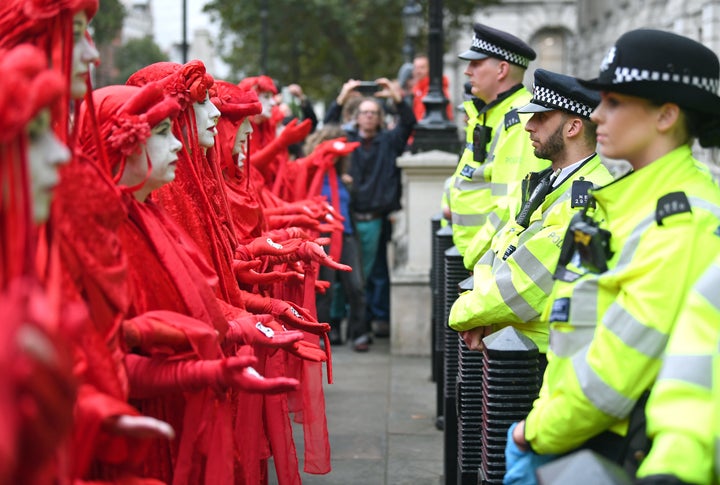 Speaking at the Banqueting House just yards from Downing Street, he revealed: "I am afraid that the security people didn't want me to come along tonight because they said the road was full of uncooperative crusties and protestors of all kinds littering the road."
Johnson praised Thatcher's global leadership on tackling the threat to the ozone layer from harmful gases in aerosols, and widened his theme to praise her anti-EU stance and then attack protestors in the environmental movement.
"She was right about the euro, ERM, right about the euro, and let's face it she was right in her famous 1988 Bruges speech. And if the continent, our beloved continent of Europe, had followed her proposals for the development of the EU - well, a lot of our problems would have been solved.
"And I hope that when we go out from this place tonight and we are waylaid by importunate nose-ringed climate change protestors we remind them that she was also right about greenhouse gases.
"And she took it seriously long before Greta Thunberg. And the best thing possible for the education of the denizens of the heaving hemp-smelling bivouacs that now litter Trafalgar Square and Hyde Park ... would be for them to stop blocking the traffic and buy a copy of Charles's magnificent book so that they can learn about a true feminist, green revolutionary who changed the world for the better."
Johnson also appeared to endorse Thatcher's poll tax, the policy that led to her downfall, saying "she was right to reform local government finance by the way".