Boris Johnson has once again faced embarrassment at the hands of the BBC's Eddie Mair after the Foreign Secretary blundered his way through a probing that is fast becoming the definition of a 'car crash interview'.
Johnson was part of a ministerial full-court press following Theresa May's first Queen's Speech, which outlined a modest programme of Government for the Conservative Party following its general election humiliation.
The MP toured studios defending dropping major aspects of the Tory manifesto when he came across his former nemesis.
Mair, who on Wednesday was presenting Radio 4′s PM show, once labelled Johnson a "nasty piece of work" to his face after listing a series of the ex-London mayor's misdemeanors.
The broadcaster's opening gambit was a sign Mair was not running a warm bath for his adversary, asking Johnson to explain how his party's plan helps deal with the "burning injustices" in the UK that May promised to tackle at the start of her premiership.
Mair: What does this Queen's Speech do to ensure the criminal justice system stops treating black people more harshly than white?

Johnson: Well, there are measures, I believe, in the Bill on the courts which I believe is supposed to address some of those issues ... and I think one thing in particular that we are looking at is ... um ... measures to ... hang on a second.
At this point it sounds as if Johnson is shuffling his papers. He continued with something very short of conviction.
Johnson: There are all sorts of measures we want to take to ensure we do not want to discriminate about anybody ... and I think you'll find the Prime Minister has been strong on that, in particular her response in Finsbury the other day ...
Mair snapped: "Let me help you out with that."
Mair: She's talked about a race disparity audit, which is going to be published later this year. It is going to highlight differences in every area, including criminal justice, but offers no solution to the burning injustice she has highlighted."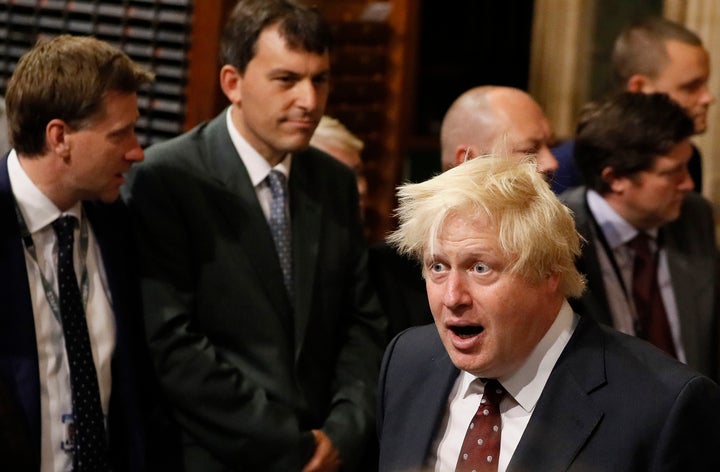 The journalist then seized on "another burning injustice".
Mair: What does this Queen's Speech do to help white working-class boys go to university?

Johnson: Well ... er ... one of the things we want to see is good schools for everybody and greater investment in our schools ... er ... the most important thing that the Queen's Speech does is to continue to support economic growth.
When Johnson suggested "a successful Brexit" was part of the answer, Mair snapped again: "I'm asking you about getting white working class boys to university!"
Tension palpable, the third "burning issue" raised by Mair was improving mental healthcare, which prompted the biggest slapdown of the interview.
Johnson: What we want to see on mental healthcare is ... er ... to get a proper understanding, and to get back to your first question...

Mair: Well, why don't we do the questions in the order I'm asking them. It's not a Two Ronnies sketch. You can't answer the question before last.
You can listen to the full interview at the top of the story, or enjoy the instant reviews.
In 2013, when guest host of the Andrew Marr Show, Mair said confronted Johnson - who was then still London mayor - amid speculation over his ambitions to be Conservative Party leader.
The presenter asked him about:
Being fired by The Times newspaper for making up a quotation

Being sacked from the Tory frontbench for telling "a bare-faced lie" to the party leader Michael Howard about his affair with the journalist Petronella Wyatt

The claim that he agreed to provide a reporter's address to his friend Darius Guppy, a convicted fraudster, so the journalist could be beaten up
"You're a nasty piece of work, aren't you?" asked Mair, in conclusion. During the election campaign, Labour's Shadow Home Secretary Diane Abbott was pilloried for struggling to explain how much Labour's policy of recruiting 10,000 more police officers would cost.