Boris Johnson is facing a fresh row over his new coronavirus "rule of six" curbs after it emerged that the government has exempted grouse shooting and other "hunting" with guns from the restrictions.
Pro-hunting and shooting groups can continue to hold gatherings of between six and 30 people because they are covered by a loophole that permits licensed "outdoor activity".
New regulations published by the government for England just before midnight on Sunday have a string of exemptions for sports clubs, wedding receptions and even political protests.
But they also have an exemption for when "a gathering takes place outdoors (whether or not in a public outdoor space)" for the purpose of "a physical activity which is carried on outdoors", where a licence, permit or certificate is held by the organiser.
HuffPost UK has learned that the Cabinet Office's special Covid-19 Operations ministerial committee – chaired by Michael Gove – scheduled a meeting on Saturday, with one agenda item titled: "Exemption: hunting and shooting."
The meeting was abruptly cancelled just hours beforehand, with cabinet ministers and officials told that this issue would be discussed later or via ministerial correspondence.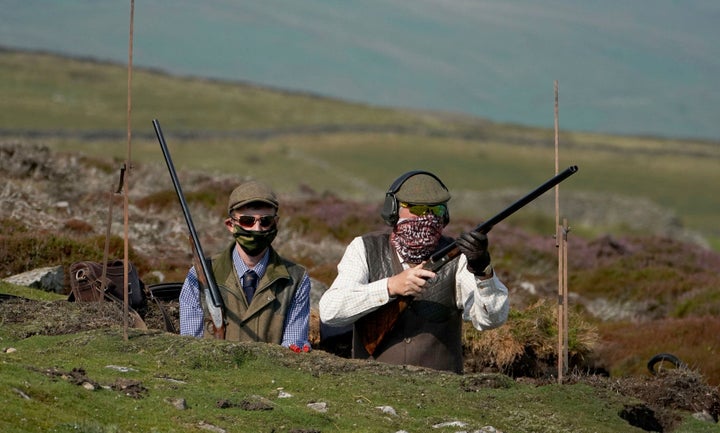 Insiders believe that the meeting was axed to avoid any ministers raising objections.
Instead, the "outdoor activity" wording was inserted into the regulations, opening the way for an exemption for so-called "country sports" such as grouse and pheasant shooting and hunting.
One source said the entire issue held up the publication of the regulations until shortly before the new law was due to kick in at midnight on Sunday.
Brand new government guidance published by the Department for the Environment, Food and Rural Affairs (Defra) on Monday lists "shooting (including hunting and paintball that requires a shotgun or firearms certificate license)" as a "sport or organised outdoor activity".
It appears that foxhunting may not be exempted, but the current position is unclear.
When asked by HuffPost UK if the reference to "shooting (hunting)" included foxhunting, a spokesperson said "the exemptions are as listed in the guidance".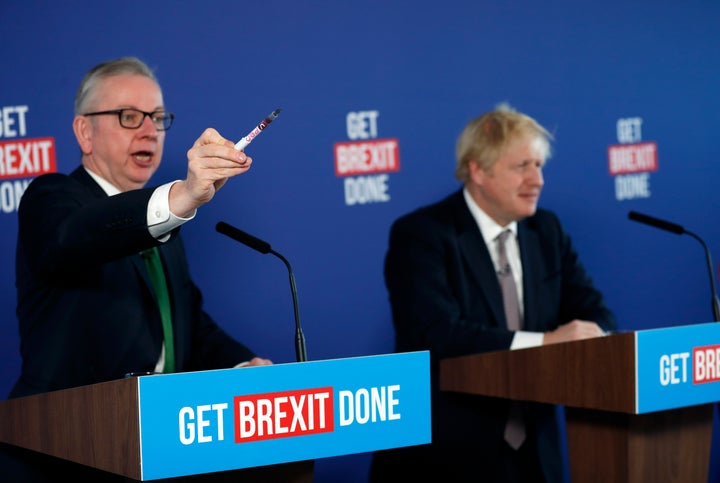 Former minister Tracey Crouch said: "Many will find this topsy-turvy prioritisation from government.
"I've had queries about choirs, community bands, addiction therapy groups, all of whom would be worthy of an exemption and instead we are scrabbling around prioritising shooting animals. It's bonkers."
Shadow environment secretary Luke Pollard added: "Across the country, people are struggling to get COVID-19 tests anywhere near their homes.
"But the Conservatives are distracted with trying to exempt the bloodsport passions of their big donors from coronavirus regulations. It shows where this government's priorities really lie.
"It is clear there's one rule for the cabinet and their mates and another for the rest of us."
Chris Luffingham, director of campaigns at the League Against Cruel Sports, said: "The Government is giving the shooting industry carte blanche to continue its murderous activities despite the threat posed by gatherings during this awful pandemic.
"The recent Government People and Nature Survey for England found that an increasing number of people (42%) are saying that nature and wildlife are more important than ever for their wellbeing – this government exemption flies in the face of that and condemns many animals to being shot for 'sport'.
"Lockdown offered animals a respite from the activities of hunters so we think the Government's move to allow shooting is a backward step."
Much of the Tory party has long been proud of its links to hunting and shooting, believing it boosts rural communities with vital income, and has received donations from its advocates.
Former Countryside Alliance chairman Simon Hart is now in Johnson's cabinet as Welsh Secretary.
Chancellor Rishi Sunak, who sits on the Covid-19 Operations committee, was this summer praising the work that grouse shooting can do for moorland.
Johnson himself has written in the past that he "loved" foxhunting with dogs, once writing in the Spectator magazine of the "semi-sexual relation with the horse" and the "military-style pleasure" of moving as a unit.
Sir Humphry Wakefield, father-in-law of the PM's chief adviser Dominic Cummings, who has shoots on his Chillingham Castle estate in Northumberland, has said "I love shooting, hunting".
The party's fundraising balls have frequently auctioned pheasant shooting events in Scotland. In 2017, one supporter handed over £15,000 for an eight-person excursion to shoot pheasants on a Scottish estate.
However, several Tory MPs have long campaigned against foxhunting and other "blood sports".
Shooting – including grouse, pheasant and pigeon shooting and "recreational deer stalking" – was one of several activities permitted when lockdown was eased this summer, with no restrictions on how far people could travel to do so.
Mask-wearing shooters were out in force for "the Glorious 12th", the first day of the grouse shooting season in August.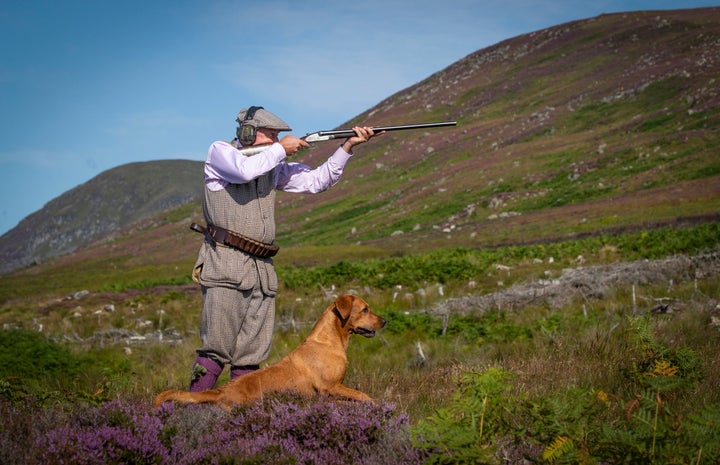 A UK Government spokesperson said: "We have exempted over thirty types of sport, exercise and physical activity such as football, rugby and other outdoor pursuits
"Outdoor activity is safer from a transmission perspective, and it is often easier to social distance. Where such activities take place, safety measures must be taken including conducting a risk assessment and compliance with COVID-19 Secure guidance."
The British Association for Shooting and Conservation said in a statement last week: "The latest guidance says that there will be exceptions where groups can be larger than six, including work or voluntary services as well as outdoor sport and physical activity events.
"BASC continues to press ministers for further detail but believes that these exemptions encompass shooting where shoots operate in accordance with Covid secure guidance issued by representative shooting organisations, including BASC."
The Countryside Alliance also said last week: "From our understanding at present businesses and organised sports operating in England to Covid secure standards will be exempt from the new restrictions on social gatherings.
"Details to follow, but we are confident rural activities will be able to continue with current safeguards in place."