Boris Johnson has encouraged people to march on the Russian embassy over the country's role in the Syrian conflict.
The foreign secretary told the Commons: "There is no commensurate horror, it seems to me, amongst some of those anti-war protest groups.
"I would certainly like to see demonstrations outside the Russian embassy.
"Where is the Stop The War Coalition at the moment? Where are they?"
The Russian embassy used its Twitter account to hit back at Johnson and at wider British criticism...
His call came after Labour's Ann Clwyd urged those who care about the plight of Syrian civilians to gather outside Russian embassies across the globe until the country stops its bombing campaign, the Press Association reported.
The Cynon Valley MP who served as special envoy on human rights in Iraq from 2003 until 2010, said worldwide protests would make it "crystal clear" to Russia and the regime of president Bashar Assad that "we think their actions are deplorable".
She said: "We need to speak up for and on behalf of our common humanity.
"So I would therefore call once again on everyone who cares about the plight of Syrian civilians to picket the Russian embassy in London and in capitals around the world from today.
"Two million, three million, four million people. It can be done. It has been done in the past.
"That should carry on until the bombing campaign stops and all the relevant players are forced to get around the table to end this horrible war."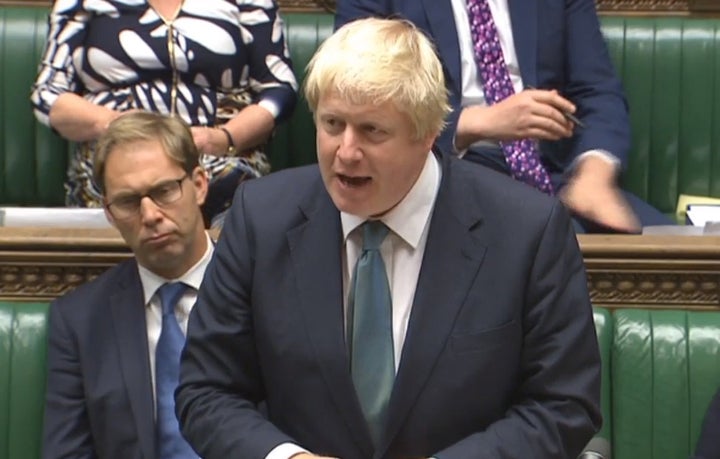 According to the Guardian, in his first speech to the Commons as foreign secretary, Johnson said that "all the available evidence" pointed the Russian responsiblity for a recent attack on an aid convoy.
However he added that he was concerned "the wells of outrage are growing exhausted".
The BBC reported that he warned that Russia risked booming an international "pariah" following bombing in Syria.
Many were critical of Johnson's comments...
The debate also saw Labour MP Mike Gapes called for "unanimous" cross party support on the issue of Syria.
He said: "In the 1930s there was a united condemnation of what the Nazis and their airforce were doing in Spain in support for a fascist regime.
"Isn't it time we had a united, unambiguous, explicit, direct condemnation of what Putin is doing in support of Assad in Aleppo at this moment, not just from the government but from the opposition benches unanimously?"
A party source insisted later that he had "condemned" the Russian and Syrian government involvement in the air strike on a UN aid convoy, and that the evidence suggested that it had been a "war crime".
On Tuesday some suggested that Johnson's comments sounded more like they should have been coming from the Labour leader: