Boris Johnson has been accused of "taking the piss" with his vision of post-Brexit Britain that would involve Britons being able to work and live in other EU countries but placing controls on EU citizens wanting to come here.
Johnson's Daily Telegraph column on Monday - his first public comment since a sombre press conference on Friday morning just after the vote - said the "only" change would be leaving "the EU's extraordinary and opaque system of legislation".
The piece was headlined: "I cannot stress too much that Britain is part of Europe – and always will be". The Telegraph dedicated the top half of its front page to promoting it.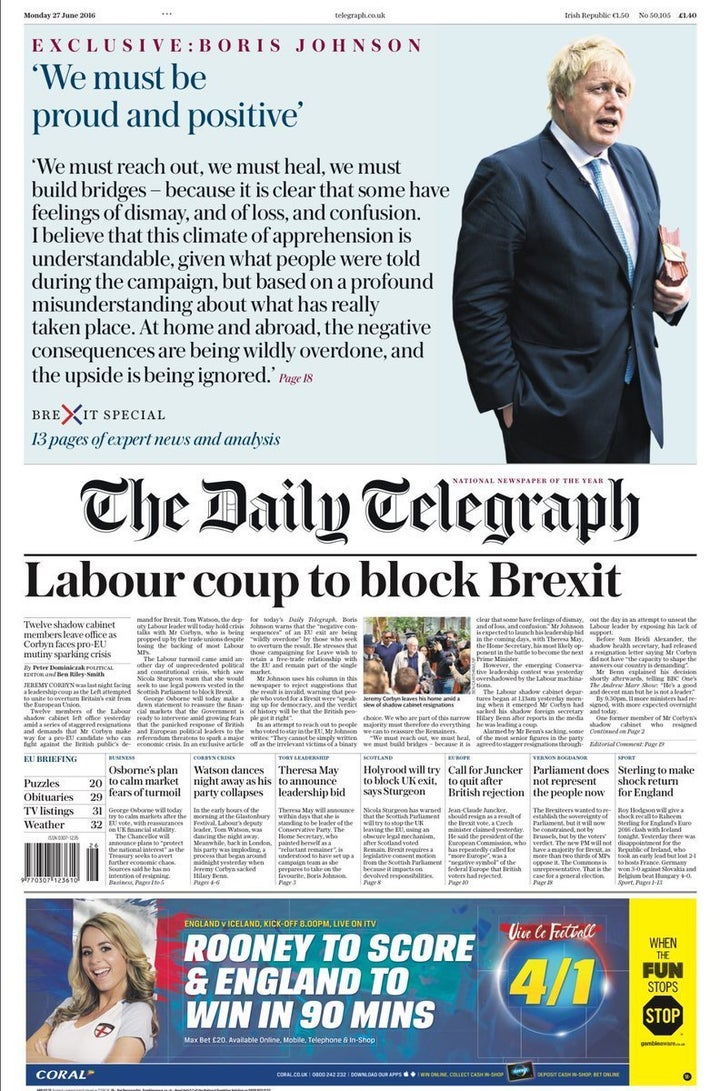 "British people will still be able to go and work in the EU; to live; to travel; to study; to buy homes and to settle down," he writes. "As the German equivalent of the CBI – the BDI – has very sensibly reminded us, there will continue to be free trade, and access to the single market."
But, despite, suggesting Britons could emigrate to EU states, he said Britain would introduce a points-based system for those wishing to come here.
This triggered accusations his piece read like "a letter to Santa".
Guardian columnist and Remain backer Rafael Behr said Johnson was "taking the piss".
Behr also said Johnson's vision for Brexit Britain sounded like the Status Quo.
Times columnist Jenni Russell, who also backed Remain, described Johnson's column as full of "unicorns", including the claims that the Scots did not want a second independence referendum.
Former government lawyer Carl Gardner called Johnson's column "unclear, confused, unreal complacent and not easy to square with Johnson's campaign promises".
Scottish First Minister Nicola Sturgeon, who has mooted a second independence referendum to keep Scotland in the EU, called Johnson's vision "Project Farce".
Johnson insisted that the main issue was "control... a sense that British democracy was being undermined by the EU system, and that we should restore to the people that vital power: to kick out their rulers at elections, and to choose new ones."
He said: "If we grow a city the size of Newcastle every year, we will see our population rise inexorably to about 70 or perhaps 80 million.
"Now, what the Remain campaign have to say is what's their vision for this? It may be a great vision for Britain by the way, it may be a positive thing, but where are they going to build the homes? What's going to happen to the Green Belt?
"How will it work for schools and hospitals and all the public services that will be affected?"