Videos and pictures of the gang rape of a teenager, published to Twitter, have led to a police hunt for more than 30 men suspected of participating in it.
The attackers posted graphic pictures and videos of the assault on the unconscious 16-year-old girl on Twitter.
Police told The Associated Press that armed men assaulted the girl on Saturday 21 May in Jacarepaguá, on the west side of Rio de Janeiro, she was visiting to see her boyfriend.
According to her witness statement that was leaked to the media, she arrived at her boyfriend's home at around 1am on Saturday and was alone with him. The next thing she remembered was waking up naked on Sunday morning in another house with the group of armed men.
"When I woke up there were 33 guys on top of me. I just want to go home," she told Brazil's O Globo newspaper.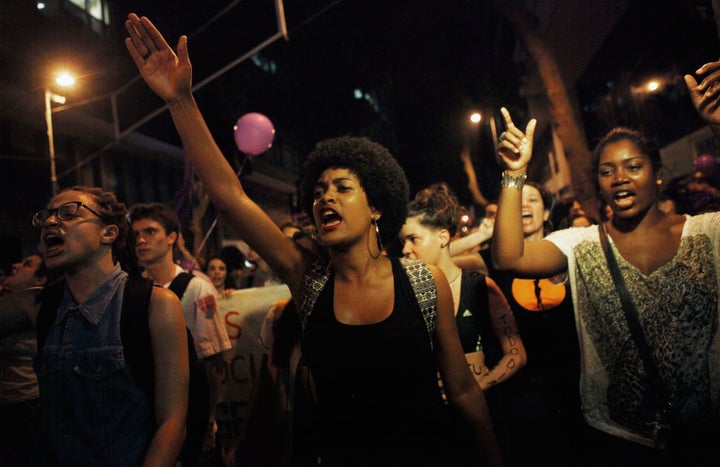 It was days before she realised her attackers had published footage and pictures.
The video of the rape was first seen in Brazilian social media on Tuesday, AP reported.
In the 40-second clip, three male voices can be heard mocking the woman, who is naked, visibly wounded and unconscious, Folha de S. Paulo reports.
The girl's grandmother told the same paper she watched the video, saying: "I regretted watching it. When we heard the story we didn't believe what was happening. It's a great affliction. It's a depressing situation. She is not well. She is very confused. This was very serious."
One man tweeted an image of her with the words: "Pounded the girl – get it? Hahaha".
Before the account of the person who posted the video was suspended, people responded with smiley emojis and thumbs up and the video received 550 likes.
Arrest warrants have been issued for the girl's 19-year-old boyfriend, a 41-year-old man for rape while two other men are wanted for posting the images to social media, The Globe & Mail reported.
The incident sparked outrage on Twitter under the hashtag #EstuproNuncaMais, "Rape never again".
The rape has sent shockwaves across the country, highlighting what some see as its poor attitude towards rape.
Just before news of the gang rape broke, Brazil's Education Minister met with actor Alexandre Frota to discuss comments he had made that he would have sex with a woman who had not consented.
Think Olga, a Sao Paulo based-feminist group, issued a statement after the attack saying: "Women worldwide take their own lives when they find themselves in such circumstances, because they fear the same impunity that allows their perpetrators to defame them on social media.
"This absurd violation of their privacy is comparable in severity to the crime itself, because it multiplies thousands of times with every view, every click."