"I feel very uncomfortable with intimacy because I feel like my body isn't attractive anymore," says Jane, 48.
"I don't really feel like a woman anymore, breasts are so much part of being a woman, so that's had a big impact on me and a big part of our relationship."
In 2014, Jane became one of the 60,000 people diagnosed with breast cancer in the UK each year.
Although she's responded well to treatment physically, the disease continues to affect her confidence and her relationship with husband, Tim.
Unfortunately, the pair's experience is far from unique as many couples affected by breast cancer experience unforeseen changes in their relationship.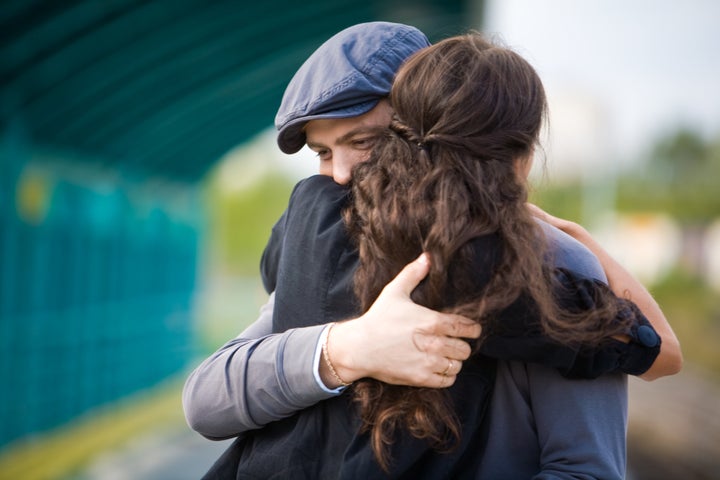 Jane was diagnosed with breast cancer when she was 45 years old, which led to her having surgery six times.
At first she had a series of lumpectomies, where doctors removed tumours from her breast area, but eight months into treatment she was forced to have a mastectomy. She's now in the process of having reconstructive surgery.
"I thought that when you have breast reconstruction it meant they recreate what you had before, but of course it's nothing like that," she tells The Huffington Post UK.
"My body is not the body that I had at all. After I had my mastectomy in 2015 I didn't show Tim. I didn't feel like a woman anymore. I didn't feel like me and that's been really difficult."
Jane says the intimate side of her relationship with Tim has "just gone", which is all too common for couples who've been affected by breast cancer.
Statistics from Breast Cancer Care show that nearly nine in every 10 (88%) women with breast cancer say they have lost their self-esteem and confidence in their bodies after treatment.
What's more, nearly two-thirds (68%) say it has affected their sexual and intimate relationships.
"I'm worried that he doesn't think I'm attractive, that he thinks I'm not what I used to be," Jane says.
"I'm scared of how he looks at me - you see that look in your partner's eyes and you think 'do they still think I'm attractive?' because I look at me and all I see is scars and an area that doesn't look like a breast anymore."
While Jane struggles to come to terms with her new body following treatment, for Tim, one of the hardest things has been working out what to say to make her feel better, particularly after her mastectomy.
"It was obviously a big attack on her femininity with that sort of treatment," he says.
"From my point of view, it was difficult not quite knowing what can be said or can't be said, what might make a situation better or what might upset her by asking."
As well as affecting body confidence, cancer treatment may also cause you to experience tiredness, pain in your breast area and vaginal dryness due to a change in hormones, all of which may make sex uncomfortable.
But of course, finding out you or your partner has breast cancer can affect far more than your sex life.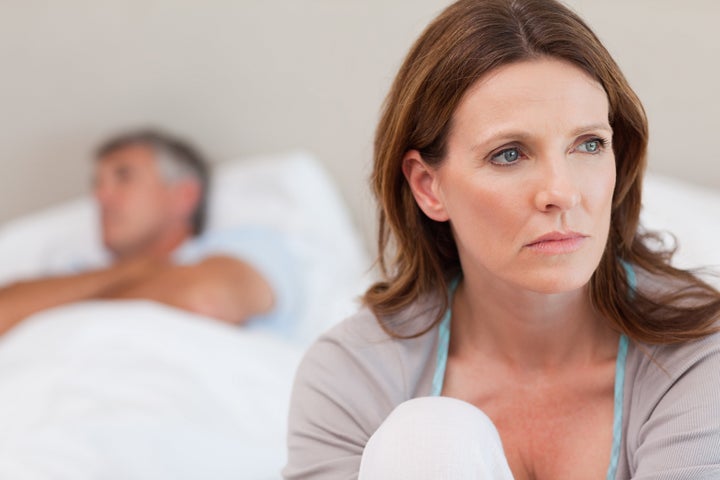 According to Macmillan Cancer Support information nurse Karla Scott, a diagnosis can put an emotional strain on the relationship and change the way couples act towards each other.
"When you're diagnosed with cancer, you and your partner may experience a variety of emotions that could affect your relationship such as shock, anxiety, sadness, relief, guilt, uncertainty, anger and - for some people - depression," she explains.
"You may both feel different things at different times."
Denise Knowles, a counsellor and sex therapist from relationships charity Relate, adds that a breast cancer diagnosis can "affect your roles within the relationship".
"For some couples, it can feel like moving from being lovers to more of a patient/carer relationship," she says.
"It's not unusual to experience feelings of loss and mourning for the relationship you've had up until now and perhaps some of your hopes for the future. It's okay to feel sad and angry about this. But while you may experience some loss, this is also an opportunity for growth as your relationship changes and possibly deepens."
This shift in dynamic is something Jane and Time had to adjust to, as before her diagnosis Jane looked after most of the household chores.
She was also the main caregiver to her two children from a previous marriage, who were 16 and 18 when she was diagnosed and about to sit their GCSEs and A Levels respectively,
Tim says stepping up and "trying to maintain a degree of normality" for the family was tough.
"Jane was more about running the house - I think she still felt a responsibility to do all that sort of stuff, but equally she was distracted by trying to plan for treatment and all the other things that were going to happen," he says.
He'd worry about doing something differently to how Jane usually would and adding extra stress to her load.
"It might be something as simple as paying a bill," he explains.
"I haven't had the visibility of how it's usually done, so I'm not sure if it's right or wrong - should I ask her? Should I not? Silly things really."
Meanwhile Jane felt uncomfortable leaning on Tim more than she ever had before.
"Cancer makes you very vulnerable and I'm not a very vulnerable person," she says.
"You're suddenly having to go through this experience that's absolutely terrifying and frightening. I actually felt quite isolated, you feel like you have to cope with things on your own because nobody else knows what it's like."
If you're experiencing emotional difficulties in your relationship such as those felt by Jane and Tim, Macmillan recommend trying the following to help:
Exercise can help to lift your mood and lower stress
Complementary therapies may help you to relax and may relieve specific symptoms or side effects of treatment
Talking about your feelings and telling your partner how they can best support you may help you both to cope with what is happening
Writing down your feelings in a diary or blog may help you to sort through your emotions
Planning activities together, such as meals out or holidays can be a good opportunity to spend quality time with your partner
It may help you to talk to people going through similar experiences in Macmillan's Online Community.
It may also be useful to visit a relationship counsellor, which is something Jane and Tim are continuing to do.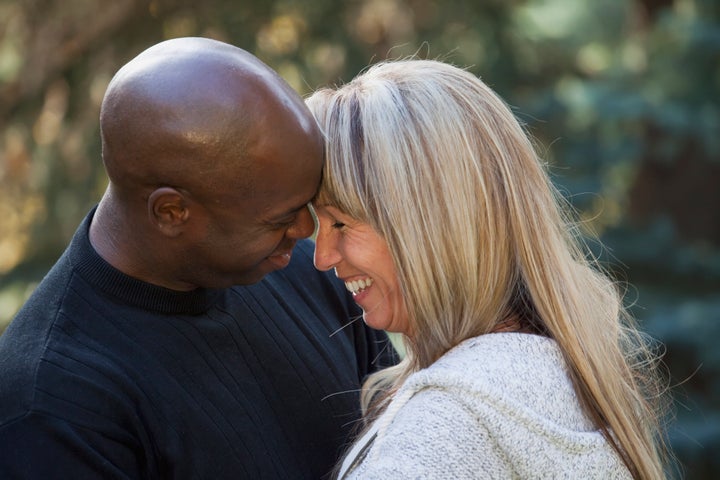 Tim describes himself as a "practical, black and white facts and figures sort of person", whereas Jane likes to talk through problems, even if they don't have a solution.
The pair are working on their communication, plus trying to find a "new normal" now Jane has finished treatment.
"I feel like a completely different person now," Jane says.
"I feel like we're poles apart in some respects because our understanding of life and what we feel about life is so different.
"For example, I think you've got to embrace life and live every moment, whereas Tim's still living the old life of going to work, doing this, doing that. It sort of pulls you apart in ways that you wouldn't expect."
The pair have discussed Jane's lack of body confidence in counselling sessions, but she says entering a competition for a boudoir photoshoot has had the biggest impact on her self-esteem.
"I went along and did the photoshoot in my underwear and everything and was bowled over when I saw the photos," she says.
"It did my self confidence so much good, because I look at those and think 'wow I can actually look quite sexy and quite nice'. It was a really big boost for me."
She's now working on feeling as good with her underwear off as she does with it on.
For couples who do want to get their sex lives back on track after breast cancer, Knowles says it's important for the patient to listen to their body and not push themselves.
"You can have a kiss and a cuddle without having full intercourse," she says.
"It might be about changing the way you approach making love, talking about what is and isn't comfortable and trying different positions. You might find there are things you like even better."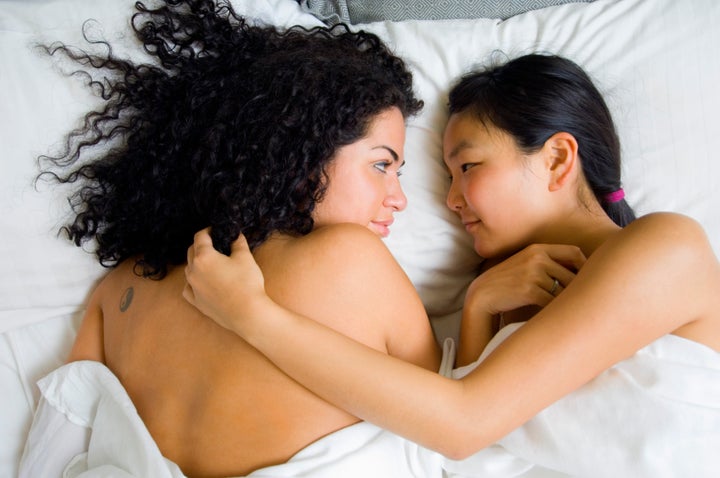 Scott adds that avoiding areas that are sensitive after surgery may help.
"Having sex with your partner's weight resting on your chest could be uncomfortable if you have pain after surgery or radiotherapy," she says.
"Try having sex side by side or swapping who is on top."
She points out that vaginal dryness following treatment may be significantly helped by using a lubricant.
"Speak to your doctor to rule out an infection and make sure the lubricant is safe as certain types shouldn't be used by those with a hormone-positive cancer," she says.
"Oil-based lubricants are more effective but if you're using condoms for contraception you'll need to use a water-based one like KY Jelly. Practising your pelvic floor muscles can help as it increases blood flow to the area."
Perhaps the most important thing you can do is seek help if you and your partner are experiencing difficulties following breast cancer. It's absolutely nothing to be ashamed of and is more common than you may think.
Jane is hopeful that with more professional support, her confidence will return and her relationship with Tim will be fully restored.
"I'm not there yet and I've still got a long way to go," she says. "But I'm sure I'll get there."
For more information and tips on relationships after cancer, visit the Macmillan website. To speak to a relationships counsellor or access further advice visit the Relate website or call 0300 100 1234.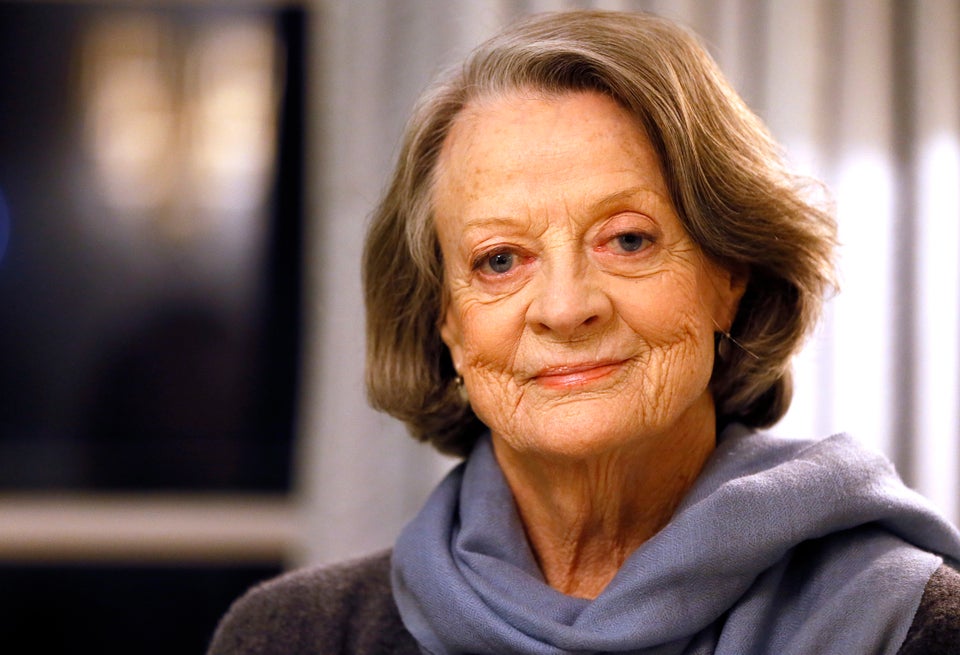 10 Famous Women Get Real About Breast Cancer
Related