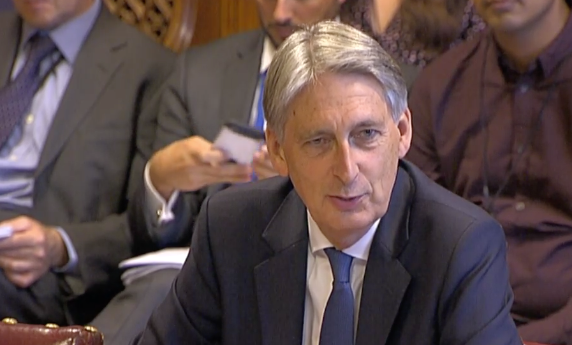 Britain's ports would grind to a halt after Brexit if lorries had to spend just "minutes" undergoing customs checks, Philip Hammond admitted today.
The Chancellor made the dire warning of the UK's preparedness for life outside the EU's customs union as he admitted there would be "significant disruptions to patterns of movements" at Dover if no Brexit deal was reached with Brussels.
Appearing before the Lords Economic Affairs Committee this afternoon, Hammond revealed the EU was not even willing to enter into discussions about a future customs system with the UK – even on a technical level.
When asked by former Conservative Chancellor Lord Lamont whether he believed the capacity of UK ports were "adequate" to handle the increase, Hammond replied: "No it's clearly not. Anyone who's visited Dover will know that Dover operates as a flow-through port and volumes of trade at Dover could not accommodated if goods had to be held for inspection even, I suspect, if they were held for minutes, it would still impede the operation of the port.
"Roll-on, roll-off traffic at Dover is predicated on trucks rolling off a ferry immediately, [going] out of the port and the ferry reloading and departing pretty rapidly – Ryanair style turnaround times."
Both of those proposals were based on the UK and EU agreeing a free trade deal.
This afternoon, Hammond told peers the Treasury was putting in place contingency plans for no deal being reached, but admitted it would not be an ideal system.
He said: "We recognise that the timescales are very challenging and in a no deal scenario not everything we would want to put in place will be in place on day 1, but we will have a working system in place on day 1, I have had assurances by HMRC."
The customs processing system due to be online at UK ports in March 2019 is the Customs Declaration Service (CDS).
Even in tests it has only been used to process 180million declarations a year – far short of the 255million the UK is predicted to get through.
The report said: "Until it is shown to work at this level and with the UK's specific systems, there is a risk that this new component may not meet the UK's requirements."
Hammond told peers one of the biggest difficulties for HMRC has been trying to talk to its European counterparts.
He said: "In terms of level of engagement with our nearest neighbours at the customs service level that has been limited and it has been limited because the view of many of our neighbours is that until such time as the commission, or the council of ministers has declared sufficient progress they are not authorized to engage with us on post-exit planning and post-exit arrangements.
"We have had less engagement than we would like with our customs counterparts with our immediate neighbours both at a technical level and to discuss possible deal scenario technical challenges and no deal scenario technical challenges."
When pressed on how "frictionless" the future customs arrangements with the EU would be, Hammond replied: "It may that it cannot be as frictionless as it is now in a long-term settlement because of a desire to negotiate third party trade deals.
"The design challenge is to use technology to minimise the friction to a level that is acceptable to business."
Reacting to Hammond's comments, Lib Dem Brexit Spokesperson Tom Brake said: "This is a clear admission that despite all the rhetoric, the government is still woefully unprepared for a no deal Brexit.
"Even small delays would cause chaos at our ports and inflict huge damage to the UK economy.
"Ministers must drop the pretence that no deal is better than a bad deal.
"The only way to maintain the status quo is to stay in the single market and customs union."