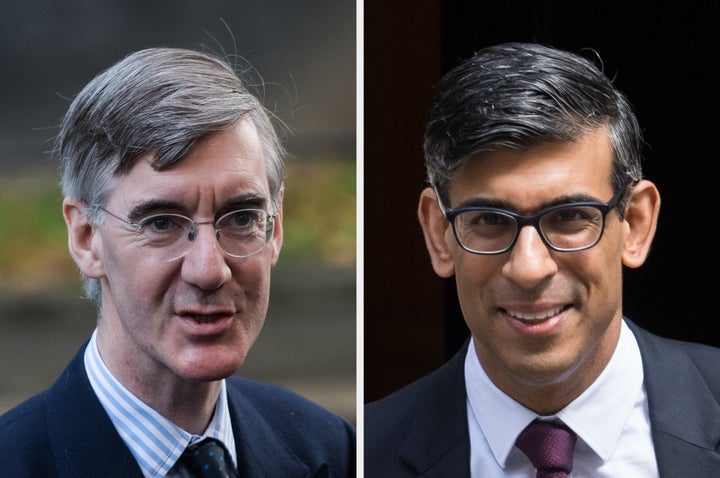 Rishi Sunak is facing a backlash from Tory Brexiteers after ditching a promise to complete a "bonfire" of remaining EU-era laws by the end of the year.
On Wednesday, business secretary Kemi Badenoch announced that around 600 laws would be revoked rather than the 4,000 pledged, insisting it is "about more than a race to a deadline".
But Jacob Rees-Mogg – who aligned with Sunak's predecessors Boris Johnson and Liz Truss – highlighted the PM's pledge to review or repeal remaining EU laws within his first 100 days of office during the Tory leadership contest.
He tweeted: "Regrettably the prime minister has shredded his own promise rather than EU laws."
In a statement to the PA news agency, the former Conservative business secretary said: "The written ministerial statement breaks the Prime Minister's clear promise to review or appeal all EU laws in his first hundred days.
"Instead, he has decided to keep nearly 90% of retained EU law.
"This is an admission of administrative failure, an inability of Whitehall to do the necessary work and an incapability of ministers to push this through their own departments.
"Regrettably, 'the blob' has triumphed and the prime minister has abandoned his promise."
The climbdown was cautiously welcomed by critics in business and environmental groups who had warned the project was unfeasible and that important regulations would be scrapped without proper scrutiny.
Badenoch acknowledged there are "risks of legal uncertainty" by automatically scrapping the copied-over laws by the end of the year in a sunset clause in the Retained EU Law (REUL) Bill.
She said ministers will amend the bill making its way through parliament to replace the current sunset clause with a list of 600 EU laws to be revoked by the end of the year.
"We will not abolish any law for the sake of it," she wrote in a defence of the move for the Daily Telegraph. "Getting rid of EU law in the UK should be about more than a race to a deadline."
Brexit hardliners on the European Research Group of Tory MPs were also angered by the move.
A senior member said: "We are very disappointed that the REUL Bill, which passed through the Commons with the overwhelming support of the parliamentary party, is now being watered down, by our own government, in the Lords.
"There is still time to avert this decision and we very much hope the government will reconsider."
Labour's shadow Cabinet Office minister Jenny Chapman said: "This is a humiliating U-turn from a weak and divided government with no clue how to grow our economy, protect workers, support business or build a better Britain outside the EU.
"After wasting months of parliamentary time, the Tories have conceded that this universally unpopular bill will damage the economy, at a time when businesses and families are already struggling with the Tory cost-of-living crisis."