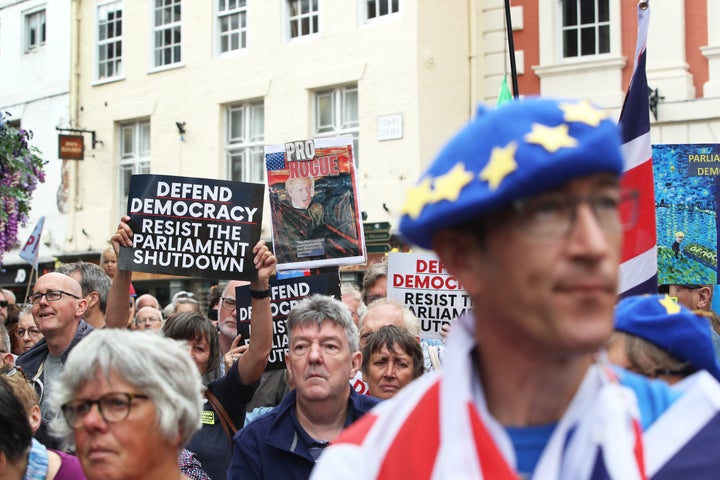 Thousands of protestors have descended onto the streets of cities and towns across the United Kingdom to protest the suspension of parliament.
With the Brexit date set for October 31, Boris Johnson's plan to prorogue parliament for up to five weeks ahead of a Queen's Speech on October 14 has been seen by many as an attempt to avoid his Brexit plans being closely scrutinised in the Commons.
The Prime Minister has insisted that the suspension has been implemented in order to allow him to to set out a new domestic agenda after succeeding Theresa May as the head of government.
Anti-Brexit campaign group Another Europe Is Possible has organised 32 #StopTheCoup demonstrations to take place in England, Scotland and Wales.
Eyewitnesses have described crowds of several thousand marching through cities such as London, Bristol, and Manchester.
Meanwhile, left-wing group Momentum is calling on its members to "occupy bridges and blockade roads" in conjunction with the protests.
As the speeches finished on Whitehall just before 2pm, a number of protesters shouting "stop the coup" and "our democracy and Parliament is under attack" blocked Westminster Bridge – bringing the River Thames crossing to a standstill.
Videos emerging from the protests in central London show a heavy police presence in areas such as Trafalgar Square, with some reports from attendees of activists being arrested.
Michael Chessum, national organiser for Another Europe Is Possible, told the PA news agency that 'disruption is the only form of leverage protesters can rely on'.
He said the group is not encouraging demonstrators to block roads, but that kind of disruption is "certainly possible".
He added: "We would go further than anticipate [civil disobedience]. We would defend it."
Pictures and video emerging from the demonstrations show significant crowds building in cities such as Newcastle and York, with speakers addressing large crowds and many attendees arriving with European flags or handmade placards bearing anti-government slogans.
Jeremy Corbyn took to the stage at the Glasgow protest in order to support the demonstration.
He said: "Demonstrations are taking place everywhere because people are angered and outraged about what is happening.
"Angered that the Government and a Prime Minister elected by 93,000 members of the Tory party is trying to hijack the needs, aims and aspirations of 65 million people.
"Well think on Boris, it's not on and we're not having it."
Students at Balliol College, Oxford, where Boris Johnson himself once studied, have erected posters on the walls of the college which claim they 'disown' the Prime Minister over his actions.
It's not just the nation's cities however - smaller protests in towns such as Lewes, East Sussex, have also formed this morning and are expected to continue throughout the afternoon.
Further mass demonstrations, organised by the People's Assembly Against Austerity, are planned to take place on Tuesday to coincide with MPs returning to Westminster.