Britain First has announced it is to launch a "direct action campaign against Muslim elected officials" targeting "where they live, work, pray".
The militant, far-right group says politicians such as Sadiq Khan and Sajid Javid would now be classed as "occupiers" intent on taking over the UK.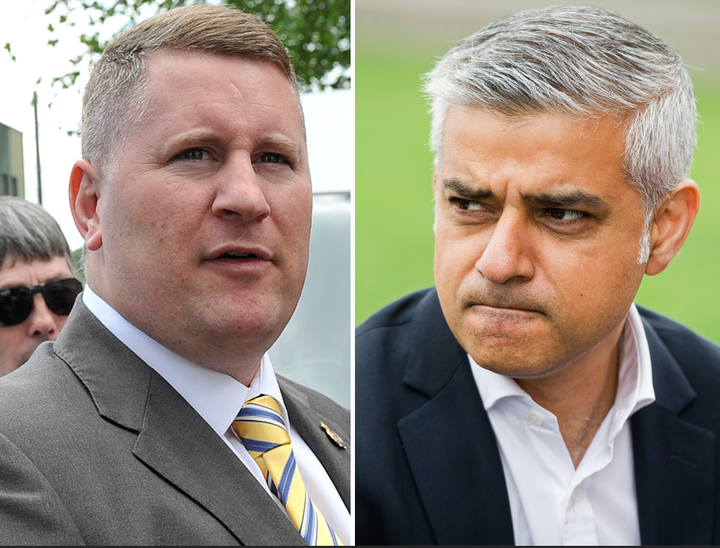 BRITAIN FIRST TO TARGET ELECTED MUSLIM OFFICIALS

Britain First is about to launch a direct action campaign against Muslim elected officials, at all levels of politics.

Figures such as Sadiq Khan (mayor of London), Sajid Javid (cabinet minister), MOHAMMED Altaf-Khan (mayor of Oxford), Hussain Akhtar (mayor of Blackburn), Shafique Shah (mayor of Birmingham) and so on.

This campaign was prompted by the election of Islamic extremist Sadiq Khan as mayor of London.

Britain First leader Paul Golding said: "Britain First specialises in militant direct action and has tracked down and confronted numerous hate preachers and terrorists."

"Britain First now considers all Muslim elected officials as "occupiers" and will start to oppose their strategy of entryism and take-over of our political system."

"Our intelligence led operations will focus on all aspects of their day-to-day lives and official functions, including where they live, work, pray and so on."

"Britain First has an official policy of banning Islam in the UK and will not stop until all Islamist occupiers are driven out of politics completely."

"Stand by for a flurry of direct operations, similar to those we have launched numerous times against Islamists such as hate preacher Anjem Choudary."
SEE ALSO:
The newsletter was distributed to a number of journalists who appeared to be surprised they even were subscribed.
It also contains a major error - the Mayor of Birmingham is actually Ray Hassall.
Britain First's "direct action" has in the past taken the form of tracking down individuals at their homes and shouting through letter boxes.
As well as targeting individuals, deputy leader, Jayda Fransen, along with a small group of Britain First activists "invaded" a halal butchers while screaming: "My grandfather fought for this country and he didn't do that for you people to turn it into little Pakistan by you people carrying out these barbaric practices for a disgusting, vile ideology."
Golding was widely ridiculed for the move and has since sought ways to retain attention after his failure in the London mayoral election.
Britain First has been campaigning on an anti-EU platform ahead of next month's referendum, but a demonstration in Leicester at the weekend ended in disaster when they were forced to leave under a police escort.
The offices of Sadiq Khan and Business Secretary Savid Javid have been contacted for comment.
Related