Seven hundred complaints have been lodged after the far-right group called on its followers to take action against what is actually a treehouse built by some kids in 2010.
Despite the true nature of the "camps" being widely reported, Jayda Fransen and the gang released a video showing them posting leaflets through letterboxes and chatting to locals.
She said: "You may have seen reports in the media that migrants have set up illegal camps and within these camps they've been causing a huge amount of destruction and disturbance.
"There's litter everywhere, they've been cutting, hacking at trees, cutting bushes down.
"They've got knives and locals have been threatened by these migrants occupying these illegal camps.
"It really is an issue around here."
"I would encourage people to do that and to ignore these nonsensical stories of migrant camps."
Brad Dury told Mansfield's The Chad: "The truth is me and a few friends just decided to build it in 2010 when we were bored in the summer. We wanted somewhere to camp and have a party, as you do.
"We never chopped down any of the trees we used ones that had already been knocked down and pieced it all together. It took about five of us to put the arched trunk up there!"
Tellingly, Britain First never make it to the camp in the video, choosing instead for a gentle stroll through the area.
Those who built the treehouse have said they are "disgusted original reports tried to paint it as an illegal migrant camp.
Jessica Rimmington, now 23, said: "It was built as a leaving present for one of the lads going in the army.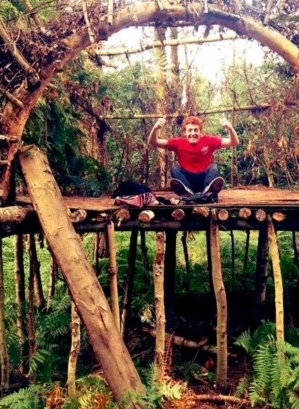 "It was built for such a beautiful reason, with the end of a group of teenagers' summers together before they went on to begin adult life.
"I think it's disgusting that someone's made such a silly story up. There's many wonderful memories up there for many people and for it be stained by this silly story is horrendous."
The Chad carried out their own investigation into the migrant reports, speaking to a man - who wouldn't give his real name - who claimed up to 20 men were living in the camp.