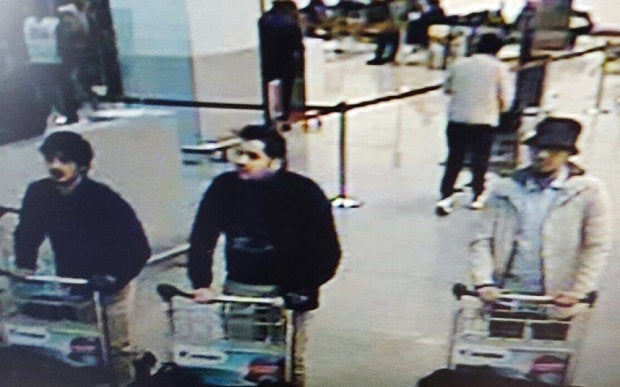 Brussels rocked by multiple explosions after 7am GMT

So called Islamic State claim responsibility for attacks

Police issue CCTV image from airport of three suspects

At least 34 confirmed dead with scores more injured

20 killed at Maalbeek Metro and 14 at Zaventem Airport

One Briton confirmed injured, Downing Street says

Terror alert raised to maximum and Metro system closed

Gunfire and shouts in Arabic reported at Brussels airport

At least one airport blast confirmed as suicide bombing

Emergency no for concerned relatives: +44 2070080000
A manhunt is underway in Belgium with authorities searching for one of three suspects connected to Tuesday's attacks in Brussels that left 34 people dead and more than 200 injured.
Belgian Federal police released CCTV of three men at Brussels Zaventem airport shortly before two blasts rocked a terminal building on Tuesday morning.
A wanted notice was issued for a man seen pushing a luggage trolley through the airport. Belgian Prosecutor Eric van der Sypt confirmed two bombers died at Brussels airport and a third is being "actively" sought.
Police raids were carried out across the capital following the initial attacks. Prosecutors revealed on Tuesday evening a new explosive device containing nails was found in the suburb of Schaerbeek, as were chemical products and an Islamic State group flag.
According to witnesses, the blast appeared to go off before the suspects passed through security, within the check-in hall of the airport.
Belga News Agency reported that the image was released by police at the request of the federal prosecutor.
Prosecutor Frederic Van Leeuw said the forensic operation at the airport would last all night.
"A photo of three suspects was taken at Brussels airport," he said. "Two of them have probably committed a suicide attack, the third - dressed in a white jacket and wearing a hat - is actively sought."
"Various departments and experts are currently in various crime scenes," he added. "This will take place for many hours to come. Due to the violence of the attacks, this investigation is particularly difficult. Various operations are ongoing across the country and several witnesses have been heard. Several explosions have been heard. They are due to bomb squad activity upon the discovery that the suspects might have left explosives behind. And this could continue."
King Philippe of Belgium led calls for calm after the attacks. "Today our country is in mourning," he said in a televised address. "For each of us this March 22 will never be a day like any other. In the face of threats, we will continue to respond together, firmly, with calm and dignity."
Two British nationals were injured in the attacks, according to the Foreign Office, which has warned Britons not to travel to Brussels.
A spokeswoman for David Cameron said Britain had sent a team of specialist police officers to help the investigation.
Brussels Explosions