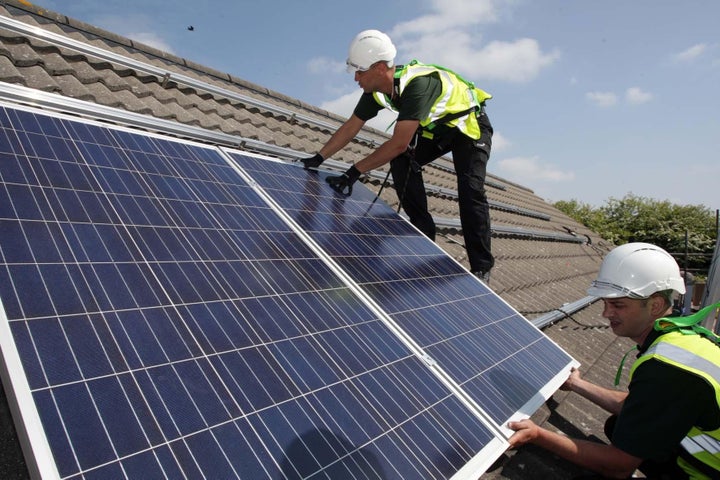 Labour leader Jeremy Corbyn has put forward an amendment to last week's Budget calling for VAT on energy saving products to be kept at 5%, and not jacked up to 20% as planned.
The planned increase stems from a ruling by the European Court of Justice last year that VAT on the products had to be charged at full rate.
But the Prime Minister's Official Spokeswoman today indicated the Government would not stand in the way of Labour's VAT-cutting amendment – which has drawn support from a large number of eurosceptic Tories.
The spokeswoman said: "I don't expect us to oppose it"
Senior Tory backbencher John Redwood, a long-standing critic of the European Union, was surprised by the Government's decision but welcomed the move.
He told Huff Post UK: "It's creating a collision between the European Union and the British Parliament."
He added: "It's a very good illustration of this sovereignty issue."
When asked for his view on why the Labour leader – who is campaigning for the UK to stay in the EU – has tabled an amendment seemingly incompatible with the country's membership, Redwood replied: "Mr Corbyn is campaigning with cross purposes with himself.
"The motion is asking for the British parliament to overrule the European Union."
The row over taxation on energy saving products has echoes of the tampon tax - a ruling from Brussels which means sanitary products must be subject to VAT.
Last week, David Cameron helped secure a deal with fellow EU leaders which will see sanitary products excluded from VAT in the UK.
The Government would require a similar deal if it wanted to exclude energy saving products from attracting the top rate of VAT.
Ukip MEP Louise Bours said the Government could again find itself in the European Court of Justice over the issue.
She said: "It is clearly apparent that no matter what the House of Commons does, or doesn't do about zero rating VAT, it can do nothing that will not involve a costly and losing ECJ case against the European Commission.
"Even if the EU does signal interest in changing the rules, as an amendment to a Directive will take years and could fall at any number of legislative hurdles."
Tory Eurosceptic MP Andrew Bridgen, who is backing the amendment on the tampon tax and on energy saving measures, welcomed the Government's move today.
He told the Huff Post UK: "It's better to give in than be defeated. It's pragmatic politics.
"At the end of the day increasing VAT to 20% is not going to help people in fuel poverty.
"We use the taxation system to encourage behavior we want and discourage behavior we don't. That's why a bottle of whiskey is £18."
Labour Shadow Treasury Minister Rebecca Long-Bailey MP - one of those who put forward the amendment - said the Government's acceptance of Labour's proposal was "unprecedented".
She said:"The ultra-shambles budget is falling apart in front of our eyes. George Osborne is abandoning his own draft Finance Bill clause by clause just and he is the first Chancellor in history who has been forced to accept an Opposition amendment to his own Budget Resolution."
"It is quite simply unprecedented to change the Budget just days after announcing it - it is a huge climb down thanks to Labour pressure."
"Now we want green jobs and industry given proper protection in the Finance Bill so we can build an economy based on investment not cuts."
Related