Delaying tax rises to the autumn risks giving Tory rebels time to "get some wind behind them" and build an ERG-style low tax movement, a former Treasury special adviser has warned.
Sonia Khan told HuffPost UK that Rishi Sunak has a "real challenge" ahead of next week's Budget amid reports that he may look to hike taxes to fill the huge black hole the coronavirus pandemic has blown in the public finances.
Tory MPs are believed to be considering rebelling against plans reportedly under consideration by the chancellor to hike corporation tax from 19% to 24%, with borrowing forecast to hit £394bn in March.
But MPs have been warned by Downing Street that they could be sacked from the party if they vote against the Budget, because it would be seen as a confidence issue by the government.
Khan said Sunak may choose to delay tax rises to his autumn statement because HM Revenue and Customs would not be able to implement any announced next week in time for the new financial year from April 1 anyway.
But this could create problems for Sunak as it would allow low-tax campaigns to "get some wind behind them" and potentially build a backbench faction in the mould of the insurgent hard Brexit ERG (European Research Group), she warned.
Khan, who was an adviser to chancellors Philip Hammond and Sajid Javid, told HuffPost UK's Commons People podcast: "One of his big challenges is, I think firstly, you're not going to get any new taxes between now and April because the turnaround time is just too short and HMRC will never be able to implement them.
"So maybe we're sort of looking at the autumn Budget as the tax Budget.
"But that gap means you are leaving space where the people in your party who feel like they are not represented, they are sort of these fiscal conservatives who believe in low tax, free market and whatever else, to sort of galvanise a bit of a campaign and get some wind behind them."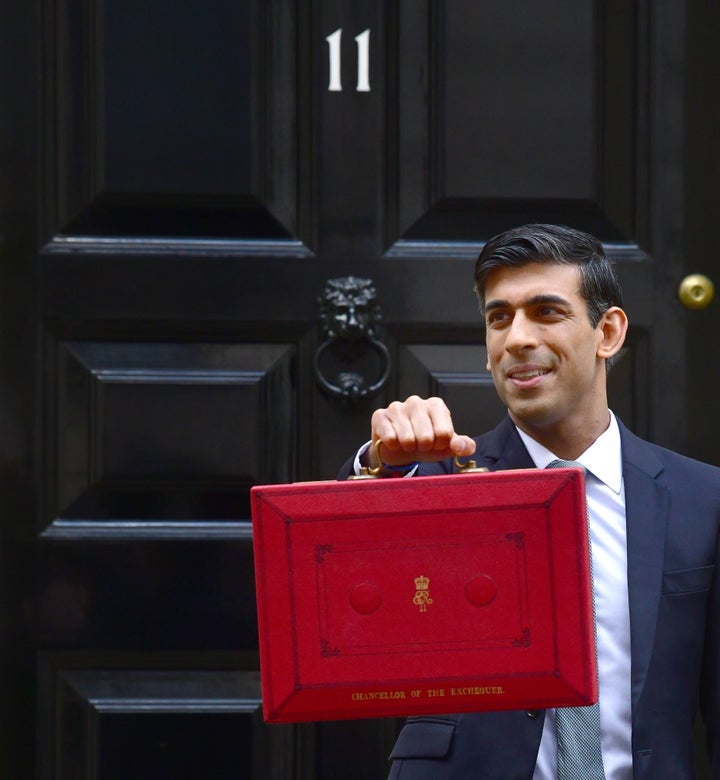 She went on: "You can see the development of another ERG, but an economic research group, (with) partnerships with the think-tanks, making the case for the competitive economy.
"So he's going to have a real challenge when he starts to come to make some of those harder decisions if he does defer them to November, possibly."
Tory grandees on Thursday clashed over what approach Sunak should take.
Lord Hammond urged Boris Johnson to risk unpopularity by telling the public "some difficult home truths" about the damage the coronavirus pandemic has caused to the economy.
But former prime minister David Cameron warned that tax rises "wouldn't make any sense at all" as the nation opens back up from lockdown.
Labour leader Sir Keir Starmer has also said "now is not the time" for tax increases, raising the prospect of low-tax Tories and the opposition joining forces to vote against Wednesday's Budget.
Cameron, who is no longer a Conservative MP, warned against tax rises as he defended his own austerity policies, telling US broadcaster CNN: "Today we do face very different circumstances.
"So piling, say, tax increases on top of that before you've even opened up the economy wouldn't make any sense at all.
"I think it's been right for the government here in the UK and governments around the world to recognise this is more like a sort of wartime situation."
Hammond urged the prime minister to level with the public amid rising unemployment and the economy being hit by the biggest annual decline on record.
He told the BBC: "My fear is that, as a populist government, giving money away is always easier than collecting it in."
The Conservative life peer, who resigned as chancellor when Johnson became prime minister, urged ministers to focus on growth and to ditch "very extravagant" promises from the manifesto.
"Not all of those commitments can now sensibly be delivered on and that's going to be a big challenge for a government that regards its short-term popularity as very, very important," he said.
But Hammond added he was "not sure" the "top leadership" has the "appetite for being unpopular, in order to do the right thing".
The prime minister's press secretary Allegra Stratton responded: "I don't recognise the picture the former chancellor makes."
She cited "difficult" policy decisions made by Johnson, including to cut foreign aid, and to order people to stay home during the coronavirus pandemic.
"This is a prime minister who is prepared to take difficult decisions and is weighing up very hard choices at the moment," Stratton added.
She insisted "we are committed to the manifesto" but declined to comment on specifics until the Budget.