The pictures show the woman, who was lying on the sand, being confronted by four police officers on a beach in Nice on Tuesday.
Nice is one of a dozen towns which have banned the body-covering swimwear favoured by some Muslim women, and is the site of a deadly Islamic extremist truck attack in July that killed 86 people.
The photos from Tuesday show the woman surrounded by the officers, who look on as she removes her long-sleeved blue shirt.
One of the men kneels down to write her a ticket, which was later seen by French news agency AFP and states she was not wearing "an outfit respecting good morals and secularism."
A witness said: "The saddest thing was that people were shouting 'go home', some were applauding the police."
She added: "Her daughter was crying."
Reaction on social media has leaned towards supporting the woman, with some LBC radio host James O'Brien asking the question: "How would you feel if a nun was forced to take off her habit on a beach?"
Sky News anchor Kay Burley posted a picture of two nuns frolicking in the sea in their habits, captioned "Sisters are doing it for themselves."
A further picture of habit-wearing nuns in the sea with the comment: "The burkini ban is not about the promotion of secularist society. Exhibit A. Eurocentrically acceptable attire."
The burkini ban, which will finish at the end of summer, has refueled debate over the French principle of secularism.
Even though it's only worn by a tiny minority, the burkini - a wetsuit-like garment that covers the torso, limbs and head - has prompted a national discussion about Islam and women's bodies.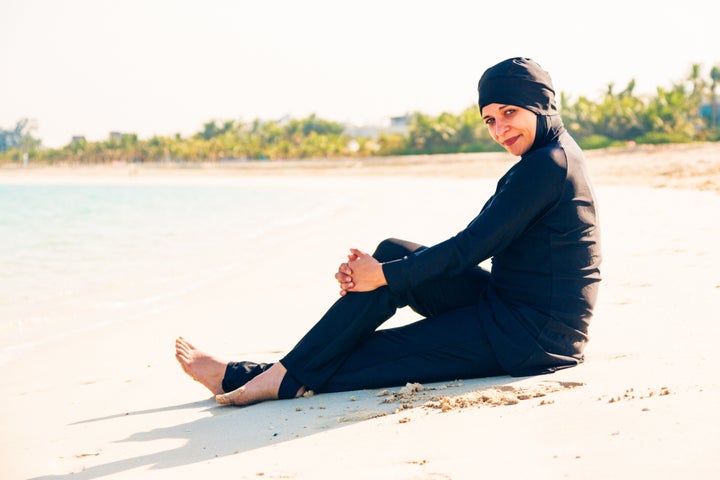 Prime Minister Manuel Valls says the swimsuit reflects a worldview based on "the enslavement of women."
In an interview published on Wednesday in the La Provence newspaper, he said the belief that women are "impure and that they should therefore be totally covered" was part of an "archaic vision."
"That is not compatible with the values of France," Valls said.
Siam's experience has echoes of that of a 22-year-old French Muslim woman living in Marseille, who was accosted while shopping in a grocery store with her mother by several people who had seen her on a TV news show explaining why she wears a burkini to the beach.
"'You aren't at home here. Go home. This is fundamentalism,'" she said the group told her, recounting the event to the Associated Press, which chose not to identify her by name for her own protection.
Before the controversy over burkinis, French laws banning face-covering veils in public and headscarves in schools - also based on views they violate French secularism and oppress women - had alienated many among France's 5 million Muslims.
Violent extremists also have cited the earlier bans as one of their justifications for targeting France.