Graffiti artist Banksy has donated his 'Dream Boat' sculpture to a charity helping refugees – and it will now be raffled off for as little as £2.
Created as part of Banksy's acclaimed Dismaland theme park, the coin operated sculpture is on show at the Help Refugees 'Choose Love' shop (30-32 Fouberts Place, London) throughout December. The store sells real products – like blankets and clothes – which are then given to refugees.
Visitors can enter a 'guess the weight competition' either in store or online and, for a minimum donation of £2, could become the proud owner of a Banksy piece in time for Christmas. "Batteries are included," the artist stressed.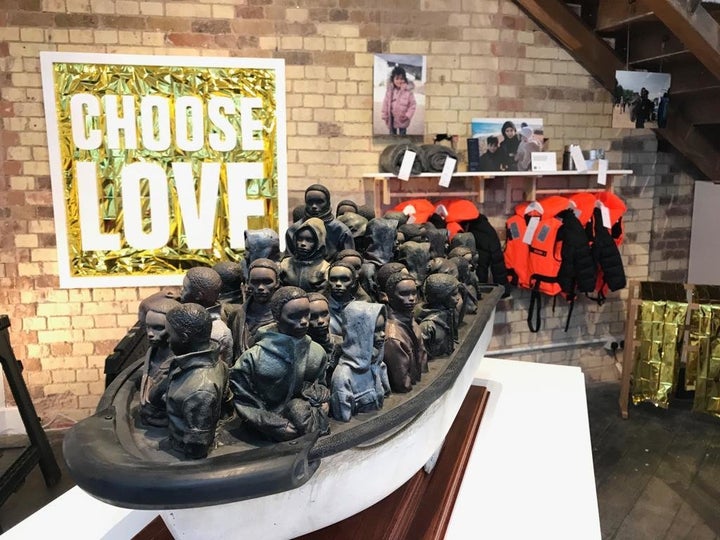 Banksy's provocative, and often political, work has made the artist the biggest name in the international street art scene. That notoriety has also priced out the average fan from buying any of his work.
The artist announced that his sculpture would be raffled for charity on his Instagram page.
All of the money donated through the raffle will go directly to supporting refugees and displaced people across the world.
Last year, the 'Choose Love' London store and its online equivalent raised £750,000, helping to provide refugees with 800,000 nutritious meals, 3,556 nights of accommodation, and 25,000 essential winter items for adults, which included 5,000 blankets and 11,000 items of clothing.
The competition and raffle closes at 8pm on 22 December, at which time the boat will be weighed by students from Kings College London.
In the event of more than one correct guess, the winner's name will be drawn at random. They'll then be notified by email.
Josie Naughton, CEO and co-founder of charity Help Refugees, said: "For us, Banksy's 'Dream Boat' speaks of the people we support, and tells the story of their wishes for a better tomorrow."