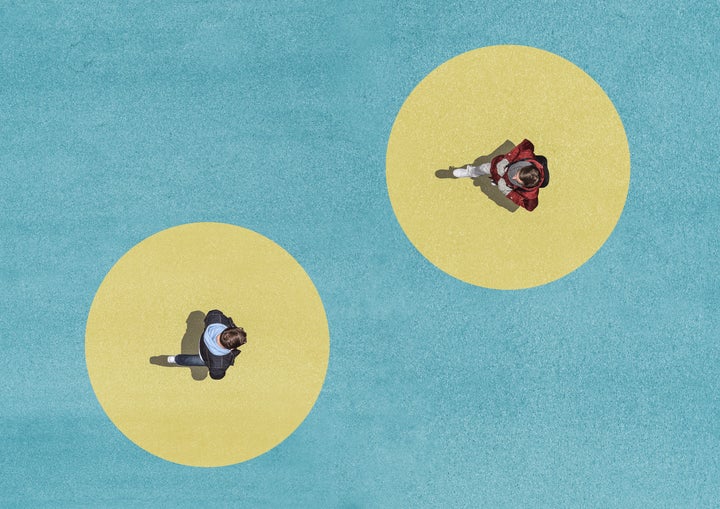 There's been a lot of confusion about whether we can now visit friends, partners and family members from other households as the government begins to ease lockdown restrictions.
When Boris Johnson shared a statement on Sunday evening, a key takeaway was that people in England could sit in parks and sunbathe, or exercise as many times as they wanted in a day, as long as they did so with people from their own household.
His announcement did not apply to Scotland, Wales and Northern Ireland, where devolved parliaments are issuing their own guidelines.
After the prime minster's statement, foreign secretary Dominic Raab said it's okay for people in England to meet up with others in the park if you socially distance. He told the BBC's Today Programme: "If you're out in the park, and you're two metres apart, we're saying now – and use some common sense and socially distance – you can meet up with other people."
On Monday, a spokesperson for 10 Downing Street clarified to HuffPost UK that you can only meet one person from outside your household in the park – and you must stay two metres away from each other if you do meet. This wouldn't allow for meeting two parents at the same time, for instance.
This advice has also been laid out in the government's new 51-page lockdown document, which states: "These measures may come with some risk; it is important that everyone continues to act responsibly, as the large majority have done to date.
"The infection rate will increase if people begin to break these rules and, for example, mix in groups in parks, which will trigger the need for further restrictions."
Friends and family members can't come to your house or garden – and vice versa. And you can't play sports or do exercise with people from outside your household. The new rules will come into effect from Wednesday onwards.
These rules only apply to England currently. Rather then adopting the UK government's revised slogan of "stay alert", the message in Scotland, Wales and Northern Ireland remains to "stay home" wherever possible.
"The fact that you're allowed to exercise more than once is definitely not a license to start meeting up in groups at the park or at the beach," she said. "Doing that really does risk spreading this virus."
From Monday, people in Wales are also allowed to leave their homes to exercise more than once a day, but Welsh first minister Mark Drakeford responded to Boris Johnson's statement, saying: "Our advice has not changed in Wales. Wherever you can you should stay at home." Meanwhile, in Northern Ireland, it's expected the public will be advised they can go out for unlimited exercise.
If you do decide to meet up with someone outside your household...
You're advised to follow social distancing measures: stay two metres apart at all times – so that means no hugging. You should wash your hands properly when you return home, too.
SAGE advise that the risk of infection outside is significantly lower than inside and Dr Jenna Macciochi, an immunologist based at the University of Sussex, previously told HuffPost UK that meeting outdoors is "potentially similar in terms of risk" as going to the supermarket – as long as you abide by the two metre rule.
The problem is that we're more likely to relax that distance in familiar environments with familiar people, she added, which could put you or them at risk, particularly if either of you are asymptomatic and have the virus.
On Sunday, Boris Johnson said fines for breaking lockdown rules are being upped from £60 to £100 in England, and people who repeatedly do so will see the fine double for each subsequent breach.
However, doubt has already been cast over how the new rules will be policed. And behavioural scientists are concerned the mixed messaging from the government will result in people interpreting the rules differently – and therefore not abiding by them.
Nick Chater, professor of behavioural science at Warwick Business School, said: "Once roles and rules become unclear, they become matters of dispute and debate – who should be at work, what is a safe working practice, who can use public transport, and so on. This potentially pits us against each other, rather than helping us work together.
"Clarity needs to be restored urgently, or public unity and trust in government will be undermined."