A year after launching a controversial anti-obesity campaign that was accused of "fat-shaming" obese people, Cancer Research UK is back with another divisive campaign – and once again, people aren't happy about it.
The new advert features familiar cigarette packaging but in place of tobacco branding is the phrase: "Obesity is a cause of cancer too." Smaller text below reads: "Like smoking, obesity puts millions of adults at greater risk of cancer."
The ad has been criticised online, with some people suggesting it is fuelling "weight stigma" and shaming people who are obese.
Ken Lynch, 46, who spotted the billboard at Freshfields station near Formby branded the advert "a new low". Lynch, a microbrewery owner from Rochdale, told HuffPost UK: "I object to the advert as it delivers a very negative view of obesity and, by association, food and drink.
"Linking obesity to smoking is too simplistic. Smokers can stop smoking. People who are overweight or obese can't suddenly be non-obese, it takes time and serious effort. I think this advert undermines that effort."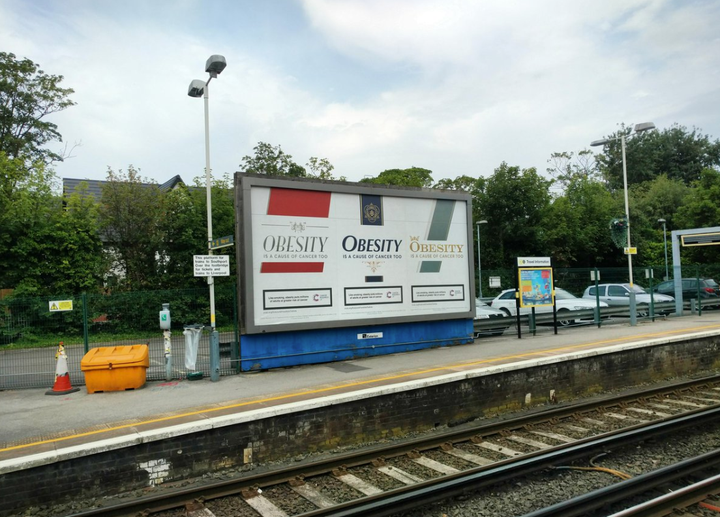 When Lynch shared his photo of the Formby billboard on Twitter, other people were quick to respond. One person, called Beth, branded the advert "ridiculous" and added: "Shaming does NOT help anyone! Ever."
Another, called Emmy, tweeted: "The first reaction [to] seeing this? Wave of nausea, a severe urge to actively restart disordered eating, followed quickly by I wish I could die.
"I am seriously terrified for fat people seeing this because I can't say with certainty that I'd not just jump in front of the next train."
Some people even suggested they would be boycotting Cancer Research UK. Leanne, who is a regular attendee of its Race For Life events, said she would never fundraise for the charity again.
Cancer Research UK responded to the backlash on Twitter, saying its campaign aims to raise awareness that obesity is a cause of cancer and "there are environmental drivers that can influence a person's weight".
The charity's defence prompted impassioned debate. Mags Steele tweeted: "By comparing obesity with smoking you hide the environmental drivers you claim you're trying to help people understand. Your refusal to acknowledge this is staggering. I have to conclude you just don't care how this impacts larger people."
"Tobacco use is no less complex!" she wrote. "The reasons why people begin smoking & continue, or quit, or relapse are driven by price, promotion, place, product characteristics, social norms, family & community influences etc."
But Fiona Quigley, who is researching weight-related communication in healthcare settings for her PhD at Ulster University, suggested on Twitter that, unlike obesity, smoking is not driven by genetics. "Your body doesn't adapt to force you to smoke more, you don't get discriminated against because you smoke, you don't have to pay for the privilege of giving up smoking," she said.
"No-one is saying it is not a good idea to change the environment or advertising etc," Quigley added. "All we are saying is stop standing on the shoulders of fat people. Lobby directly the real people responsible for this current situation - food manufacturers, government policy. Stop being cowards."
Ken Lynch told HuffPost UK that the billboard he saw "sends a message that food industry equals tobacco industry and should be regulated in the same way" – and he worried this would have a negative effect on the economy.
"People enjoy eating and drinking and this is good for mental wellbeing, but when that gets out of hand, for whatever reasons, there needs to be support in place without any stigma attached," he said.
Cancer Research UK insisted the campaign aims to raise awareness and inspire policies that create a healthier environment.
Michelle Mitchell, Cancer Research UK's chief executive, told HuffPost UK: "Like smoking, obesity puts millions of adults at greater risk of cancer – and like smoking rates, obesity rates can be reduced with government-led change.
"Smoking rates in the UK have dropped dramatically over the years, thanks to measures like higher tobacco taxes and marketing bans; now we need a similar approach to tackle obesity.
"Incessant adverts and price promotions can nudge us towards junk food, so we need the government to build on lessons learnt from smoking prevention and put policies in place that make it easier for everyone to keep a healthy weight."