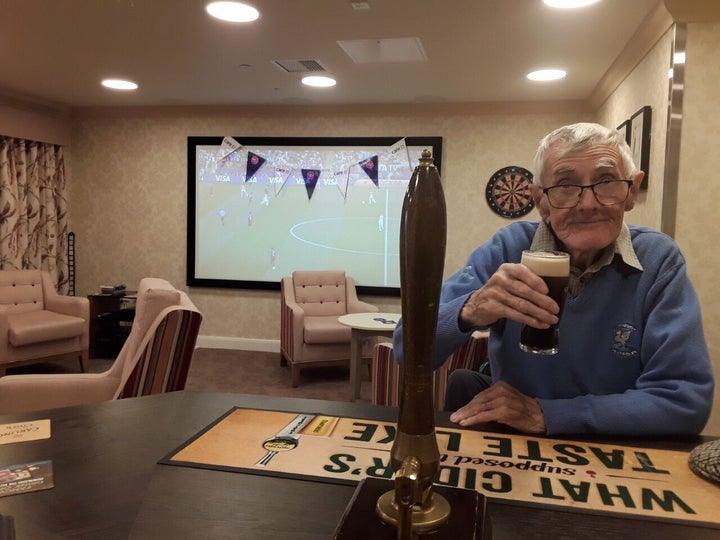 One unique pub in Worcestershire has managed to continue serving pints despite England's third lockdown.
The pub – known as The Chandler Arms – is set up in Care UK's Chandler Court care home, on Recreation Road in Bromsgrove.
Residents can attend regular 'pub nights', where team members turn into bartenders and put music or sport games on a big screen to recreate the real atmosphere of a pub.
They can attend in groups of up to six, as long as they respect social distancing guidelines.
Residents' favourites include cider, Bailey's and wine, a spokesperson told HuffPost UK, which are served with the usual pub nibbles such as nuts and crisps (of course).
One of the home's residents, Martin Dowell, said: "Back in the day, the pub was the life and soul of the community and a place to meet up, so it is great to get the chance to meet up with other residents in the home on a Friday afternoon for a pint and a chat."
Some other Care UK homes have similar pubs for residents to enjoy their favourite tipple. One home, Abney Court, created a gin cocktail bar before Christmas to reflect the different tastes of residents.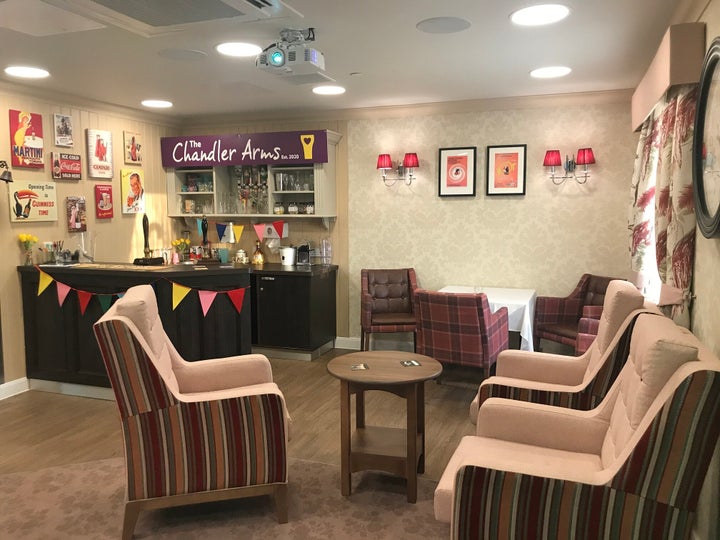 Dawn Covill, home manager at Chandler Court, said: "We all miss going to the pub, and in these challenging times, there's nothing like catching up with an old friend over a drink or two, so when residents told us they missed their local, we thought we'd bring it to them.
"For many residents, the pub is associated with a lot of positive memories from their younger years, from their first-ever drink to countless hearty meals with family or friends, and everything in between. The Chandler Arms' opening was a huge success and residents left with a smile on their face.
"Ironically, it turns out we're probably the only pub in the area to be unaffected by the restrictions, so we're looking forward to our next pub night!"