The UK lockdown is tough on everyone, but presents a unique challenge to staff caring for the county's most elderly and vulnerable people in residential homes.
Around 410,000 residents live in UK care homes, with many of them affected by conditions such as dementia and Alzheimer's, making it difficult for some to understand what's going on or why their families can no longer visit.
Other residents may be acutely aware of the continuing Covid-19 situation, and feeling anxious about their health, while also isolated from loved ones.
Earlier this month, Bryn Celyn Care Home in Bridgend lifted the spirits of residents – and thousands around the world – when they shared a video of residents playing a human version of Hungry Hungry Hippos. And residents of Aberdeen's Renais Care Home were cheered by 17 baby chicks which hatched from eggs they'd been caring for since February, the BBC reported.
Since then, staff at other care homes have been getting creative, too. Staff at Bupa's Elmstead Care Home in Chislehurst noticed that lack of visitors was having a real impact on residents, so they've created some new activities to keep everyone amused.
"We normally have lots of people coming and going, whether that's family and friends or entertainers coming in for the activities," home manager Emma Staples tells HuffPost UK. "At first it really changed the dynamic of the home, so we've had to find ways to make sure we're still the lively, fun-filled place our residents expect."
Staples' team have been trying to use the outdoor space as much as possible, encouraging residents to get fresh air. Activities so far have included gardening and beer in the sunshine.
"We got some novelty sunglasses the other day and the weather's been perfect for trying them out," says Staples. "It's only a little thing, but it can really help lift people's spirits."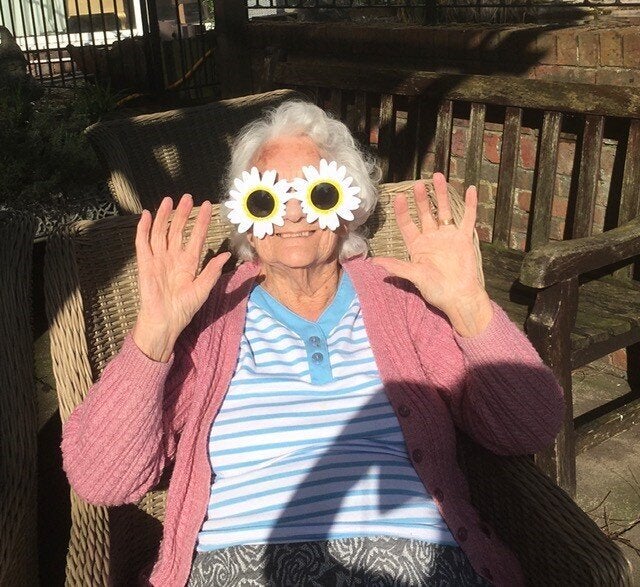 Another popular new addition has been the musical walking club, which meets and walks together around the home. "We theme these every day and give the residents instruments to play as we tour the home. It's noisy, but it keeps a smile on everyone's face – so we love it!" Staples says.
"One of our residents in particular has taken it upon himself to encourage other residents to take part in this every day. He stands behind our activity coordinator, Debbie, and bangs a drum while he sings 'we are the walking club' – it's lovely to see him so involved."
Helene Ballinger, who is resident experience manager at Southlands Care Home in Harrogate, has also been encouraging residents to get musical.
"We introduced a resident singalong which was great fun," she tells HuffPost UK. "We've got some natural performers at the home! It was great to be able to share videos of this, so their relatives can see that we're still having fun – despite the circumstances."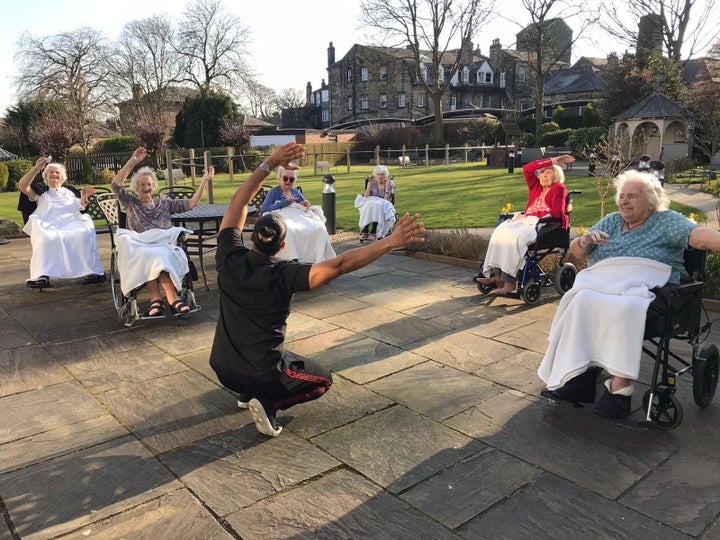 Ballinger and the team have also introduced a lot of video calls, and have been busy helping helping residents send pictures and video messages over WhatsApp. "The residents have really enjoyed it – not only catching up with family, but also getting to try out new technology," she says.
Looking after the health of their residents is top priority, but keeping a packed activity schedule has maintained a sense of normality, says Sally Harrison-Exton from care home chain Four Seasons, which cares for more than 10,000 people.
The chain's Sandringham Portadown home has been busy operating a live radio station, where "residents, families and the wider community can share messages and enjoy music", she explains.
Meanwhile, the Ashurst Park care home has introduced video talks in place of the usual visits internally, with external providers leading sessions on topics including 'Remembering Britain in the 1950s' and 'Music Legends'.
Other activities added to the timetable include indoor badminton and football – both a big hit with residents. "We have had such an enjoyable, entertaining morning with everyone, we are all looking forward to the next sporty morning," one resident, Arthur Freeland, says.
"We all had such fun and games with everyone it brought lots of laughter and smiles," another resident, Marjorie Gray, adds.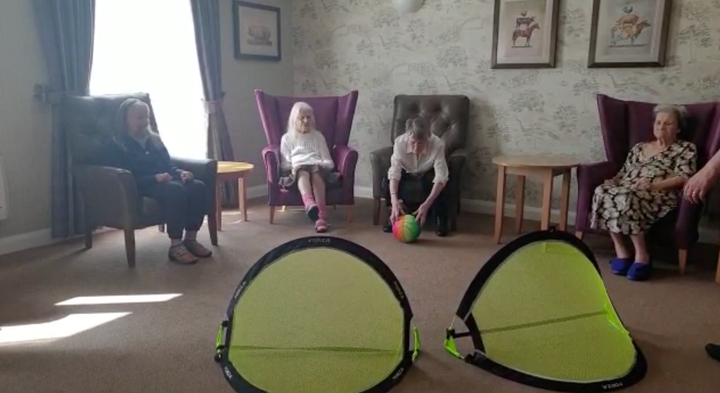 If you want to help care home workers boost the wellbeing of their residents, Four Seasons has launched a new initiative called Postcard Pens Pals across several of its homes.
People are being are encouraged to share notes, drawings and letters with residents to keep them connected to the local area. You can find out more information here.