A woman who used to consume more than 5,000 calories a day has shed more than a foot from her waist, after she lost the feeling down one side of her body.
Carli Jay, 30, from Surrey, frequently feasted on biscuits, cake and sweets. She consumed twice the 2,500 recommended allowance of calories for an adult man every day.
The recruiter, who at her heaviest weighed 20 stone, received a frightening warning in February 2014 when she woke up one morning and discovered the right side of her body was completely numb.
She said: "At that time, I was verging on a size 26 and because I was so big my bulk had cut off my circulation.
"I had pins and needles all the way down my side and I couldn't feel my hip.
"I knew then I had to change."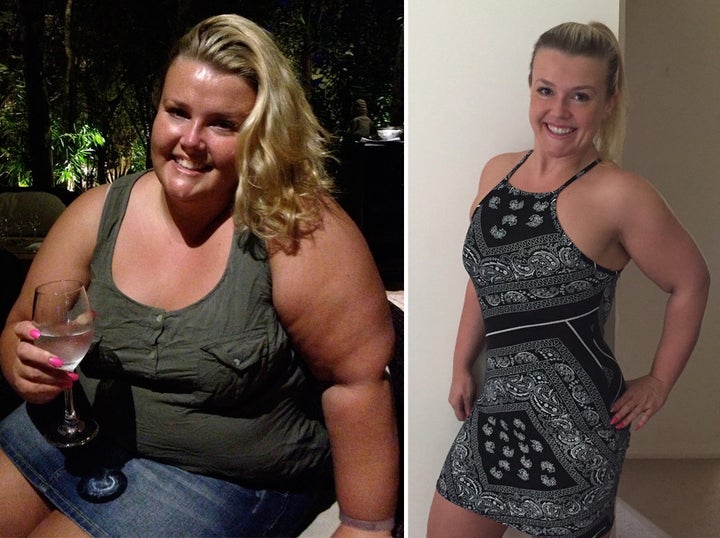 Carli said she had always struggled with her weight and, as a teenager, was one of the biggest girls at school.
She loved walking in the countryside, playing netball and competitive rowing.
But her health worsened after she moved to the UK from Australia in 2010, swapping her previously active lifestyle for a desk job.
Putting in 60-hour weeks, she barely had time to pause and think about what she was eating. She explained: "I would just put food in my mouth. My portion sizes were out of control.
"At work I'd snack on Jaffa cakes, sweets and lollies. Then I would eat lunch and snack until dinner.
"I'd have two desserts at night and smoke a pack of cigarettes a week.
"I was often so exhausted from work I'd come home and sit all night in front of the television just eating."
In four years, Carli gained four stone. But despite this, she was always very body confident and donned swimsuits and bikinis on holiday.
She would also wave any cruel comments aside. Recalling one incident in Nice, France, in 2012, she said: "I was applying suncream to my exposed belly. Two women nearby on sun loungers started giggling and whispering about me.
"I've always been really confident and I wasn't ashamed to be big, so I just gave them a wave and smiled."
Despite being happy in herself, Carli flirted with the idea of losing weight and experimented with diet shakes, meal replacement drinks and tea – but the fads never lasted.
Eventually, her size took a toll on her body and she'd find herself constantly out of breath – to the point where merely walking up a set of stairs was a daunting prospect.
Then, in August 2013, on a holiday to Mexico with a friend, she stepped on the scales for the first time in years and was shocked to discover she weighed 20 stone.
At 5ft 3in, she had a BMI of 49.5 – more than double a healthy rating of between 18.5 and 25.
Carli said: "In Mexico, we were swimming and cave diving and it made me realise how much I missed my active lifestyle.
"I was shocked how much I weighed, but it didn't stop me from enjoying the buffets and having a good time."
It wasn't until nine months later, when Carli woke up without any feeling in her side, that she decided to make a permanent change.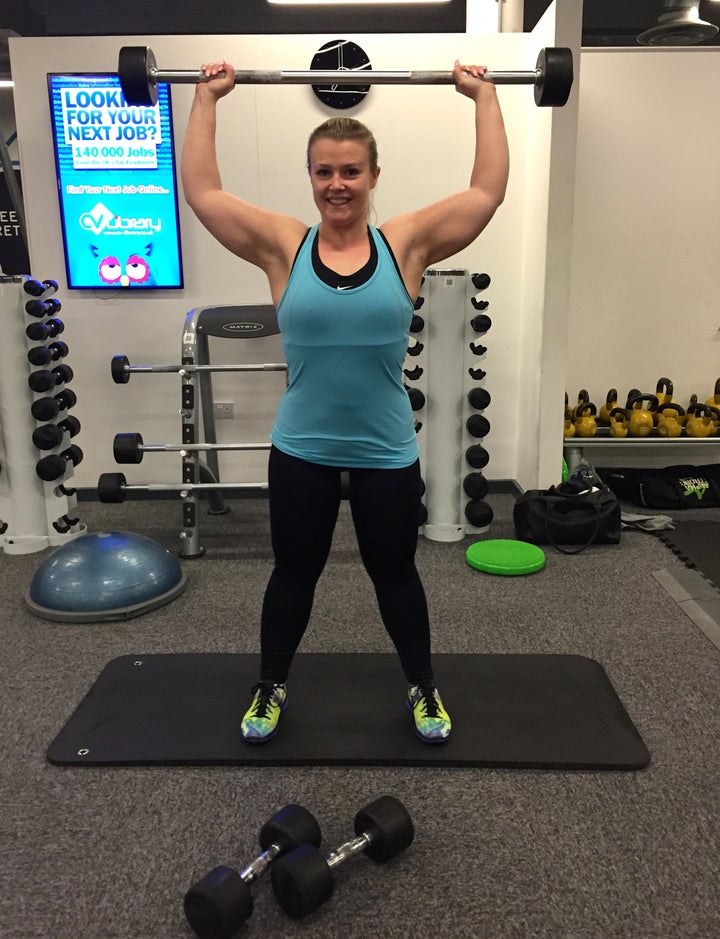 Working out for the first time in four years, she hopped on an old exercise bike she had bought two years earlier and spun for 15 minutes in front of her favourite boxset.
She also overhauled her diet, switching calorie-laden pizzas for healthy salads.
In just a month, she lost one stone. After four months, she'd shed four stone just by exercising in her lounge in front of the telly.
In July 2014, she itched to exercise more and joined a gym.
"I was offered a personal trainer but I refused," she said. "I wanted to lose half my body weight and I've done it all by myself."
Now, at 10 stone, Carli is happier than ever. With a newfound love for exercise, she trains at the gym twice a day without fail.
She said: "I'm so proud of what I've done."
The 30-year-old is now using her experiences to inspire others, through her Instagram account, and is even writing a book about her weight loss journey.