The Case I Can't Forget is a weekly series that hears from the people working at the coalface of public service about the cases they have carried with them throughout their careers.

This time, National Fire Chiefs Council Chair Roy Wilsher remembers the Harrow Court Fire of 2005, which claimed the lives of his colleagues Jeff Wornham, 28, and Michael Miller, 26.

As told to Lucy Pasha-Robinson. If you have a story you'd like to tell, email lucy.pasha-robinson@huffpost.com

I was at home when I got the call in the early hours of the morning of 2 February 2005. "We've lost two officers," were the first words Hertfordshire's assistant chief fire officer told me that night.
On the face of it, this had been a routine call-out to a high-rise flat fire. I asked him to clarify what he meant.
"Two officers have died in the fire at Harrow Court," he said. I was in total shock. I couldn't understand how this could have happened. But I was also the deputy chief fire officer at the time and knew I needed to get down to the scene to help and support the teams there. I had been unable to get through to the chief on my way.
Although firefighters do occasionally come to harm, nothing can prepare you for the shock of losing your colleagues, and it's something that touches everyone involved at the time.
The fire was mainly out by the time I arrived in the early morning, but there was lots to be done.
I knew I would need to preserve any evidence for an investigation so one of the first things I did that morning was to ring my old service, the London Fire Brigade, to call in extra help from their accident and investigation resources.
Of course, after a tragedy like this your thoughts are with the families of the firefighters who died – someone would have the difficult job of informing them.
I was also very concerned about the welfare of the other firefighters that were there who had suffered trauma. The initial crews were taken to our training centre to begin to debrief and make sure everyone was OK. The crew was on their first night duty of the week. They only had one more to go before a few days off.
I wanted to know they were OK, and of course, my emotions were affected. But there was still a job to do. And there were decisions to be made.
There were countless residents that had been evacuated and needed to be looked after and had nowhere to go.
I had to think about who was going to recover the bodies. Who was going to volunteer to do that? To recover the bodies of your colleagues is really tough to do. In the end, firefighters volunteered and Jeff and Michael were carried out of the tower in the late morning.
Hertfordshire's chief fire officer at the time was only six weeks from retirement. When we got hold of him, he was in such deep shock that I felt a heavy responsibility to look after him as well. He had gone through a 30-year career and in his last six weeks, he had lost two people in his service. So I took care of all the media and coordinating the investigation, because he was just unable to process it. It didn't take him long to get back on his feet but those first few hours were tough.
In the immediate aftermath, I also had to think about staffing and finding replacements for some of the officers who, understandably, couldn't face doing a shift the next day. We still needed to serve the public of Hertfordshire, and cruelly after a tragedy like this, life goes on. We couldn't stop attending fires and road traffic collisions – even as we mourned and tried to cope with what happened.
We made sure our teams had counselling at the time, and there was an awareness of PTSD, but not like we have now. Considering it was 14 years ago, I'm proud of the support we were able to provide. But now, we have a much greater awareness of mental health and wellbeing in the fire and rescue service.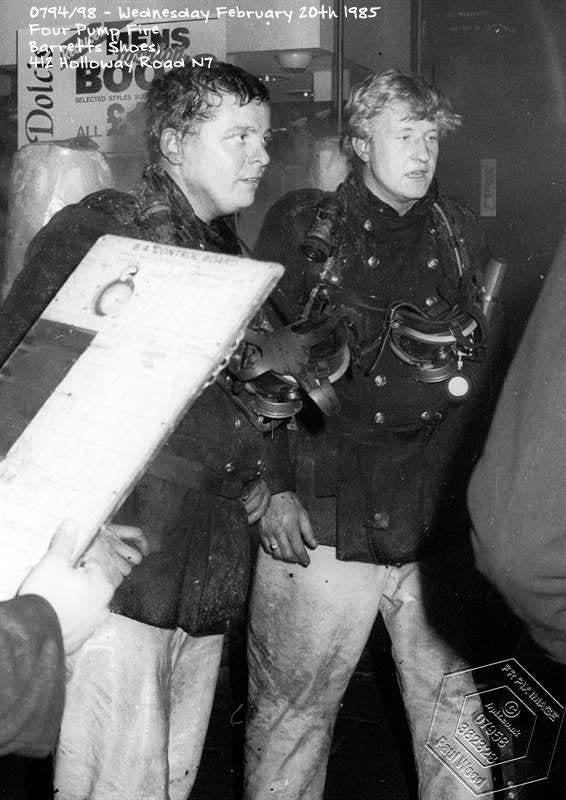 We didn't just lose firefighters at Harrow Court, but a woman resident as well. Losing three young lives at any time is devastating and a waste – but especially in these circumstances.
As with any disaster, a series of things need to go wrong for it to happen. In this case, the fire started when tealights that weren't in containers burnt through a plastic telly and set fire to a wardrobe. The tenants had been using candles to light their flat because they had run out of money for the electricity metre.
There were also equipment failures. The dry riser in the block, that allows water to be pumped through to every floor in case of a fire, had been chained up because of vandalism.
Usually we use leather straps to tether them but because of the antisocial behaviour, these had been attached with metal chains and so our firefighters couldn't cut through them quickly enough.
That butterfly effect still goes through my mind. If any one of those things had been different, could this have been prevented?
The families of Jeff and Michael reacted in different ways. One wanted a very private, sombre funeral, another wanted a full service send off. Both, obviously wanted answers as to why their two sons had died. And their reactions were different. Some reactions were fairly quiet, some were angry.
We learnt lots of things during the investigation, which went on for a year to try and understand what went wrong, but of course, that wouldn't bring them back. Our last interaction with the health and safety executive was five years later, so trying to understand what went wrong and how to prevent it in the future was taken very seriously, with a lot of time and resource and emotion.
What happened at Grenfell Tower is another story completely. But it does give you an indication of how difficult high-rise firefighting can be. When the fire is up in the air, you need to work harder to get water and equipment up there. There's also people living very close by and things like the winds can affect the fire at the level. Winds on the 14th or 18th floor are very different to the winds you get at ground level. High-rises have always been difficult fires to fight, and it's something we are always trying to tackle more efficiently in fire fighting.
The tragedy at Harrow Court is one of those things in life that you never fully come to terms with. Even now, I think about what happened that night and what went wrong.
We're not committing firefighters to dangerous situations at every moment of their lives but this case shows that it can happen at any time. You don't know when the next very serious fire will happen, or what's round the corner.
I still see both Jeff and Michael's families from time to time. Michael's mum, I saw twice this year at different memorial events and Jeff's dad, I see quite often. We don't meet up but when we see each other at events, we say hello and talk. Michael's mum Cindy has been very vocal since his death helping us with fire prevention campaigns and educating people about the dangers of candles and tealights.
We're always trying to learn from fires. Now we're just trying to get better at prevention and understand how incidents like this can be avoided. We now have national operational learning in place that helps us improve our procedures.
Roy Wilsher is the Chair of the National Fire Chiefs Council
The Case I Can't Forget is a new series from HuffPost UK that hears from those on the frontline of public service about the cases they have carried with them throughout their careers. If you have a story you'd like to tell, email lucy.pasha-robinson@huffpost.com.