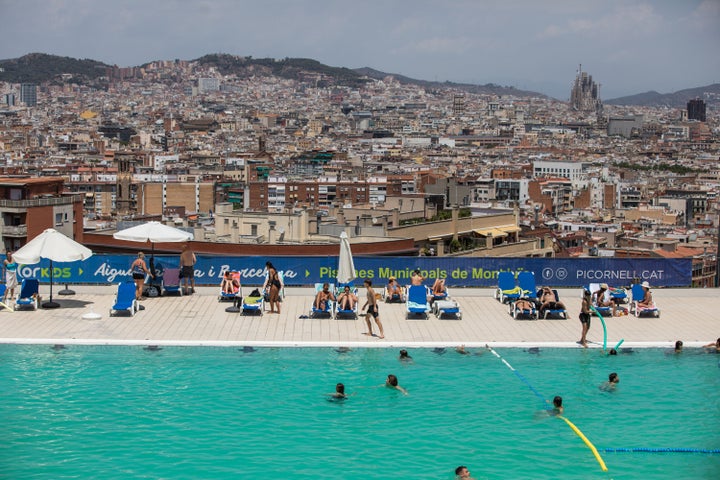 A deadly heatwave is sweeping southern Europe, with a warning of higher temperatures to come and fears of wildfires and threats to agriculture.
What's happening and where?
The high-pressure system, which crossed the Mediterranean from north Africa, has been named by Italy's Meteorological Society as Cerberus – the three-headed dog in ancient Greek mythology who guarded the gates to the underworld.
Emergency measures were put in place in several countries as temperatures in parts of Mediterranean Europe were set to reach 45C on Friday and into the weekend.
Weather alerts were in place across Spain's Canary Islands, Italy, Cyprus and Greece, with the Greek authorities expecting temperatures to reach as high as 43C on Friday or Saturday.
Health authorities issued a top, red alert warning for 10 Italian cities for the next two days, including Rome, Florence, Bologna and Perugia.
Meanwhile, in the Arctic, a record high temperature of 28.8C was measured at Slettness Fyr on the northern tip of the Norway, Norwegian meteorologists said on Thursday. This tops a previous record from July 1964 when the thermometer reached 27.6C.
Cerberus is being tracked by the European Space Agency, which warned that the heatwave will also be felt in parts of northern Europe.
It said: "Italy, Spain, France, Germany and Poland are all facing a major heatwave with temperatures expected to climb to 48 Celsius on the islands of Sicily and Sardinia – potentially the hottest temperatures ever recorded in Europe."
What about the UK?
The Met Office has said there is no sign of Cerberus arriving in the UK, with temperatures expected to be close to average or slightly below for July.
What's the impact in Europe been?
Tourists in central Athens huddled under mist machines, and zoo animals in Madrid were fed fruit popsicles and chunks of frozen food as measures including staffing changes, cellphone alerts and intensified forest fire patrols were put in place.
In Athens and other Greek cities, working hours were changed for the public sector and many businesses to avoid the midday heat, while air-conditioned areas were opened to the public.
Authorities put an ambulance on standby near the archaeological site of the Acropolis in Athens, ready to provide first aid to tourists wilting in the heatwave.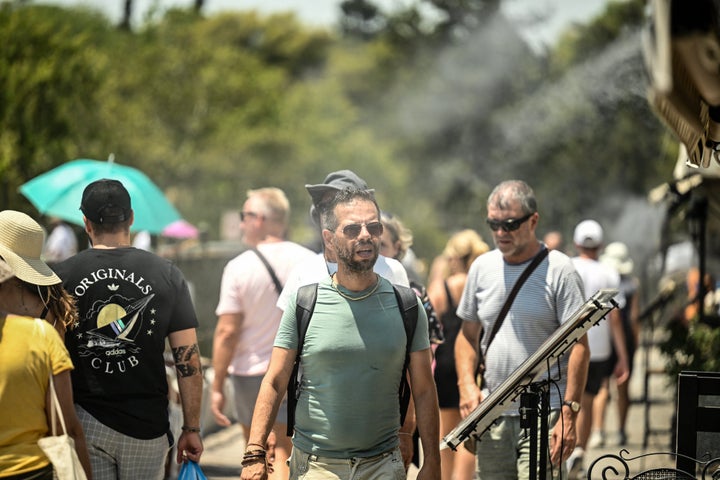 In the Balkans, beachgoers in the Croatian town of Nin smeared themselves in its medicinal local mud to protect themselves from the sun while 56 firefighters with 20 vehicles and three aircraft struggled to contain a brush fire near the Adriatic town of Sibenik.
There are concerns about the impact on those working outdoors in Italy after a 44-year-old man who was painting road markings in the northern town of Lodi collapsed and died this week.
As Spain's politicians fret about how the high temperatures might affect turnout in a general election this month, animals in Madrid's Zoo were this week being treated to frozen food to cool off amid the sweltering.
Italian farmers' lobby group Coldiretti said milk production was down by around 10% because cows eat less in the heat, drink huge quantities of water and make less milk.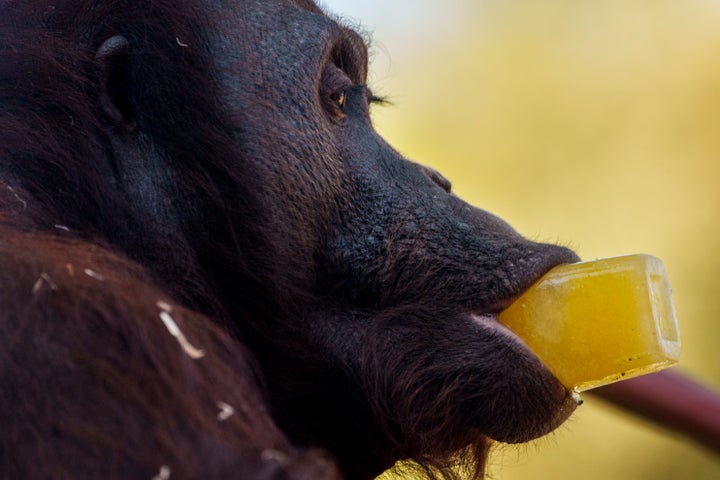 What's causing it? Is climate change a factor?
Professor Hannah Cloke, a climate scientist at Reading University, said that the current heatwave was caused by hot air coming up from the Sahara, with the air mass then becoming lodged across parts of Europe.
She said: "Heat is a silent killer. So this is the main concern that people's lives are at risk."
"Certainly, we should immediately stop pumping greenhouse gases into the atmosphere," Cloke added, warning that some changes to the climate were already locked in.
The impact of extreme summer heat has been brought into focus by research this week that said as many as 61,000 people may have died in Europe's sweltering heatwaves last summer.
Is there more to come?
The record European temperature of 48.8C was registered in Sicily in August 2021 and that figure could be exceeded.
Luca Lombroso, meteorologist from the AMPRO group in Italy, said: "Next week there will be an even stronger heatwave than this one, some values in the central south will be really freaky."
"Between Tuesday and Wednesday in Rome and Florence we will probably exceed 40C, which will also be approached in the north," he added.
With reporting from the AP and Reuters newswires.