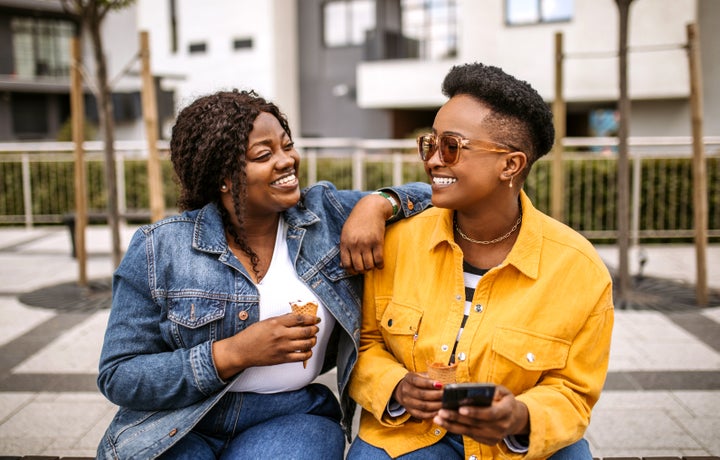 While dinner and a movie have never exactly been cheap ($5 for a small Coke?!), rising inflation rates means that dating around has never been more expensive.
About half of single millennials and Gen Zers have decided to "infla-date" by going on budget-friendly dates, according to a survey from Plenty of Fish. Think: A mid-morning coffee and a walk, rather than a $100 dinner.
Dating experts think the infla-dating trend could benefit more than just your bank account. Going on a less expensive date ― say, a picnic in the park with Two-Buck Chuck and a mini cheese sampler ― takes some of the pressure off.
"Less pressure can mean more fun, deeper connection, or — if the date is bad — a quicker exit," dating coach Lily Womble told HuffPost in November.
In other words, it pays to be a cheap date. In the spirit of that, we recently asked readers to share the best low-cost date they've ever been on. Read their recommendations below.
Go to a local art museum
"Make a date at local art museums. Most smaller local art museums run off donations. Donate a couple of bucks and enjoy what your community creates!" ― Meag
Stage a DIY paint and sip
"OK, so we all know those paint and sip classes, right? Super romantic and fun, but when I went to book it for a first date it was minimum $65 per person! And that's not including wine and snacks! Hell no, I was going to do this on my own.
I went to my local Kmart and found a 'paint by numbers' pack, which included paint, brushes and the instructional canvas for $9. I bought two of them, threw in some cheap wine, whatever snacks I had in my pantry, plus some $1 tea candles ― it was one of the best, most affordable first dates I've ever had!" ― Jeremy Franco, Sydney, Australia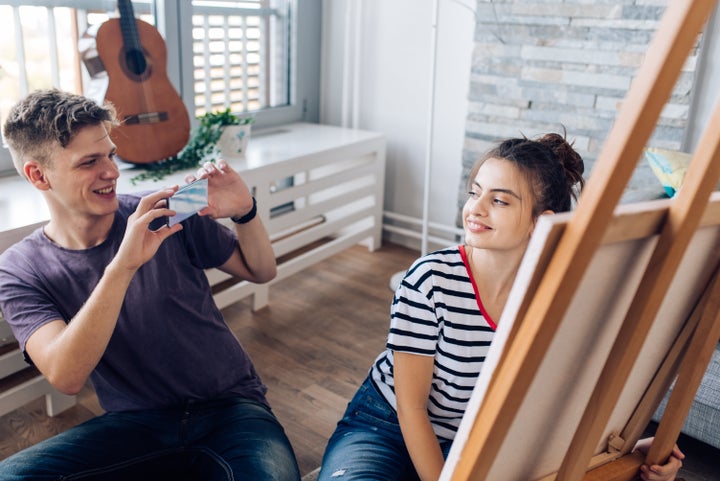 Dog sit
"A memorable cheap first date that stands out to me was when I was invited to puppy sit a Labrador that my date was taking care of for the weekend. At the time, I was reluctant to agree because I had grown up with cats and had zero practice when it came to caring for a dog, but it ended up being a really good bonding experience. Not only did we walk to some of my favorite parks together, but I also got to see a caring and protective side to him that I don't think would have been possible so early on.
Unlike dinner dates that often feel more like an interview where you're forced to sit opposite one another and come up with thoughtful questions to ask, puppy sitting was a good icebreaker and conversation starter that redirected our attention from us to the dog and allowed us to just enjoy each other's company." ― Nicole Colantoni, a dating and relationship coach in Sydney, Australia
Go to a bookstore
"My favorite is a bookstore date: Meet up and walk around to the genres you individually like. You can each pick a book to buy, get a coffee or tea from the cafe, and hang out and get to know each other." ― Syreeta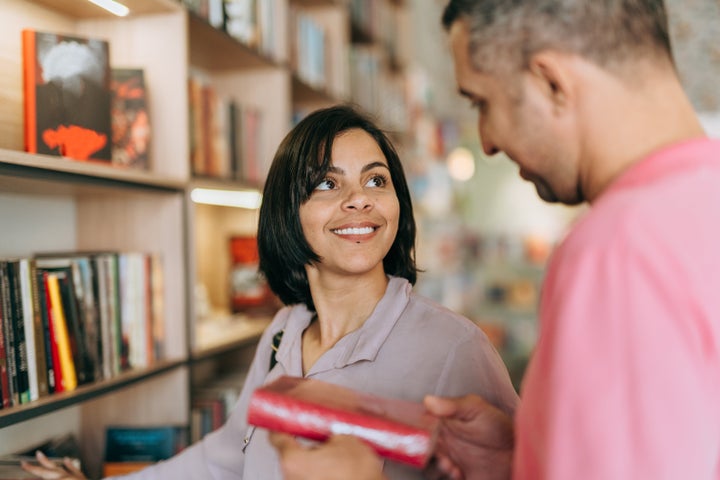 Go on a hike
"I always make sure to get to know my date a little over text beforehand. This way, I can plan an activity that I know they will love. For example, if they are an adventurous soul, why not take them to an archery shooting range? My local one charges only $8 for half an hour, and it's a unique and exciting way to spend a first date.
But let me tell you about one of my favorite first dates: It was in September, just after my date's birthday. I picked them up, and we headed to the grocery store to pick out their favorite cake. We found a small tiramisu cake for around $12 (you could totally find something cheaper). Then I took them on a hike to Lone Tree Hill in Victoria, Canada, which offered an incredible view. As we walked, we played the game 'We're Not Really Strangers' using a free quizlet online. The hike was the perfect setting for conversation and getting to know each other without any pressure. Plus, eating cake at the summit was the cherry on top of an unforgettable date." ― Krisjay Sigurdson, host of the Diaries of a Homosexual podcast
Go kayaking

"I went kayaking in London with my now-boyfriend and kayaked around the canals near Hackney Wick, the hipster area. It was $25 per person, and we got to admire nature: birds making nests in the tires on the side of people's houseboats, heard music drift over from a nearby concert, and watched people running a marathon. Afterwards, we grabbed a drink at a bar next to the canal.
In most cities there are similar companies that rent out small boats, or you could even take a ferry somewhere fun, even if it's simply to grab a drink at a dive bar. Being outdoors makes it feel low-key, and there's lots of great people watching as a conversation starter. Pro tip: Don't rent a boat for more than 1.5 hours, because 1) your arms will get tired ― although I did get to see my boyfriend be a gentleman when he had to paddle us back ― and 2) so you aren't too committed to being with him for a long time if he sucks." ― Kristen Van Nest, a comedy writer in Los Angeles, California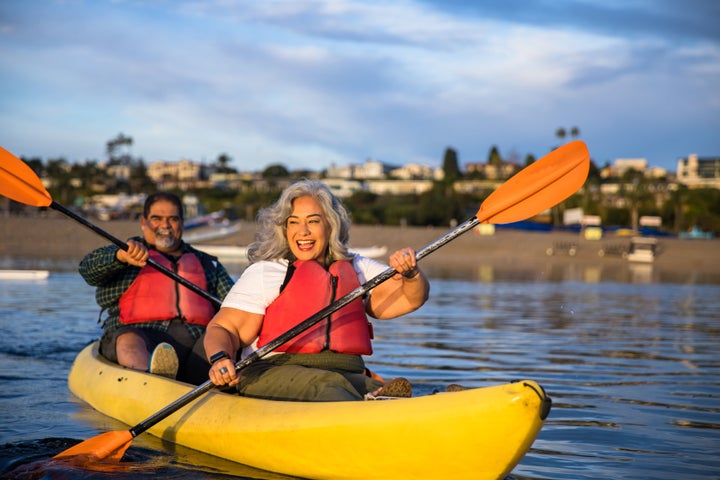 Take a walk on a historic route
"Go for a walk through a scenic or historic route ― one where you're able to comment or provide random facts along the way on what you're passing by!" ― Ryan
Head to a drive-in movie
"When my partner and I first got together, we loaded the back of his truck with blankets and pillows, packed a cooler with snacks and drinks, and pulled into our local outdoor free movie drive-thru that our community was putting on to watch 'Spider-Man.' We had so much fun, and it was one of the most memorable dates we have been on." ― Miyaeva Renae, a YouTuber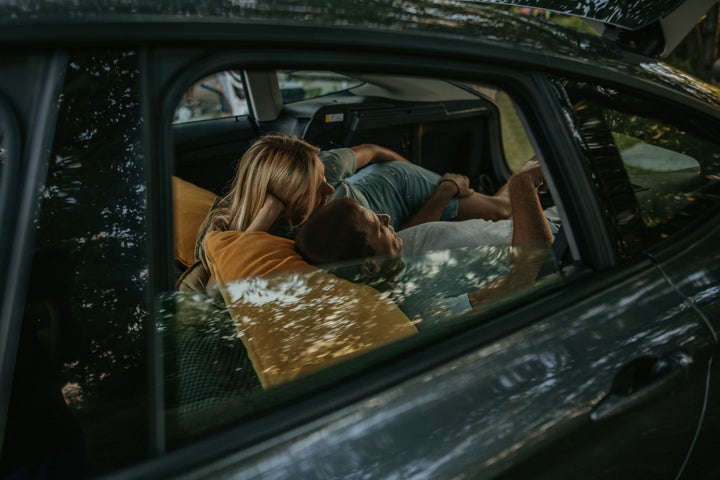 Go to the race track
"Most tracks have free entry, and if you go on a weekend, it'll be busy but not too busy in most instances. Plenty of time to be outside, take in the horses, and if you want to, bet $2 to win. On a long shot, you might make money on the date. Plus, there is never any shortage of great people watching at the track and 25 minutes between races to talk and enjoy company." ― Matthew, a writer in Virginia
Go to the farmers market
"Go to the farmers market and eat a nice lunch! Our farmers market here in Portland is at the Portland State University in the fabulous South Park Blocks. You can wander around the market, buy a few things and find out each other's likes and dislikes in food. I am a retired chef ― believe me, having a partner who also loves good, fresh food and knows how to cook is a plus." ― Laura from Portland, Oregon
Responses have been edited lightly for clarity and length.