A Christmas advert about an elderly Polish man learning English is touching hearts around the world.
The advert, from online auction website Allegro, starts with the man receiving an 'English For Beginners' audio set from the website.
The advert, which has been viewed more than two-and-a-half million times (and counting), shows the man reciting English during a series of amusing scenarios - such as inadvertently declaring his love for a young woman on the bus and covering his house with Post-It notes.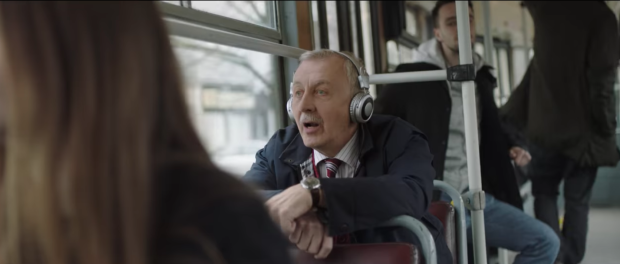 Jokes aside, it takes a while for viewers to learn why the man is so determined to learn English.
Around two minutes in, we learn that his son has moved to England, met someone and had a daughter.
The elderly man travels to his son's house to spend Christmas and wants nothing more than to introduce himself to his granddaughter in English.
At the end of the advert, the little girl walks shyly up to the elderly man, who says: "Hi. I am your grandfather."
Understandably, people are welling up.
"My gosh... that was a beautiful ad... I got tears in my eyes," wrote one.
"Tissues! I need tissues, dammit," wrote another.
A spokesperson for Allegro told BuzzFeed: "For years, we've strived to make both Allegro - the largest e-commerce platform in the CEE region - as well as our communication to customers bring joy, touch the heart and cause a mile.
"Such is this ad: about a grandfather who overcomes obstacles to reunite with his loved ones living abroad. Many Polish people share the same experience. Nearly one million Poles have decided to leave the country in search for a job, mainly heading the United Kingdom. Despite the relatively close distance between the countries, family ties tend to weaken. Therefore, Christmas for many is a difficult time in which we yearn for more.
"But the story we are telling is all-purpose and can be easily understood by any other nation or community who can easily link the happy ending of a smile and tears of emotion to their daily human experience."