Tis the season to try as many festive hot drinks as possible. And while most people can space out their Christmas drink consumption, we were given just over one week to find the best (and worst) available on the high street this year.
We sipped, we slurped, we grimaced – and this year we're sorry to say the festive flavours are somewhat lacking: while last year saw a mince pie latte hit the shelves (innovative right?), this year's drinks are not as ambitious.
We rated this year's offerings on taste, appearance and value for money – adding whether or not actually managed to finish the drink at all. (Spoiler: we often couldn't.)
Here are the best and worst bevvies from the likes of Starbucks, Costa, Caffe Nero, Greggs and McDonalds. (We also tried drinks from Eat and Pret but they were nothing to write home about.)
Best Hot Chocolate And Overall Winner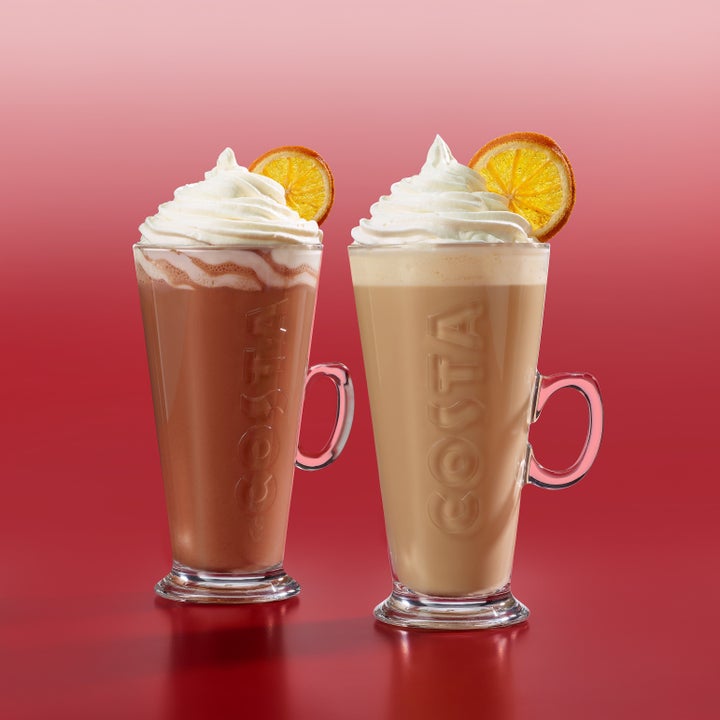 What is it? Costa's caramelised orange hot chocolate. It's exactly what it says on the tin: hot chocolate flavoured with orange syrup, topped with a swirl of whipped cream and crowned with a dried orange slice. Prices start from £3.30.
The verdict: It's not the thickest hot chocolate (the true sign of luxury) but what it lacks in thickness it definitely makes up for in taste. As you raise the cup to your lips you're hit with a blast of chocolate orange fumes (it's not Terry's, it's mine). With the first sip you can taste delicious orange notes which aren't sickly or overpowering, and creamy milk chocolate. It's basically a molten, slightly watery version of Terry's Chocolate Orange.
Did we finish it? Yes we did. Surprisingly, it wasn't that sickly and made for pretty easy drinking.
Best Coffee (And Second Favourite)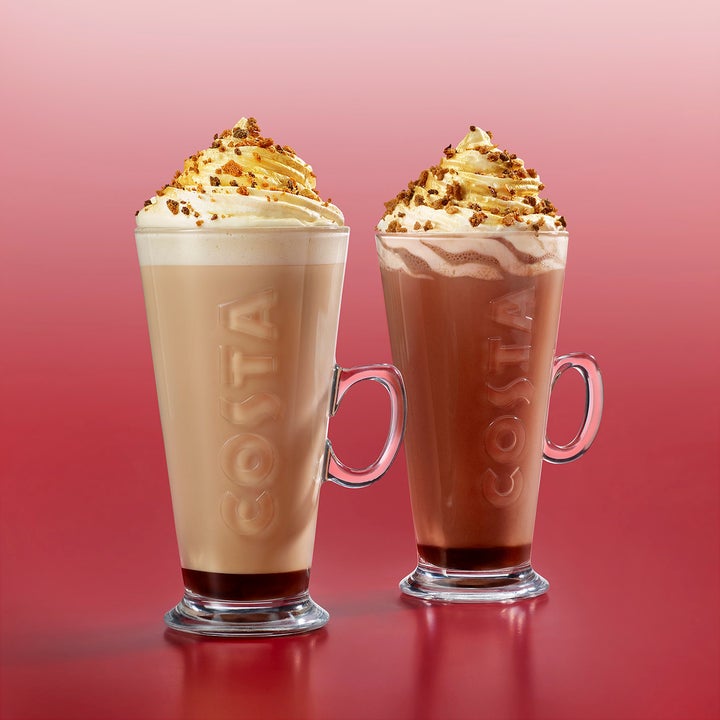 What is it? Hazelnut praline and cream latte from Costa. A classic latte meets hazelnut syrup. It comes with a swirl of cream, is drizzled with Belgian chocolate sauce, and topped with a crispy chocolate truffle crumb. Prices start from £3.30.
The verdict: Fans of Ferrero Rocher will enjoy this creamy coffee which has a strong hazelnut flavour, but isn't sickly in the slightest. It's a great option if you don't have a sweet tooth but want to feel festive – and a worthy winner of second place. We'd definitely recommend drinking it in store so you can go all out with the cream and topping (so pretty). Note: it doesn't tend to look so good in a takeaway cup.
Did we finish it? Every. Last. Drop.
Hot Chocolate Runner Up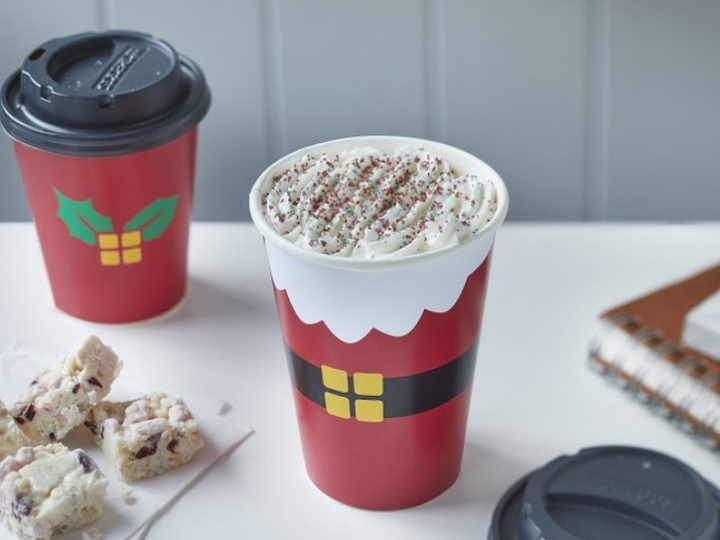 What is it? Greggs' mint hot chocolate. A festive hot chocolate made with Fairtrade, reduced-fat cocoa powder, semi skimmed milk, mint flavoured syrup, cream topping and sugar sprinkles. Prices start from £2.20.
The verdict: This hot chocolate is quite watery however it's easy to drink because the mint flavours are subtle – it's kind of like drinking mint Matchmakers. The drink isn't too sickly and doesn't leave a horrendously synthetic mint after-taste, as some other drinks did. You certainly wouldn't be upset if you ordered it and the price is pretty good too.
Did we finish it? Yes, it was easy to drink and before we knew what had happened, it was all gone.
Coffee Runner Up
What is it? Caffe Nero's salted caramel latte. The coffee shop's classico blend is teamed up with a salted caramel syrup and steamed milk. It's then finished with whipped cream and drizzled with rich caramel sauce. Prices start from £3.65.
The verdict: This is a nice drink which surprisingly isn't too overpowering or sweet, you can really taste that slightly burnt flavour reminiscent of salted caramel. It's not super festive but still delicious and everything we've come to expect when it comes to indulgent festive hot drinks. We also tried the salted caramel latte from Greggs which tasted like burnt coffee and had no salted caramel flavour at all. It was thin and watery, probably the worst one we've tried, so we'd definitely recommend Caffe Nero's version.
Did we finish it? We gave it our best shot, however couldn't manage it all.
Best Bargain Buy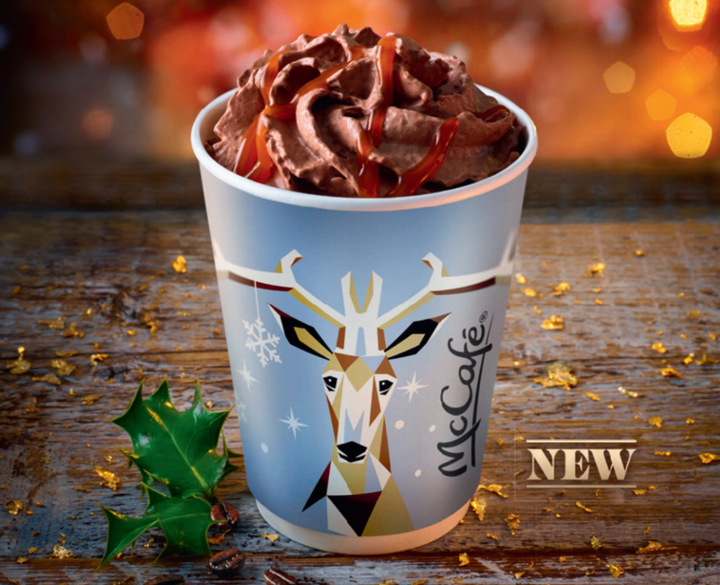 What? Millionaire's latte from McDonald's which is made up of a large shot of espresso blended with steamed milk, a caramel biscuit-flavoured syrup and then topped with a swirl of chocolate cream and drizzled with caramel sauce. Prices start from £1.99.
The verdict: It tastes like a mocha rather than a latte but, that said, it's still tasty. There's a hint of shortbread and it's certainly not as sickly as you'd expect it to be – although one reviewer said the syrup overpowers the drink (each to their own). It's the cheapest drink we tried and tastes good so it's definitely worth a shot.
Did we finish it? No, it was a bit too sweet.
The Biggest Disappointment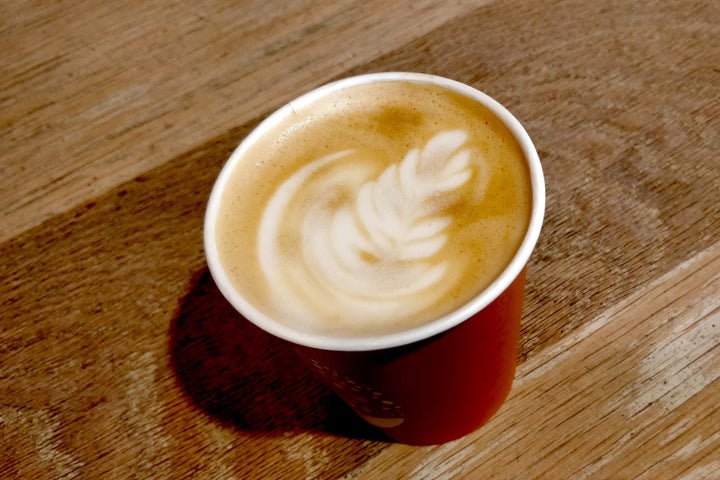 What is it? Costa's shimmer cortado. Price: £2.45.
The verdict: On seeing this drink option on the festive hot drinks board we got rather excited about its Instagrammability but sadly it wasn't to be. The drink itself is not festive in the slightest. To call a spade a spade, it's a very milky coffee (more so than a latte) with no seasonal flavouring added. The festive part comes in the addition of a shimmer topping which will set you back 20p. Unfortunately we couldn't see the shimmer very well until we moved directly under a spotlight.
Did we finish it? No because our Christmas spirit had been trampled on after the first sip. Let down of the century.
A Flavour Explosion (And Not In A Good Way)
What is it? Caffe Nero's winter spiced hot chocolate is mixed with cinnamon and cloves, and then topped with whipped cream and dusted with ground cinnamon. Prices start from £3.30.
The verdict: It tasted like potpourri or a winter candle. The Christmas spices were far too strong and made the hot chocolate taste like a box full of those red candy Fireball sweets had been dropped in. That said, our boss did enjoy the taste but said it would be nicer as a chocolate bar rather than a beverage. We'd recommend the Belgian truffle hot chocolate instead which is more paired back but still has a faint whiff of cinnamon.
Did we finish it? One sip was enough before our senses were overwhelmed in every possible way.
Cinna-monster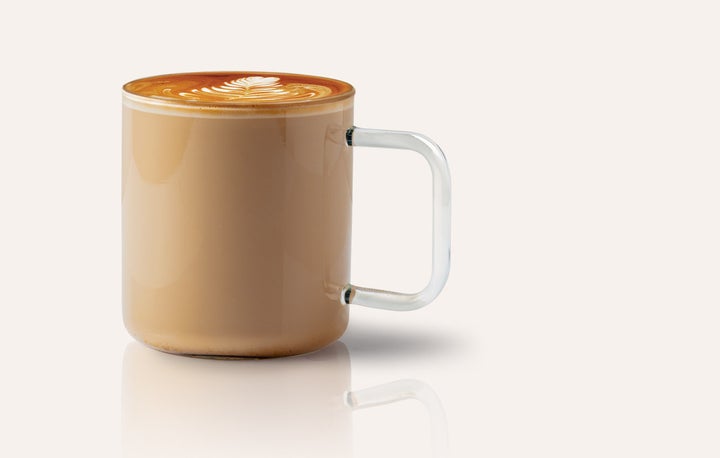 What is it? Starbucks' flat white with cinnamon spice. Cardamom, vanilla and cinnamon spice is mixed with Starbucks espresso.
The verdict: Far too much cinnamon going on here. The coffee was overpowered by cinnamon (which, did we mention, there was tons of) and we just wanted our original flat white back. It did smell delicious, though.
Did we finish it? Absolutely not.
Related