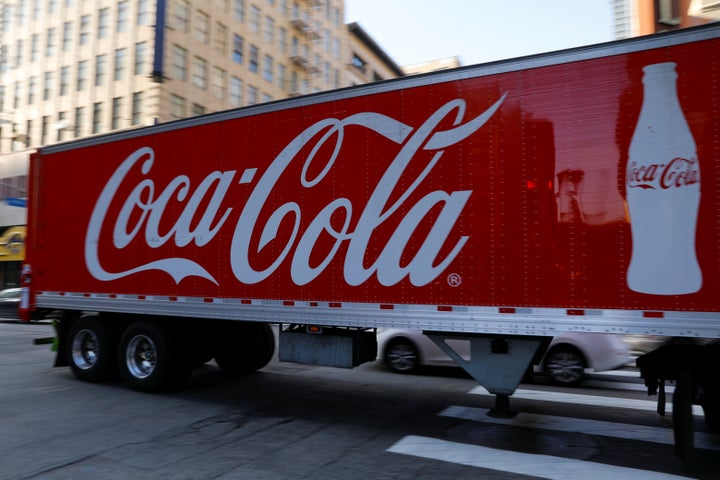 Coca-Cola has scaled back its annual Christmas truck tour as a charity claimed resistance was growing to the company giving out free sugary drinks.
The tour will end in London on December 16 after stopping at 24 locations, down from 38 last year.
The two 14-tonne lorries decorated with fairy lights and offering free 150ml cans of Coca-Cola, Zero Sugar and Diet Coke have been welcomed by councils and shopping centres since 1995.
But last year Public Health England issued guidance to local authorities warning about the impact seasonal marketing promotions can have on diet-related diseases.
At the time, Duncan Selbie, the chief executive of Public Health England (PHE), criticised the soft drink giant's annual PR stunt, saying "big-name brands touring the country at Christmas to advertise their most sugary products to children and boost sales does nothing to help families make healthy choices and wider efforts to combat childhood obesity and rotten teeth".
Selbie said of this year's tour: "Sugary drinks contribute to childhood obesity and poor dental health.
"Every year the Coca-Cola Christmas truck gives away its products to children and families as it tours the UK.
"Much of this is no sugar or diet variants, signalling a welcome change in peoples preferences.
"PHE would like to see the tour give away 100% no sugar products and consider its use of the iconic brand in its approach to marketing and sales.
"There is still far more companies can do to improve their products and reduce pressure on people to buy and consume more sugar and calories than they need."
This year, 83 organisations and health campaigners including the Royal College of Paediatrics and Child Health, the British Dental Association, the Royal Society for Public Health and 27 local councils have signed an open letter co-ordinated by Sugar Smart calling on Coca-Cola to stop distributing sugary drinks through its Christmas tour.
The letter reads: "We write to you to express our deep concern over the Coca-Cola's company's continued promotion of sugary drinks to children, young people and the general population during the holiday season.
"At a time when childhood obesity rates have reached record highs, such promotional tactics are not just in poor taste – they urgently need to be brought to a halt."
It goes on to "collectively request that Coca-Cola change its current Christmas Truck Tour promotional strategy by stopping the free distribution of Coca-Cola original taste".
Sugar Smart UK campaign co-ordinator Vera Zakharov said: "It is welcome news that local authorities are turning their backs on sugary drinks promotions.
"Hosting the Christmas Truck Tour is incompatible with their drive to reduce diet-related disease.
"Bizarrely, Coca-Cola equates handing out their sugary products with the start of the cherished holiday season, which has nothing to do with fizzy drinks.
"But this strategy takes on a sinister tone when you consider that the Coke truck visits areas with some of the worst health problems in the country."
Liverpool councillor Richard Kemp, who signed the letter, said: "Most councils with public health responsibility have childhood obesity as their number one public health priority.
"However, some of them forget that when they reissue Coca-Cola press releases which claim that Christmas can now start because the Coca Cola truck has arrived.
"Of course the occasional drink of a Cola is OK but this company continually relate their product to well-being. This is entirely untrue."
Jon Woods, general manager of Coca-Cola UK and Ireland, said the company expected 90% of the drinks given out on the tour to be zero sugar and none would be given to children under 12 without a parent present.
Woods said: "I believe the actions we have taken as a business to remove sugar from our drinks and focus our marketing on the no sugar variants of Coca-Cola show we are committed to acting responsibly and playing our part in addressing some of the challenges you raise.
"For a few weeks per year thousands of consumers love and enjoy our Christmas truck tour and as long as consumers want it we will continue to run it."