Almost a million elderly people - 60 years and above - in the UK feel lonelier at Christmas compared to the rest of the year, but a charity is aiming to change that by reuniting communities.
Community Christmas encourages local residents to run events on 25 December, because "no elderly person should be alone on Christmas Day unless they want to be".
Events can be anything from a three-course meal in a community hall to a church offering coffee and mince pies after their morning service.
"It's up to the organiser to determine what they want to organise and what they can organise," explains founder Caroline Billington.
"As far as I'm concerned, if it helps one person, then it's worth it."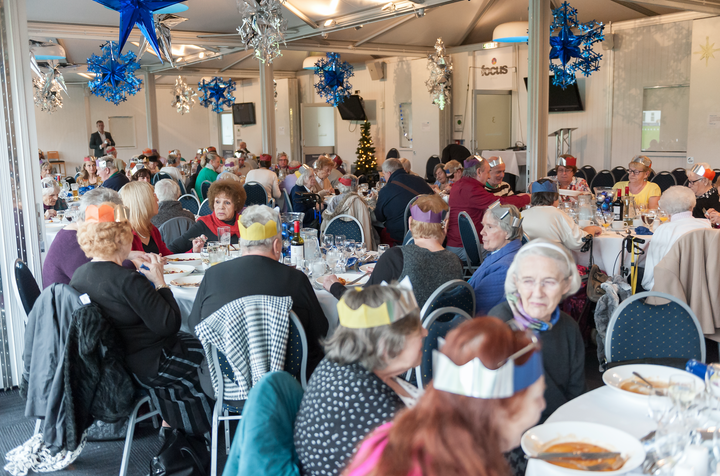 As well as raising awareness of loneliness, Community Christmas provides information packs to those considering starting a new Christmas event.
The packs contain everything an organiser will need, from information on finding the right venue, catering to your guests' needs and organising insurance.
Caroline came up with the idea after driving a group of elderly women to a Christmas lunch in her local community minibus in 2007.
"They started the day really nervously, not really knowing each other, even though they all lived in the same block of flats," she tells HuffPost UK.
"But when I drove them back, they were just buzzing and arranging to meet each other for the rest of the year.
"I thought 'this hasn't just been about Christmas day, it's been about changing people's lives.'"
Caroline left the minibus determined to do something practical to help isolated older people and in 2011, Community Christmas was born.
Last year there were 320 events listed on the charity's website, reaching an estimated 7,500 older people.
As the concept has grown, the project has partnered with the charity Friends Of The Elderly, to help spread the word and manage the huge amount of admin that comes with so many events.
One of the people they've helped is 75-year-old Maisie Chadwick, who lives by herself in sheltered accommodation in north London.
She started attending a local event four years ago, ran by Catherine O'Donoghue and a group of volunteers, after her husband died of cancer.
"I'd just lost my husband and I'd moved into this sheltered accommodation. I was on my own and my family had all gone away. I was feeling very lonely, I didn't know what to do," she tells HuffPost UK.
Maisie has three children - one daughter who lives in Watford, another who's based in Norfolk and a son who lives in the Philippines - but doesn't find it easy to see them on Christmas day.
"My kids say 'come to us' but they like spending Christmas with their families, with their friends. I go and spend a little bit of time with them but I always come home for Christmas day," she explains.
She says without Community Christmas, she'd find the 25 December "very miserable".
"I'd be on my own, just sitting there watching television, that would be it," she adds.
"I wouldn't have a Christmas dinner if I was on my own. I'd just have a microwave dinner or something like that. I think that's what all of us would do."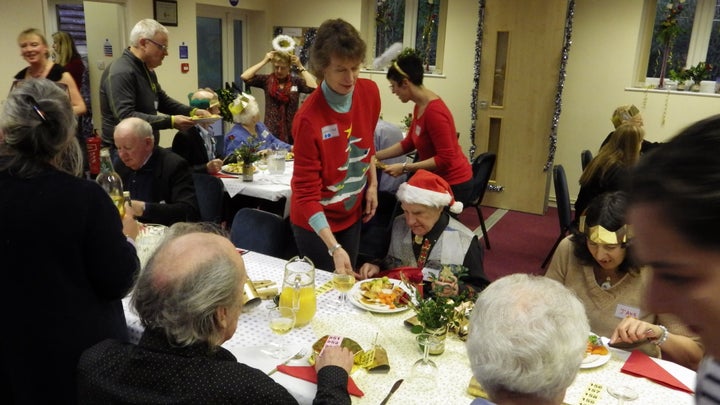 According to Caroline, many older people find Christmas the loneliest time of the year because "the media is going on about what a fabulous time everyone is having".
The fact that many public spaces are closed for the holidays adds to the sense of isolation.
"You might normally pop down to the shop to have a chat with the checkout girl or talk with the person in the bank, but all of those things are closed," she explains.
"Transport is severely reduced. It's winter and those that do drive often don't drive after dark. People are more stranded than usual, but they're also more aware of that isolation than usual."
Like many Community Christmas events, the one Maisie attends organises transport to and from the venue for visitors.
Once there, the group enjoy a three-course meal, catch up on the year and take part in a raffle - where everyone gets a prize. It's free to attend and is paid for through fundraising and sponsorship.
"We all look forward to Christmas now, not only me, the rest of us who go," Maisie says.
"I can't praise them enough, I really can't."
One of the volunteers, 39-year-old civil servant Emma Wallis, volunteered for the first time last year.
"I wanted to volunteer to contribute to the community and to help people who may otherwise be alone or feel vulnerable in the festive season," she says.
"The welcome I got from the organiser, Catherine, was fantastic, and the fact that she organised the day so well last year is a testament to her that I am volunteering again this year."
Her first year volunteering was "very busy" and she "didn't stop for breath all day".
"But it was extremely rewarding and all the hard work certainly paid off," she says.
"Everyone who volunteered worked well together and there was a great spirit among the volunteers and guests alike."
Community Christmas doesn't just aim to help elderly people like Maisie who live by themselves. Couples, like Lesley and Jim Roberts, are also welcomed at events.
The pair, who are both in their sixties, went along to their first Community Christmas dinner held at Manchester University in 2014, after Lesley saw an advert in Mature Times.
"Although there are two of us on Christmas day, we do still get lonely," Lesley says.
"Jim is my full-time carer and I wanted Christmas to be a day we both enjoyed, instead of him having to do all the cooking, cleaning and looking after me. I thought going along to Community Christmas would give him a break."
The pair sometimes feel lonely throughout the year and "just get on with it", but Lesley says Christmas is particularly difficult.
"Christmas is a time when you shouldn't be alone and should be able to forget your problems," she says.
"We really enjoyed the Community Christmas meal and we are looking forward to going again this year. I really like making friends and we stayed in touch with one man we met called Colin. We've stayed in touch on the telephone and Jim is planning to visit him."
As well as making new connections with people their age, the couple have enjoyed chatting to volunteers, like 25-year-old student Jasmin Flynn, who started volunteering at their local event in 2014.
"I never found Christmas had any purpose or meaning. It was always so stressful and I would immediately want it over with," she says.
"Volunteering at the Christmas dinner has brought Christmas back to what it should be - feeling connected with people."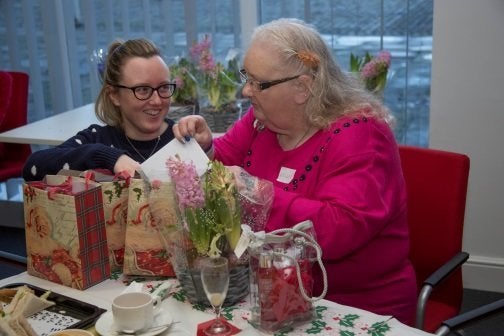 This year, Jasmin plans to take along a friend who's an international student from Kenya.
"I think the Community Christmas activities represent the UK well and will give my friend the chance to feel connected and a part of something even though she's so far away from home," she says.
"It's a way of making Christmas memories."
Jasmin intends to carry on volunteering with the charity after she's left university and believes the events are getting better every year.
"It's great to hear about people's lives, volunteers get just as much out of the day as the people that come along," she says.
"Loneliness isn't about the number of people you know but about how connected you feel."
To find your local Community Christmas event or access information about running a session, visit the Community Christmas website or call 0800 063 9285.
The Huffington Post UK is running a fortnight-long focus around helping others this Christmas. Giving Back will shine a light on the organisations and individuals making a difference in their community, tackling issues such as loneliness, homelessness, food waste and financial struggle. We'd also love to hear your stories. To blog for Giving Back, email ukblogteam@huffingtonpost.com. To keep up to date with our features and find tips on how you can make a difference this Christmas, follow the hashtag #GivingBack.