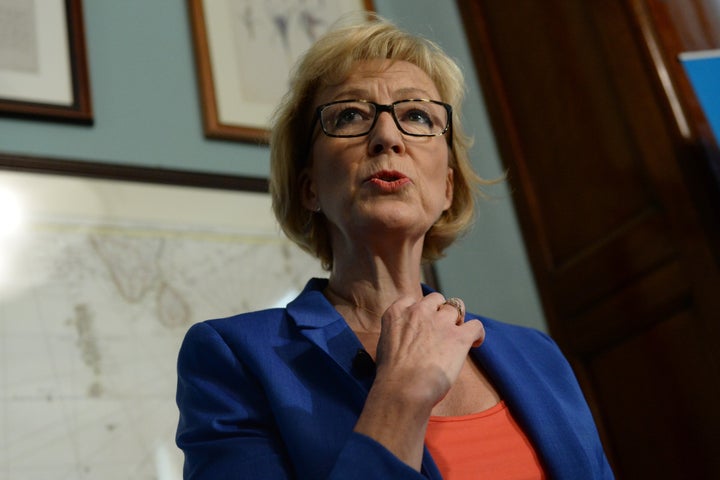 Tory leadership hopeful Andrea Leadsom gave a "car crash" performance in the first hustings in front of MPs Parliament this evening, according to a senior Conservative.
The Energy Minister repeatedly failed to distance herself from Ukip backer Arron Banks, who has endorsed Leadsom as the next Prime Minister through his Brexit campaign group Leave.EU.
Leadsom, who campaigned for the UK to leave the EU, told Tory MPs said she was not working with Ukip, but wouldn't clarify her relationship with Banks.
One senior cabinet minister said: "When you're having to say that you're not Ukip at a hustings to be leader of the Conservative Party, then you are in trouble - it was a car crash."
Another said: "She gave the answer on Ukip and totally failed to answer on Leave.EU. If you can't do that that's a real worry.
"We are one of the worst electorates in the world because we know all the tricks in the book, we know what a non-answer is, that was a non answer."
One MP said: "She spent too long on Europe and started going on about attachment theory of babies, it was all over the place."
Another Tory said when Leadsom started taking about frontal lobes of babies, "she lost the room."
The parliamentary party crammed into a committee room at 5.30pm to hear from all five candidates standing for the leadership of the Conservative Party.
Each candidate made a short opening pitch, before taking questions from colleagues for around 20 minutes.
Justice Secretary Michael Gove, who scuppered Boris Johnson's leadership challenge, was up first and spent the shortest time of all the candidates in front of his colleagues.
He set out his credentials, but in the question session MPs did not ask him about his betrayal of Johnson.
One MP described the matter as like "an elephant in the room".
Theresa May drew the biggest cheer of all the candidates from MPs as she stepped up to speak.
Some Tories were banging their hands on the doors of the committee room to show their appreciation for the Home Secretary.
After delivering her opening statement on why she should be the next Prime Minister, she again refused to guarantee the status of EU nationals currently living in the UK as part of any Brexit negotiation.
Cotswold MP Geoffrey Clifton-Brown asked May to set out her full economic policy, including commitments on tax, spending, and the deficit reduction.
"There's always one," replied May, provoking laughter from her Tory colleagues.
Work and Pensions Secretary Stephan Crabb addressed the room next, and admitted afterwards he was "a bit nervous".
He reiterated his view that EU nationals living in the UK should not be part of Brexit negotiations, claiming it would not be "morally the right thing to do".
Crabb's biggest round of applause came when he called for the party to move away from the Leave and Remain labels attached to candidates. He insisted the leadership election must not be a re-run of the EU referendum – in which he backed Remain.
Liam Fox also addressed the meeting.
Tory MPs will begin voting on who should be the next party leader on Tuesday, and the candidate with the lowest number of supporters will be eliminated.
Popular in the Community