There's nothing like some warming scones for a mid-afternoon pick-me-up (or mid-morning, no judgement here). So we were delighted when Julie Jones, author of Soulful Baker and The Pastry School, shared her blackcurrant scones recipe for our Cooking With Kids series.
The recipe is super kid-friendly and gets the seal of approval from Jones's three baking-mad sons, who love the instant results, meaning they can tuck in straight away.
Blackcurrant Scones
Makes: 10–12 | Prep time: 20 mins | Cook time: 15 mins |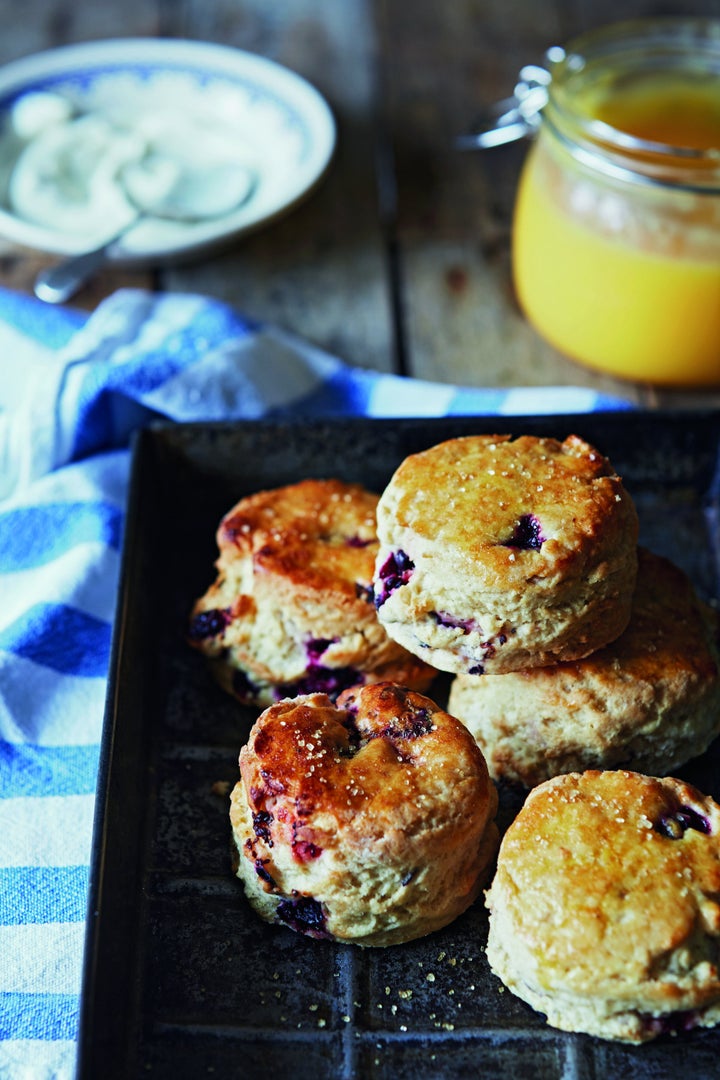 There are plenty of ways to get the kids involved with this one – no matter their age. Jones says: "They can help weigh the ingredients, turn on the mixer and help to point out when the butter has been rubbed into the flour (if using hands they could help rub the butter in). They could add the flavouring and the sugar and milk and help to very gently roll out the dough. They could also cut out the scones with a floured cutter, place on to the baking tray."
We love how customisable the recipe is, too – which can be tailored to whatever you've got in the cupboard or to the tastes of fussy eaters. "I have used berries here but nuts, dried fruit, ground spices, seeds, grated apple or and a mixture of above mentioned would all work well in place of the berries," suggests Jones.
Using their imagination to experiment with different ingredients is just one way the kids can learn while in the kitchen with this one. "This recipe is all about being gentle and not overworking," Jones explains. "They could learn the importance of a light touch and why if you were rough and heavy-handed that the scone would be heavy."
Her topping of choice is lemon curd, while her sons smothered theirs in butter. We'll take either, thanks.
500g self-raising flour, plus extra for dusting
1 tsp baking powder
110g unsalted butter, chilled and cubed
110g caster (superfine) sugar
120g frozen blackcurrants
220ml milk
1 egg yolk
1 tbsp demerara sugar (optional)
Method:
1. Preheat the oven to 180°C fan/200°C/400°F/gas 6. Line a baking sheet with
non-stick baking paper.
2. Sieve together the flour and baking powder, then re-sift into a bowl – sifting
twice will incorporate the baking powder equally, giving an even rise. Rub in the
butter – by hand or in a mixer fitted with the paddle attachment – until all of
the butter is incorporated and the mixture resembles fine breadcrumbs.
3. Add the sugar, stirring through, then add the frozen blackcurrants – using frozen berries will make it easier to mix them into the scone dough without them
bursting. Distribute the blackcurrants through the flour and add most of the
milk. You may not need it all, so reserve a little at first. Bring the dough together, adding the rest of the milk if needed. Stop mixing the moment the dough starts to hold together.
4. Turn out onto a lightly floured surface, push the mixture together with your
hands, then roll out to around 3cm (11⁄4 inch) thick. Cut out as many scones
as you can using a 6cm (21⁄2 inch) round cutter and bring the remaining dough
together to re-cut. Place each scone onto the lined baking sheet and rest for at
least 15 minutes.
5. Add a few drops of freshly boiled water to the egg yolk and whisk together. Brush the top of each scone with the egg wash and sprinkle over some demerara sugar, if using.
6. Bake for about 15 minutes, or until golden, light and cooked through. Cool completely on wire racks before slicing in half and spreading with some of your favourite things.