Jeremy Corbyn has vowed to tell Donald Trump to his face that the NHS is not for sale to American private healthcare under Labour.
The Labour leader told BBC Radio 2's Jeremy Vine show that he will make plain his party's stance if he gets one-on-one time with the US president at Buckingham Palace on Tuesday evening.
Trump, who is in the UK for the Nato summit, has tried to distance himself from his previous claim that the NHS would be "on the table" in a post-Brexit trade deal between the UK and US.
He told reporters: "We have absolutely nothing to do with it and we wouldn't want to if you handed it to us on a silver platter."
But Corbyn said that he was ready to be direct with Trump, thank him for his latest reassurance, but then demand guarantees that trade talks would exclude the NHS.
Asked if he would raise the issue in person if possible, he replied: "Absolutely. I will say: 'Look, welcome to this country. I hope you'll understand how precious our National Health Service is, and in any future trade relationship with the USA, none of our public services are on the table.
"None of our public services are for sale and investor state protection is not acceptable to our government when we've won this election."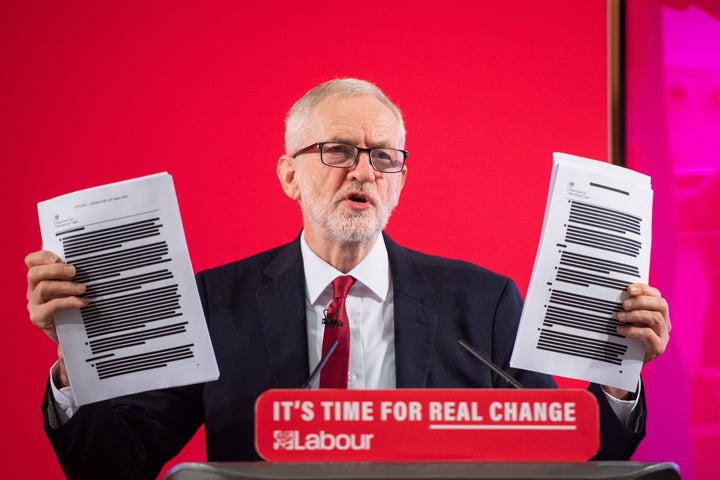 Corbyn, who boycotted a Buckingham Palace banquet this summer because he objected to Trump's state visit, will join the Queen, other party leaders and Nato leaders at a reception to mark Nato's 70th anniversary.
If Trump repeats his insistence the NHS won't feature in trade talks, Corbyn said: "I will say: 'Thank you very much. I assume that will now be the basis of your administration's talks with our Department of Trade.'"
Leaked Department for International Trade documents suggest that British and American trade officials agreed that drugs pricing in the NHS would be a "key consideration" in a future deal.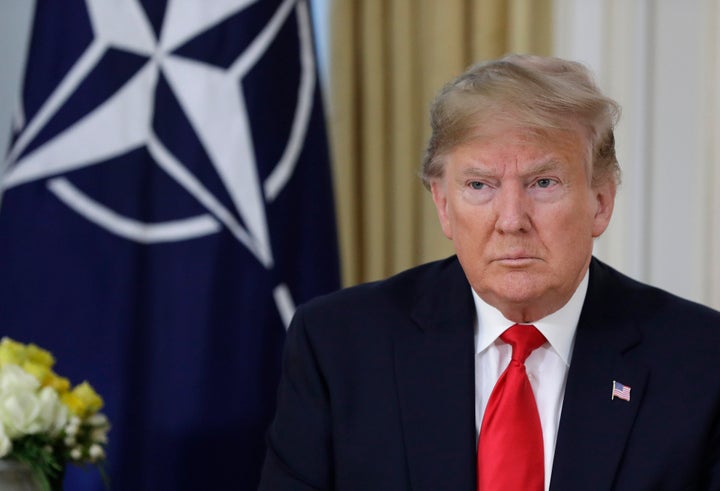 Corbyn, who said in 2014 he wished Nato "didn't exist", also told the Radio 2 show that the transatlantic military alliance was "a Cold War product" that led to a "deepening" of tensions.
"As we all know it was set up it after the Second World War," he said. "It actually developed from the Atlantic Charter, and the whole thing was a tit-for-tat between the [Communist] Warsaw Pact and Nato.
"And that led to the deepening of the Cold War. Nato still exists, we will be members of it, and I will be a voice that I hope will be going to de-escalate tensions and improve dialogue."
Corbyn insisted Labour's manifesto was committed to staying in Nato but it would play a "constructive role".
"We cannot go into a world where we are promoting tensions when the real insecurities in the world actually come from cyber attacks, from terrorism and of course from the cases of climate change and global warming, which does affect so many people all around our planet."
Earlier, he told ITV's This Morning he was "very sorry" for "everything that has happened" in his party regarding anti-Semitism.
Corbyn said: "Our party and me do not accept anti-Semitism in any form. [...] Obviously I'm very sorry for everything that has happened.
"But I want to make this very clear: I am dealing with it. I have dealt with it. Other parties are also affected by anti-Semitism."
At one point, he appeared to suggest he will stay on as Labour leader for several years even if he loses the next election.
Asked if he would lead his party to the end of the next parliament "whatever happens on the 12th", Corbyn replied: "I hope so, yes, because I feel I'm fit. I feel I'm quite young enough to do the job."
But HuffPost UK understands the Labour leader was referring only to his theoretical tenure as prime minister, not as leader of the opposition.
He also went on to say: "I'm very determined to carry out what we've got there [in the manifesto] because we've got to change our country, we've got to change our society, we cannot go on with this massive division between the richest and the poorest and call ourselves a decent civilised country.
"So I want to help people all across the country. And that's what I want our government to do. And you know what, I'm absolutely looking forward to doing it, starting in Christmas week."
Asked if he was waiting to put up his Christmas tree until he got into No.10 Downing Street, he replied: "I think we will probably put one up about the 12th. [...] At the moment we are a bit busy."