You're reading The Waugh Zone, our daily politics briefing. Sign up now to get it by email in the evening.
Arms and the man
"Hang on, I haven't finished yet." At his final PMQs as Labour leader, Jeremy Corbyn was trying to fend off an interruption from Boris Johnson. But his words were in fact a neat summary of Corbyn's wider valedictory message to his party and the country. "My voice will not be stilled, I will be around," he said, rejecting the PM's proferred political 'obituary'.
Corbyn's going nowhere. His critics on the Labour benches will bitterly point out he certainly proved that in the last election. The withered rump of a Parliamentary Labour Party (remember there are just 202 Labour MPs, the lowest since 1935) is in many ways his most tangible legacy.
As for 'Corbynism' itself, the likely next Labour leader, Keir Starmer, clearly wants to retain some of its key features, while offering a more reassuring impression of competence and credibility. Given the way the coronavirus crisis has forced the Tories to borrow billions and pull unprecedented peacetime levers of state intervention, the argument may be easier to make at the next election.
Corbyn's supporters will be hoping that his main legacy will be his compassion and the way he put on the political agenda those often forgotten in policy debates. Today, he made a powerful case that this crisis has brought home the importance of "the refuse workers, the supermarket shelf stackers, the delivery drivers, the cleaners, those grades of work are often dismissed as low skilled".
He asked all the right questions - coronavirus testing, protective equipment for NHS and social care staff, eviction of renters, electronic scrutiny of parliament during the recess, sick pay rates, Universal Credit - and spotted when Johnson was dodging them or reducing them to "a matter for levity".
Corbyn's humanitarian approach to politics had an uncanny echo when the PM announced later that some 405,000 members of the public had answered the call to help the NHS to fight Covid-19. There will be plenty of questions about how to protect and manage these volunteers, but that stunning statistic was proof that the bonds of fellow feeling are still strong in Britain, no matter what political party anyone belongs to or doesn't.
This stunning civilian mobilisation is further proof that the great British public are often not given enough credit. Most people, most of the time, just want to do the right thing, but sometimes lack the support to do so.‌
The building site workers cramming the Tube trains shouldn't be pilloried for wanting to feed their families, when it's the fault of their bosses and of ministers that they feel they have no alternative. People flocking to parks without all being aware of the six-foot rule can't be blamed for the lack of public information campaigns. Even those packing supermarkets were often not 'panic buyers' but rational beings working out they needed to eat at home more rather than eat out.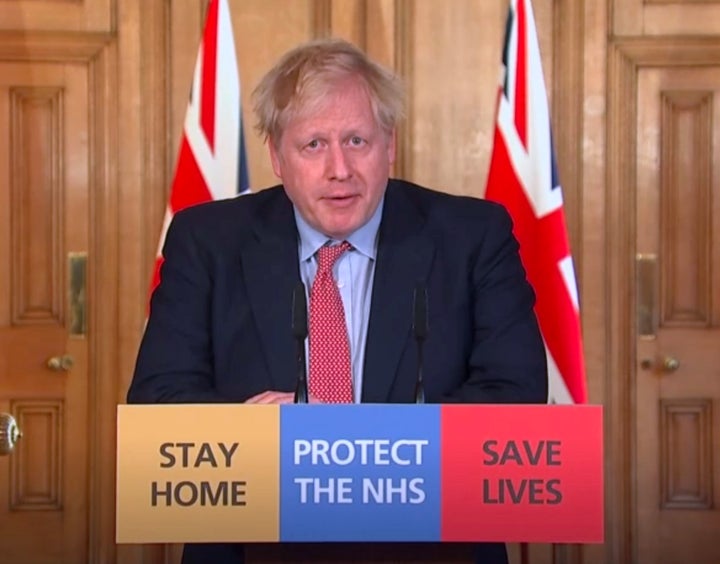 As for the prime minister, he today road-tested a brand new phrase to prove that he was responding to public fears for their futures. "We, as a country, are putting our arms around every single worker," he claimed. He said it twice at PMQs, then four times during his press conference. Where David Cameron flirted with hug-a-hoodie, Johnson now wants to hug-a-brickie.
The danger is that, without the right long-lasting policies, those warm words about arms around the people could end up curdling into resentment. Johnson must be acutely aware that George Osborne's boast that 'we are all in this together' was one of the most egregious lies of a decade of austerity, as foodbank use soared and welfare claimants, SureStart users and councils paid the price.
Chancellor Rishi Sunak will tomorrow unveil his plan to help the self-employed in the crisis and it may well ease some of the coming pain. But the other startling statistic today was one that dwarfed even the number of NHS volunteers: some 477,000 people desperate for income support have applied for Universal Credit in the past week.
Despite that, we learned that the five-week waiting time will remain in place, and that any emergency advances will be loans not grants. Why? Because it costs money (or as Therese Coffey put it, "fairness to the wider taxpayer"). Yet this is a government that tells everyone it will do and spend "whatever it takes" to support all workers.
For many in the UK, the real "social distancing" is that which has been taking place over the past 10 years, as wealth and health (life expectancy) gaps increased and social mobility decreased.
Both Corbyn and Johnson have been deeply divisive figures for many. Yet the fight against coronavirus is at least a joint national effort right now. And this awful disease is doing more than our politicians ever have to remind us that we really are more of a united kingdom than we thought we were.
The public have given the PM a big majority and overwhelmingly back his lockdown. But once he's through this crisis, Johnson's coming test is whether he can live up to his promise to be 'the People's government', in every sense of the phrase.
Quote Of The Day
"This is going to be a close run thing, we all know that."
Chief Medical Officer Chris Whitty on the three-week race to buy time for the NHS
Wednesday Cheat Sheet
Some 3.5m coronavirus tests have been bought and would be available in the "near future", Public Health England expert Sharon Peacock suggested. Chris Whitty later cautioned the test was not something "that you will suddenly be ordering on the internet next week".
Communities secretary Robert Jenrick announced all council car parking would be made free for NHS and social care staff. Transport secretary said MOT tests would be suspended for six months.
The Coronavirus Bill giving ministers extensive emergency powers is set for Royal Assent after the Lords approved it. The Commons rose for an early Easter recess, with Commons Leader Jacob Rees-Mogg hinting it may not return on April 21 as planned.
Prince Charles has tested positive for coronavirus, with mild symptoms. He last saw the PM on March 9, and the Queen on March 12.
Steven Dick, the deputy head of mission at the British embassy in Budapest, had died after contracting coronavirus. He was 37.
BBC News has suspended plans to cut 450 jobs as it faces the demands of covering the pandemic. It has already delayed the end of the free TV licence scheme for all over-75s.
Greater Manchester Mayor Andy Burnham welcomed a £5m package to pay for 1,000 rooms to house the homeless.
Comedian Lee Mack is self-isolating. His spokesman said: "He said the worst symptom so far is the avalanche of jokes about him Not Going Out. He laughed on day one but now it's day 10 it's becoming a struggle."
What I'm Reading
Got A Tip?
Send tips, stories, quotes, pics, plugs or gossip to waugh.zone@huffpost.com.
Subscribe To Commons People
Each week, the HuffPost UK Politics team unpack the biggest stories from Westminster and beyond. Search for Commons People wherever you listen to podcasts and subscribe.