From childhood, I was taught that to love someone was to be there for them. My mother, a school headteacher, used to pay exam fees for the students who couldn't, while my dad used to feed poor people in our community every week.
I first came to the UK as a student in 2009, before leaving in 2015. Unable to return to my homeland because my life would have been in danger, resettled in Europe, before unfortunately I was enslaved and trafficked back here to the UK.
Enslaved and confined for six months before I was rescued, I sometimes forgot my own identity. But I never forgot that I live in the community, and I never forgot the care and refuge I got from my community.
When the coronavirus pandemic started and I found out people in my community were suffering in a lot of the ways I did, I thought of the asylum seekers who are living, like me, on £37 a week and knew I had to do something for them. I could not stay at home and do nothing.
"I knew how hard it was to live on £5 a day when shelves were full, let alone when nothing was on the shelves."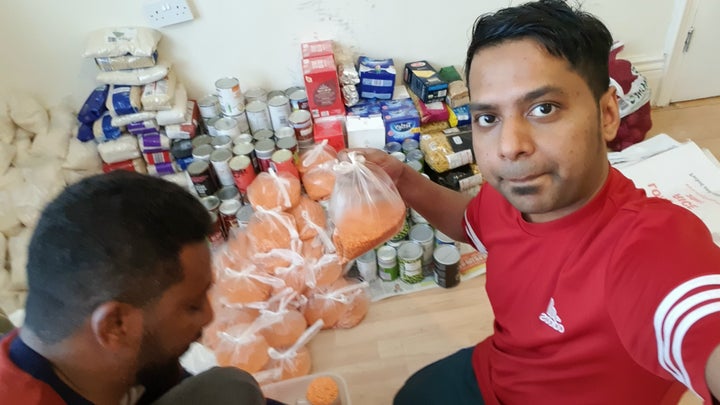 I had no idea how to start, but I knew how hard it was to live on £5 a day when shelves were full, let alone when nothing was on the shelves at the start of the Covid-19 panic. I had some extra food and – taking advantage of the great organisations and people I know and volunteer with – asked others if they could donate too.
Taking all that, and some donations from local organisations, I started up Md's Little Help Food Bank in mid-March. Since then, my food bank has been a ray of light of hope for so many vulnerable people in the community.
I started to deliver parcels on my bicycle to the various vulnerable people in the community. But my list kept growing: families both migrant and native, people with health conditions, the elderly, single mums, refugee families and asylum seekers.
Now, our little food bank has dropped off 470 essential food packs so far. Each individual food pack has got 14 essential items and the family food pack includes 21 essential items. They include all the essential items an individual or family might need at this time, from food to toiletries. This includes sanitary products for women, nappies and baby milk powder, hand sanitiser, toilet rolls, rice, pasta, potatoes, cooking oil and much more. I ensure all the foods are sanitised, adapting to what each person I'm delivering will need.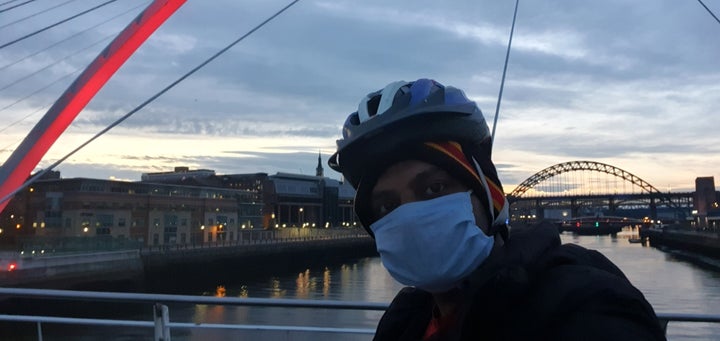 My food packs are mostly vegetarian and healthy – although I try to include a few sweets in the packs for those that have young children! A lot of families rely on ethnic food but saw prices rise as much as 30%, so we selected a very careful list which means we can offer cost effective food that can be used by everyone. I also introduced some cost-effective recipes into the food pack, helping families keep costs as low as £1.50 a day per person.I drop pretty much all my parcels off using my bicycle, but have a few friends I can call on to help for those deliveries that are very long distance and difficult to get to. People have been really kind, some have even written thank you cards.
Every week, I drop off a food pack to an elderly lady in her seventies, and I know I'm one of the only people she sees each day. When I last delivered her a food pack, she said she had put on a lovely summer dress and make up to say thank you and that she loved me for the help I'd been providing. This was very inspiring and a really wonderful gesture. "I love you too, granny," I replied, and we both laughed.
"The hope of my life is that I can continue to be there from my people and my community."
The main hope of my life is that I can continue to be there from my people and my community. In 2018, I was told by the Home Office that asylum seekers like me could not study in the UK. Challenging that decision through judicial review, we changed legislation to allow new asylum seekers in the UK access to higher education. I know that this will be a big change for all of us. That case has inspired me to be a barrister in future, and to work with the government to break the hostile barriers to asylum seekers like me. I want to leave behind a legacy of being there for people in the community as an example and for the future world.
Life is short, but there is no limit to the kindness and caring which we can spread in our time here.
The author is founder of Md's Little Help Food Bank. Follow him on Twitter at @abirhamid2017.
Refugee Week, the UK's largest festival celebrating the contribution of refugees, takes place on 15-21 June 2020. Refugee Week is a partnership project coordinated by Counterpoints Arts. For more information on Refugee Week and to get involved, visit refugeeweek.org.uk