Work to strip dangerous cladding from tower blocks has ground to a halt because of the coronavirus outbreak.
People living in dangerous homes say the "strain has never been greater" during the pandemic as official figures show 313 high rises are still covered in the material blamed for the spread of the Grenfell inferno three years ago.
The government has committed £1.6bn to removing flammable cladding from all affected buildings. But in March, as the UK went into lockdown, aluminium composite material (ACM) cladding was taken off just two buildings in England above 18 metres – and two more buildings were discovered to be at risk, meaning the total number of affected properties remains the same.
April's figures are not yet available.
It came after four months of slow progress: only one building with ACM cladding was made safe in February, but a combined 23 properties were successfully remediated during January, December and November.
The halt in progress is despite the fact construction work is allowed during lockdown so long as social distancing rules are being followed.
HuffPost UK has learned housebuilder Barratt has stopped work on removing cladding from the 95-apartment Citiscape complex in Croydon, south London. The building was seen as emblematic of the struggle to get building owners to pay for the removal the material, which is the main the reason for so many properties still being at risk.
A court ruling meant leaseholders were facing a crippling £2m bill to get rid of the panels but Barratt later said it would pay for backdated and future fire safety costs. Tenants were already in temporary accommodation due to the safety defects in their block, and are now trapped away from their homes in the middle of the pandemic.
Galliard Homes has also paused removing ACM cladding at its New Capital Quay development in Greenwich, south London, on a remediation project that could cost as much as £40m. The firm said work is only likely to resume when Public Health England guidance on social distancing changes.
HuffPost UK understands engineers have downed tools on other smaller developments across the country.
To date, just 144 high rises in England have completed remediation works to remove and replace ACM – and the number of buildings in need of repair is likely to be significantly higher than the outstanding 313 still covered in it. The government has agreed a fund to pay for the removal and replacement of all unsafe cladding on high-rise buildings, and estimates suggest 500,000 people were left living with the problem as building owners refused to take action. Last month the G15, made up of London's largest housing associations, identified more than 2,000 buildings needing to be rectified in the capital alone.
Housing secretary Robert Jenrick has said it is "deeply concerning" there has been a slowdown and said work to address unsafe cladding on high-rise residential blocks has "currently paused on as many as 60% of sites" following the Covid-19 outbreak.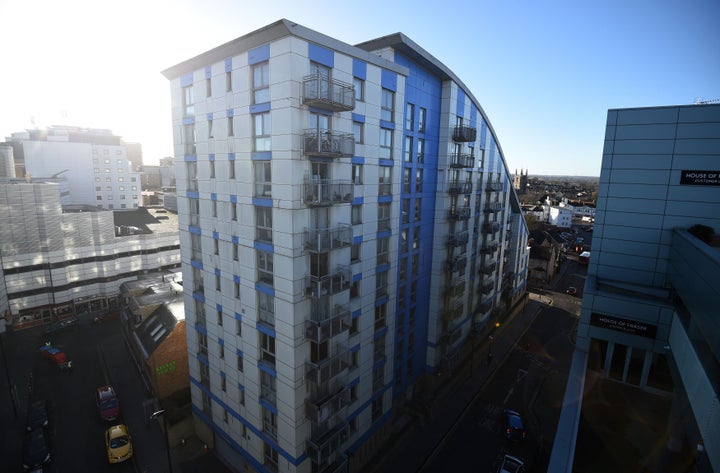 The Labour Party wants to know how many sites are now restarting work and says "urgent work has moved from a snail's pace to a stop".
A spokesperson for the UK Cladding Action Group, which represents homeowners hit by the crisis, said: "Thousands of leaseholders have spent months if not years with their lives entirely on hold because of the situation.
"The mental health implications this is having on leaseholders is unimaginable. This strain has never been greater.
"At a time of a national crisis when we are being asked to stay in our unsafe properties 24/7, and when our income is uncertain yet we are still having to pay extortionate building safety costs, knowing that works are continuing – in line with coronavirus guidelines – to ensure these buildings are made safe is so essential."
Jenrick, along with the mayors of Greater Manchester, Sheffield City Region, London, Liverpool City Region and the West Midlands, have pledged their support to the continuation of vital safety work so long as those working on site are kept safe and the spread of infection is limited.
As part of this, the government has updated the guidance on how to apply social distancing in the workplace for construction workers, which has been reviewed by Public Health England and the Health and Safety Executive.
It includes having decontamination areas on site and enabling workers to hose down overalls before safe disposal, providing additional toilet and washing facilities, reducing the number of workers gathering together, and splitting up work teams to minimise the risk of infection.
MPs are currently debating the Fire Safety Bill, which amends regulations to offer greater clarity over who is responsible for fire safety in blocks of flats.
A total of 72 people died after Grenfell Tower, in north Kensington, west London, caught fire on June 14, 2017.
Earlier this month, HuffPost UK reported how the government cash does not cover the temporary fire safety measures that those in dangerous buildings have been forced to implement just to stay in their homes.
The most common measure is 24/7 fire wardens, or round-the-clock "waking watches". Freedom of Information requests showed at least 380 blocks of flats have watches in place, costing some people as much as £840 a month – more than their monthly mortgage payments.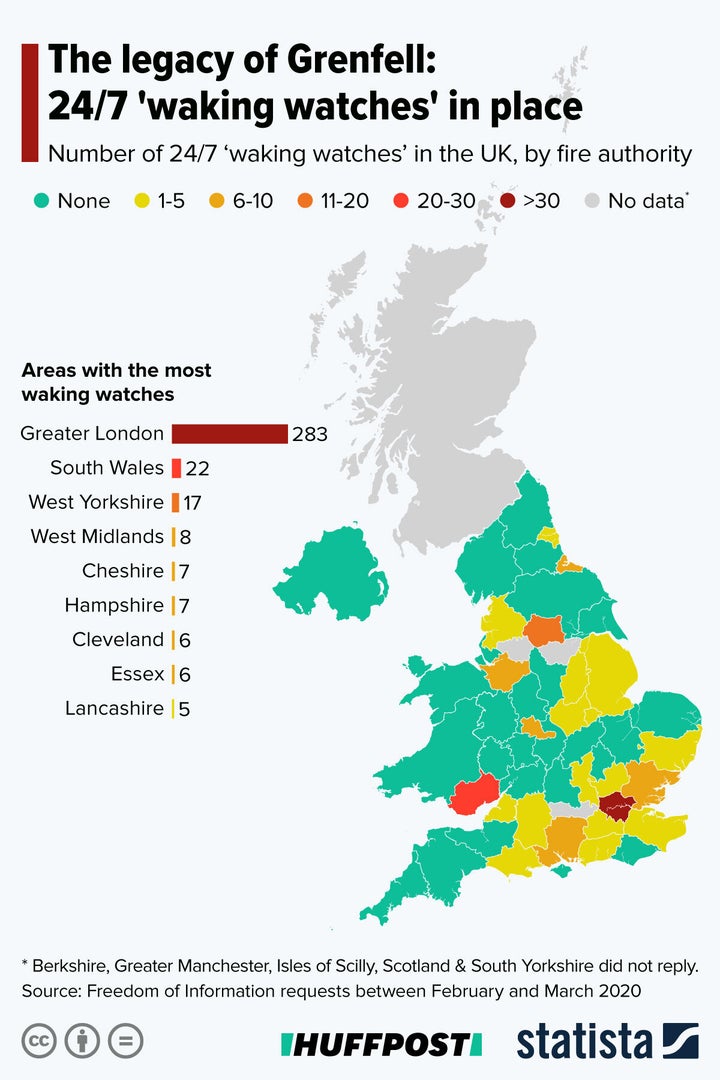 Mike Amesbury, Labour's shadow housing minister, said: "Nearly three years on from the Grenfell Tower fire, concerned residents are still living in homes with unsafe cladding and are still having to pay for interim safety measures such as 24-hour fire wardens.
"The current crisis means this urgent work has moved from a snail's pace to a stop. Tenants and leaseholders face a double whammy of losing jobs and income while fearing for their safety in their homes during the lockdown. No interim financial support has been offered to help pay for waking watch or buildings insurance.
"We are pleased that the government has pledged to continue cladding remedial work but it must be transparent about how many sites are now restarting work, while ensuring that Covid-19 health and safety measures are applied."
A Ministry of Housing Communities and Local Government spokesperson said: "This government is bringing about the biggest change in building safety for a generation and removing unsafe cladding is a priority – backed by our £1.6bn fund.
"It is essential that building owners and construction firms try everything possible to keep urgent building safety work going, as long as it is safe to do so.
"We have agreement from industry, mayors and local leaders who have recently signed our pledge to continue this work."