A mother with an auto-immune condition and a brain aneurysm was told her kids couldn't be schooled at home – even though she could die if one of them brings Covid home.
Julie Bishop's daughters were denied home learning packs and Bishop was allegedly told she could be fined for taking them out of school despite a GP backing her case.
The girls used to attend Stourfield Junior School in Bournemouth, which is under tier 2 restrictions, but last month she took the drastic step of deregistering them both after the row came to a head.
Bishop is particularly vulnerable to Covid-19 because any coughing could cause inter-cranial pressure, prompting a fatal brain bleed.
A note from her GP confirming these conditions and asking for support in the supply of home learning packs "until the risks from Covid decrease" has been seen by HuffPost UK.
She is one of several families who say schools are not managing the spread of the virus and are calling for more help for clinically vulnerable parents.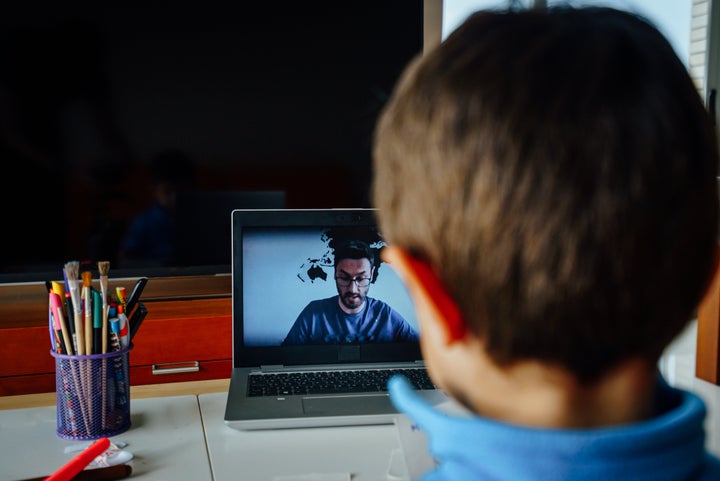 Bishop claims a representative of Bournemouth, Christchurch and Poole (BCP) Council told her she risked being be fined, prosecuted and even having her children taken into care if she kept them off school.
As a result she felt she had no other option other than to deregister her children from the school altogether, which carries no penalty – but leaves their education entirely in her hands.
A BCP Council spokesperson told HuffPost UK: "Whilst we cannot comment in detail on individual cases, council officers continue to work closely with the school and family to ensure the children have access to an appropriate education offer." The school did not reply to requests for comment.
Bishop has spent £200 turning her living room into a classroom, equipped with desks, a projector, anatomical models and wall-mounted times tables.
She told HuffPost UK: "It's only now that I'm home schooling that I've realised how behind they were. They didn't know their times-tables. They didn't know what nouns or pronouns were. My 10-year-old didn't even know how to read the time – she could only read it digitally. She is meant to be going up to secondary school next September – it's absolutely shocking.
"I'm just going to carry on teaching the kids. They're under no school now. I don't know what's going to happen this year with Covid but it's going to be a nightmare to get them back in. All I wanted was for them to send home a few pieces of work. When children are told to self-isolate for two weeks they do it then.
"I was told: 'If we do it for you, we'll have to do it for lots of parents' – but they know how ill I am."
Bishop says the school has previously been supportive of her health struggles and has even praised her in the past for her children's 100% attendance during those crises. And she says it has made efforts to manage the spread of the virus on school grounds by staggering drop off and collection times and forming classroom bubbles, but that the risk still remains too great for her.
She said: "I've got a bleeding condition, which means if I was to have a rupture of my brain aneurysm, I would just bleed out. I wouldn't even get to hospital on time, and it's only over the road.
"I'm a single parent and if something were to happen to me, my girls would have to go into care. They can't go to their father's. They've got no one but me."
"If I was to have a rupture of my brain aneurysm, I would just bleed out. I wouldn't even get to hospital on time, and it's only over the road"
National government guidance issued just before the second lockdown was lifted states: "It continues to be the aim that all pupils, in all year groups, remain in school full-time throughout the autumn term."
It adds: "Returning to school is vital for children's education and for their well-being. Time out of school is detrimental for children's cognitive and academic development, particularly for disadvantaged children."
"Lower academic achievement also translates into long-term economic costs due to having a less qualified workforce. [...] While it is not possible to ensure a totally-risk free environment, there is no evidence that children transit the disease any more than adults."
A recent survey of local authorities suggests there are now more than 75,000 children being home-schooled – a 38% increase since last year. An Ofsted report into the matter remarked: "It appears many parents have removed their children because of their fears about Covid, rather than a genuine desire to home school."
Bishop is being supported by campaigning group Parents United Against Unsafe Schools. A spokesperson for the group told HuffPost UK: "Safety for clinically vulnerable children and family members has been totally disregarded by the government's decision to reintroduce compulsory school attendance from September.
75,000+ children are being home-schooled
"Many schools are refusing to provide home learning support to children who need to work from home, and absences for these children cannot be authorised even where medical evidence is supplied. Parents' concerns about large numbers of children in poorly ventilated classrooms during an airborne pandemic are being totally dismissed, and their mental health is being called into question for raising such concerns.
"Local authorities are subjecting families to attendance fines and prosecution, forcing families to accept these penalties or deregister their child from the school.
"Families who are already dealing with very serious health conditions are being placed in an impossible position, effectively being off-rolled from the education system in a manner tantamount to constructive dismissal. Parents United is campaigning for a sensible, safe and sustainable approach to education for all during the pandemic, including fully resourced home learning and freedom from punitive fines for those need to learn from home."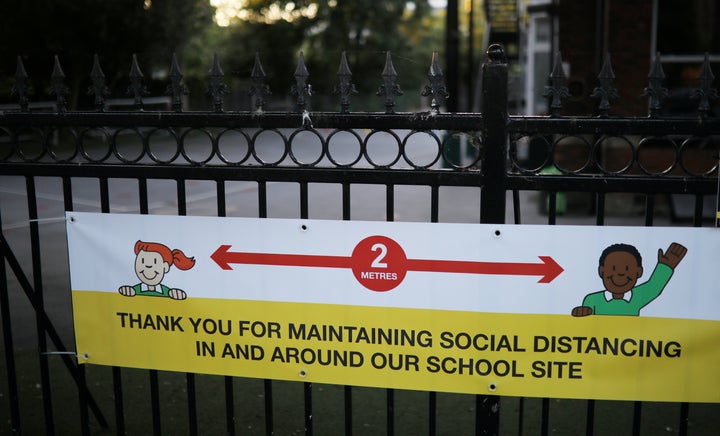 The group is also backing Angela Moore, who lives in Hampshire, which is currently in tier 2 restrictions, and has also taken her children out of school.
Moore, who is asthmatic, is critical of measures taken by Fairfield Infants School and Bosmere Junior Schools, to try and manage the virus. She says promises to conduct more outdoor learning have failed to materialise, with once-a-week PE class the only outdoor activity occurring.
She told HuffPost UK: "My gut feeling is that the schools are doing the best they can. They are being pushed to get children over the threshold, get the targets and get the figures, but it's at the cost of lives.
"The government wants children back at school, parents going back to work and money being put into the economy."
Moore says despite the school's efforts to maintain social distancing, children sit "shoulder to shoulder" in classes, one of her daughters has been hugged by another student and in one incident, spit droplets from a teacher speaking in close proximity landed on her daughter.
She and her husband both work from home and are home-schooling their daughters, and although they are not receiving school support, she says they are thriving.
"The big drive from the government has been all about mental health. [But] how damaging will it be for a child if they brought Covid home and killed one of their parents?"
This week, a Department for Education (DfE) spokesperson said: "It is vital for all children to be in school where possible. The chief medical officer has highlighted the damage caused to children's education, development and mental health from not being in school.
"Children are at very low risk from the virus, with only 0.2% of state-funded pupils who were absent from school last week having a confirmed case.
"Schools, colleges and early years settings across the country have worked hard to remain open, implementing safety measures and scaling up remote education provision for those children who are self-isolating."
It comes after the latest attendance figures from the DfE showed that between 7% and 8% of state school pupils – up to 650,000 children – did not attend school for Covid-19-related reasons on Thursday last week.
More than a quarter (28%) of schools reported having one or more pupils self-isolating after being told to do so due to potential contact with a Covid-19 case inside the school on December 3, though that was down from 33% the week before.
Nearly a fifth (19%) of secondary school pupils were absent from class on December 3, down from 22%, the figures revealed.
Moore said: "The big drive from the government has been all about mental health. My argument there will be: 'How damaging will it be for a child to their mental health if they brought Covid home and killed one of their parents?' I know that seems to some quite drastic, but that to me is the reality."
Moore fears she too will be pushed to deregister her children amid the threat of fines for unauthorised absences.
The school has not responded to requests for comment.
This week one teacher's union came forward to suggest schools should be given the flexibility to switch to remote learning for the final few days of term.
It comes as schools were warned to see a "steep drop" in the number of pupils attending class next week as parents seek to prioritise family safety ahead of Christmas, the headteachers' union NAHT said.
Paul Whiteman, NAHT general secretary, said remote learning was an "obvious and straightforward solution".
Whiteman said: "It is only natural that many parents will prioritise family safety over attending school in the last few days of term and keep their children at home."
Schools standards minister Nick Gibb told MPs on Tuesday that schools will be allowed to take an inset day on the last Friday of term to provide a "clear six days" ahead of Christmas Eve so teachers and heads do not have to "engage with track and trace issues" throughout the festive break.